Clash Royale hack galore. So if you are looking to get unlimited gems, elixir, chests and more, then here's the best Clash Royale Private hack to sideload right now.
If real-time tower-defense strategy games like Clash of Clans "allures" you, then you will surely like Clash Royale. It is basically a spin-off of SuperCell's greatest hit with the same characters and an extra unique elements of Collectible cards. Clash Royale gameplay begins with the player in control of three towers and the goal is to use elite troops to destroy enemy central towers whilst defending yours.
While this may sound pretty simple and straightforward, it sure isn't an easy task. From archers to giants and then bombers, players can easily deploy troops to attack enemy soldiers as well as the structures on their opponent's base. One of the things that makes Clash Royale interesting is that you can painlessly destroy your opponent towers without nearing the enemy line.
Also Checkout: Clash of Clans Hack, Private Server and Mod
To perfect this, you do need to utilize your archers as well as bombers. Shooting waves of arrows and fireballs from your base to enemy base is obviously their job but in other to unlock these set of combat units, you'd need to build their cards.
Prior to each battles on Clash Royale, players are meant to pick four out of eight deck of cards in their possession and each card costs a certain amount of elixir. Now assuming you are short of one and probably hate the micro-transactions or real-money-for-virtual-stuff purchases present in Clash Royale, then we have got you covered with the best Clash Royale hack and/or private server.
Clash Royale Hack and Private Server: Is There Really One?
You'd know Clash Royale is addictive. It's the type of game that glues you onto your phone screen once you learn the "ropes". Possessing abundant resources such as elixir can give you an "upper hand" against your opponents since they'd help unlock cards that have a deck of troops as broad and as complete as possible.
Due to this obsession, a slew of players have gone wide, exploring the internet with the hope to find a working Clash Royale hack or private server that can grant them unlimited gems. Getting hold of infinite gold, elixir, chests and legendary cards are the only thing they are after and due to this, a lot of generators have spawned to prey on the gullibles.
They do promise to credit your Clash Royale account with unlimited gems provided you complete a survey for them and once this is done, you'll be rewarded with nothing. Trust me, most of these Clash Royale cheats and/or generators don't work. They're scam and you should desist from them.
However, just because these generators aren't real doesn't mean there aren't a Clash Royale private server and/hack that works. Infact there's one, and we're going to unravel it below.
Clash Royale Private Server and/or Hack Definitely Exist
When you fire up Clash Royale each day, you do be notified to 'claim' six free silver chests just for logging in and aside from this, players are rewarded with one free gold chest for getting 10 crowns within 24 hours. But you do know these things aren't enough especially when you're looking to get high up the leaderboards.
You can painlessly earn more cards, elixir, gold, gems and more to be competitive but this requires you to spend real-life money. Now assuming your bank account is red or you probably do not want to exchange your hard earned money for virtual stuffs, then here is the best Clash Royale private server and/or hack that actually works.
And it is Null Royale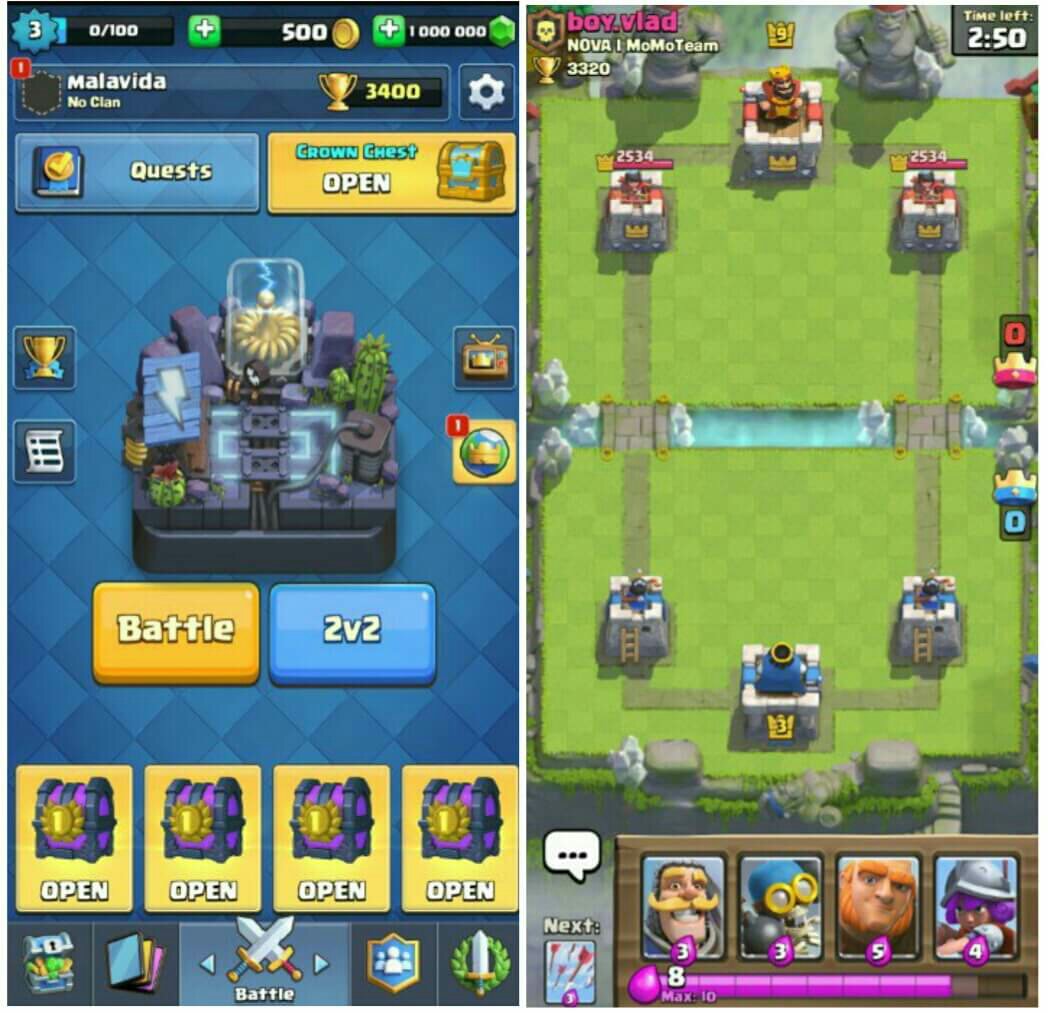 Of all the Clash Royale private server and hacks out there, we found Null Royale to be most effective. It's basically an APK or app designed for Android device and it works by allowing users to play Clash Royale on a private server.
With Null Royale, you can "painlessly" utilize all the paid cards, emotes and characters in Clash Royale for free. And aside from this, it is definitely the best way to get hold of all those gems, elixir and more without enriching SuperCell's pocket.
One of Null Royale cons however is that you won't be able to connect and play with other players on the "official" Clash Royale game, instead you will only play with the players utilizing the same private server.
Null Royale pros sure galore. So in other not to beat around the bush, below is all the special features present in Null Royale;
Unlimited gems, elixir and more
A tab to access new emotes
Tons of new heroes to play with
New game modes and finally,
More cards
So you see, Null Royale is definitely loaded. It is hands-down the most reliable Clash Royale private server and/or hack till date. You can easily download it from here.
Wrapping Up
As we said earlier, there are a slew of Clash Royale mod, Private Server and Hacks that claims to be the best, but most of them they are fake. Null Royale brings unordinary items and it's the only Clash Royale Hack we are recommending. Do sideload it as soon as possible and build the best troops to send your opponents to kingdom come.