Cookie Clicker cheats sure abound. So if you are looking to unlock everything in-game or to get unlimited cookies, heavenly chips, and more, here's a list of all the Cookie Clicker cheats to utilize right now.
It is surprising to see an idea put into a code make waves. Well if you are wondering which game did it, then it's none other than Cookie Clicker, an incredible incremental game that despite offering an extremely simple gameplay, has become a phenomenal success.
The concept of Cookie Clicker is pretty straightforward as players are tasked to click on the big cookie visible within the screen to produce a cookie. The more you click, the more cookies you make and you can easily used them to purchase different items that will make your cookie baking adventure easier.
Also Checkout: Clicker Heroes Codes
From an additional cursor that'll automatically click the big cookie for you every 10 seconds to hiring a grandma that will help you bake more cookies faster, Cookie Clicker has certainly proved to be an addictive game worth playing.
The whole gameplay starts out small and as you progress, you'd be able to spend your cookies on better forms of cookie production and this includes purchasing a baking industry with hundreds of machines capable of producing thousands of cookies every minute.
The whole activity is fun per se, but things often start to get sour when you run out of resources to buy upgrades. Due to this, we have journeyed deep down the web and have come up with the best Cookie Clicker cheats worth utilising right now.
Cookie Clicker Cheats
Cheating in a video game is highly necessary especially when you are stuck at a boss level. But if you're someone who hates gaining unfair advantage over an enemy during gameplay, then we strongly suggest you backup your vanilla game file before applying the hacks we've listed below.
To do this, simply fire up Cookie Clicker using your web browser and then head over to Options. From here, click on Export Save and you will be good to go. Note: To reload your save, simply click on Import Save.
Now that you have had your vanilla game save file backed up, it's time to ride on. So just like Clicker Heroes and its likes, there are a ton of Cookie Clicker import codes out there but they aren't that effective. Hence we have found a new cookie clicker cheat that works and here's how to implement it.
Bringing Up the Console Command Window
The first step obviously is to bring up the Console Command window. So assuming you're playing Cookie Clicker on PC, simply right-click using your mouse and select the option that says Inspect.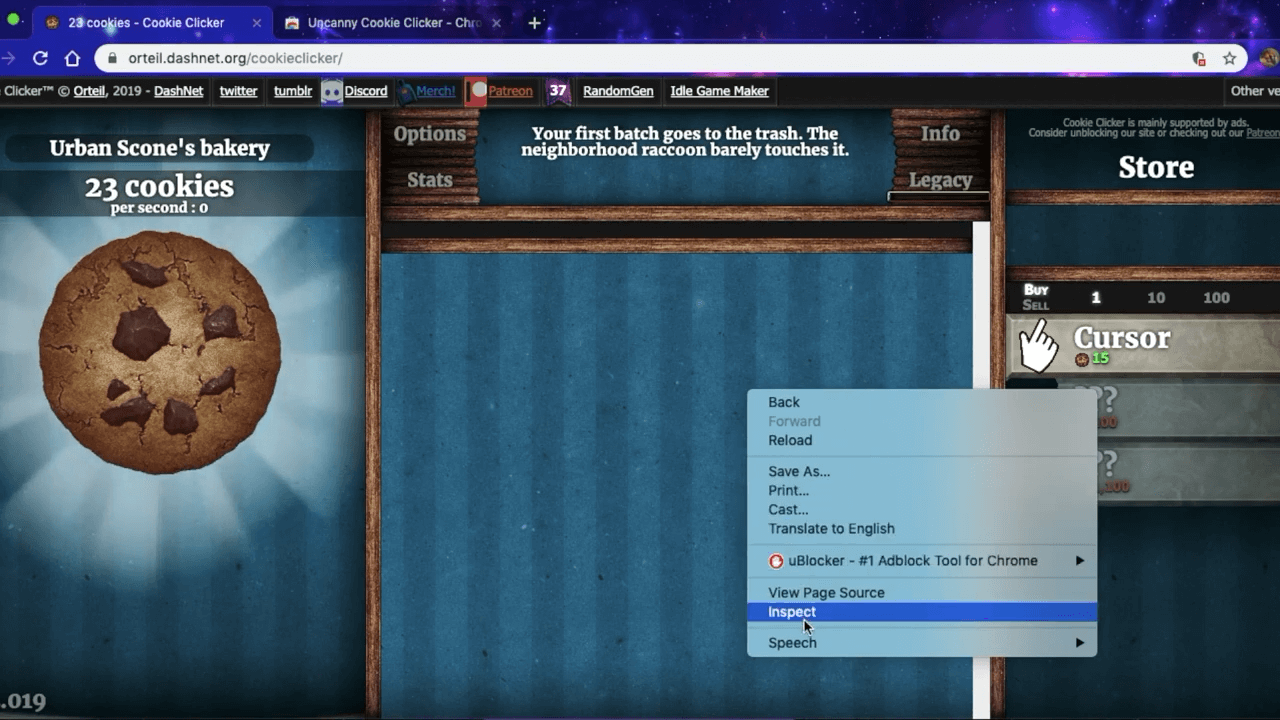 Once done, a new window will appear at the right-side of the screen. From here, click on the Console tab at the top of the screen and you will be set for some hacks.
Implementing Cookie Clicker Cheats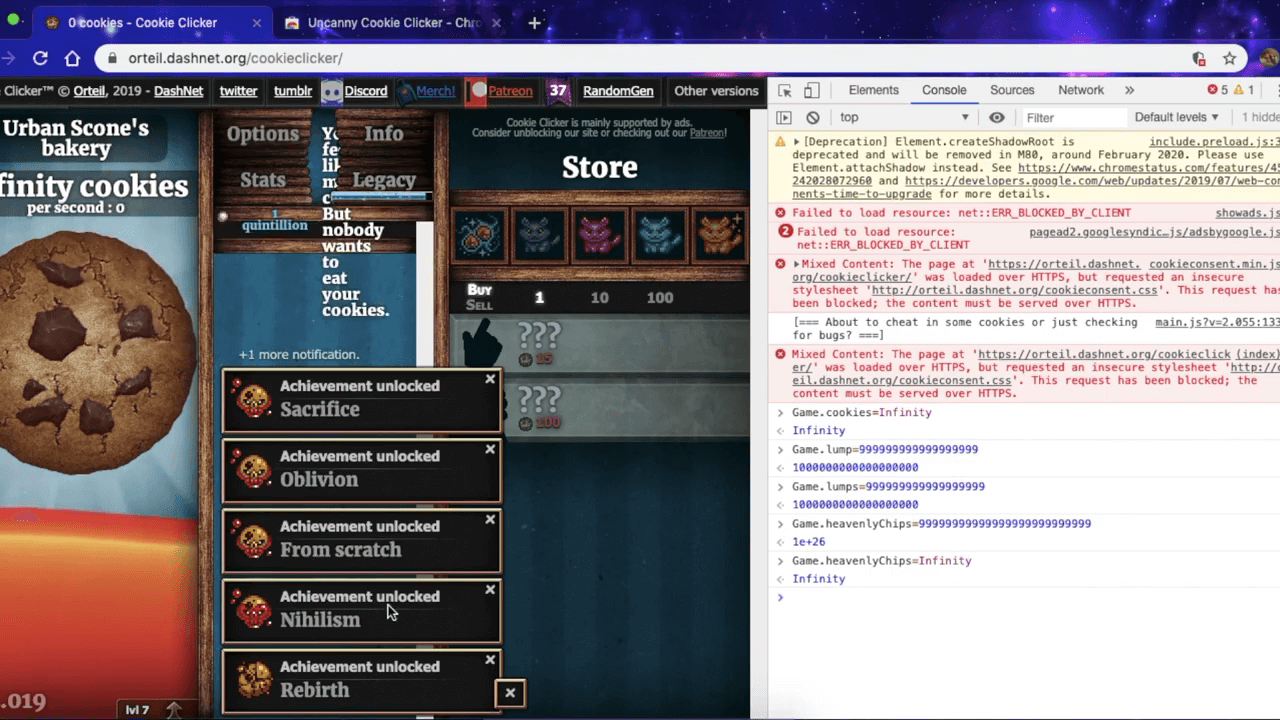 With the Console window now visible, simply position your cursor to the last empty line and enter the following codes as shown below to get a specific reward.
Game.cookies=Infinity – This gives you unlimited cookies and to undo, simply enter Game.cookies=0 and hit enter.
Game.cookiesPs=number – This changes the number of cookies generated per second to the number that you use to replace number with. For instance; Game.cookiesPS=55
Game.lumps=(number) – This gives you a specified amount of sugar lumps provided you replace the text number with the number of cookies that you want. For instance; Game.lumps=9999999999999999
Game.heavenlyChips=Infinity – Gives you unlimited heavenly chips
Game.RuinTheFun(); – Gives you literally everything. It typically unlocks every upgrade and building within Cookie Clicker and also it adds unlimited number of cookies to your bank.
So these are all the cookie clicker cheats worth utilizing right now.