Criminal Vs Swat script galore. So if you are looking to get hacks such as kill aura and more, then here is some of the best scripts for Roblox Criminal Vs Swat.
Wolfpaq sure knows how to make games and when you look at most of his creations on Roblox, you'd agree with me that he is one hell of a developer.
From the ever popular Brookhaven RP to Paintball, one such title that has managed to stand the test of time is Criminal Vs Swat, a team based shooter that offers the same concept as CS:GO.
Also Checkout: Roblox Speedrun 4 Script
Its gameplay pits two teams, the Criminal and the Swat team against each other and the goal literally is to go head-to-head in battle until a winner is determined.
For one thing, Roblox Criminal Vs Swat rarely gets updated and albeit fun to play, it is still a very competitive game. This is where scripts comes in to play.
So assuming you are looking to get hacks such as kill aura, auto kill, Kill all and more, then here's the scripts for Roblox Criminal Vs Swat.
Criminal Vs Swat Script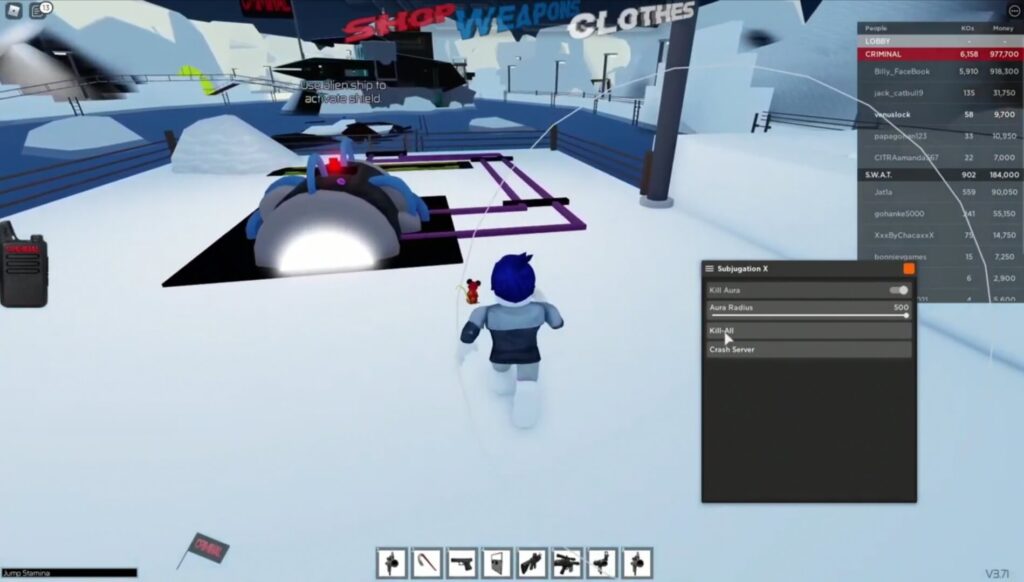 There are only but a few scripts for Criminal Vs Swat and whilst most of them are outdated, we managed to find something that works. Hence without further ado, below's the best Criminal Vs Swat Script that offers cool features and/or hack that can help you win the game everytime.
Script 1
loadstring(game:HttpGet("https://raw.githubusercontent.com/iHavoc101/Miscellaneous-Releases/main/CRIMINAL%20VS%20SWAT.lua"))()
How to Execute Scripts in Roblox Criminal Vs Swat
Prior to executing scripts in a game on Roblox, one will need to employ the services of a reliable Roblox exploit. From Krnl, Fluxus, Synapse X and more, there are a plethora of them.
So assuming you do not have one downloaded yet, simply jump into our previous post detailing the best Roblox script executor and/or exploit and find yourself something that works.
Once installed, simply go ahead and jump into Roblox, then fire up Criminal Vs Swat as well as the downloaded exploit. Next up, copy and paste any of the scripts listed above into the box found within the executor.
Once done, click on the Inject/Execute button and the script GUI will pop-up. Now go ahead and enable the hacks you prefer.