Dredge cheat engine table galore. So if you are looking to freeze time or get unlimited money, as well as hacks such as God Mode, here's all the feature-rich Dredge cheat engine tables to make use of right now.
Dredge is the new fishing game in town, and unlike similar games, it is a story-based fishing simulation that strives to provide a realistic fishing experience by incorporating various elements such as different fish species, realistic water physics, weather conditions, and a variety of fishing equipment.
In Dredge, players are depicted as a fisherman whose boat got damaged on the reef during a thick fog and was washed up in a nearby town. Now given a safe harbour by the Mayor, their mission will be to set sail on a boat, exploring the waters and their surroundings in search of fish to sell.
Also Checkout: Tiny Tina's Wonderlands Cheat Engine Table
In addition to catching a variety of fish, Dredge lets players partake in various quests for the locals, and they can even look up artefacts within the depths of the oceans. The money made from selling fish and other items of value can be used to acquire and upgrade new boats and fishing gear.
Dredge's mini-game while catching a fish or creature is simply superb, and its aesthetic graphics are utterly unique. Now, assuming you're looking to simplify your gaming experience, here's the best Dredge cheat engine table to utilise right now.
Dredge Cheat Engine Table
Albeit new, there are a sheer number of Dredge cheat engine tables out there on the internet, and they all come with a plethora of essential features that can help users progress faster. So without further delay, here are two of the best Dredge cheat engine tables to make use of.
Note: The above Dredge cheat engine table features cheats such as infinite money, spawn items to cargo, refill fish stock, set weather clear, remove fog, repair boats, sanity always full, god mode, immune mode, time freeze, always fish max size, and more. Simply download and use the guide below to activate either of them.
How to Activate the Dredge Cheat Engine Table
The steps to activate the Dredge cheat engine table are pretty simple and straightforward. So let's get this one going.
Before we begin, we are assuming you have already downloaded and installed the latest version of Cheat Engine for Windows PC. If yes, simply double-click to run the tool as well as the game Dredge.
Next up, jump into your file explorer and locate any of the DREDGE.CT files downloaded above, then double-click to automatically load them into the cheat engine. Alternatively, you can select it via the Folder icon within Cheat Engine.
Once the Dredge cheat engine table is loaded, click on the Computer icon visible at the top-left corner of the cheat engine and select Dredge from the Process List.
That is all. You can now click to tick the box next to the table name beneath the Cheat Engine software to show the list of cheats available in each section.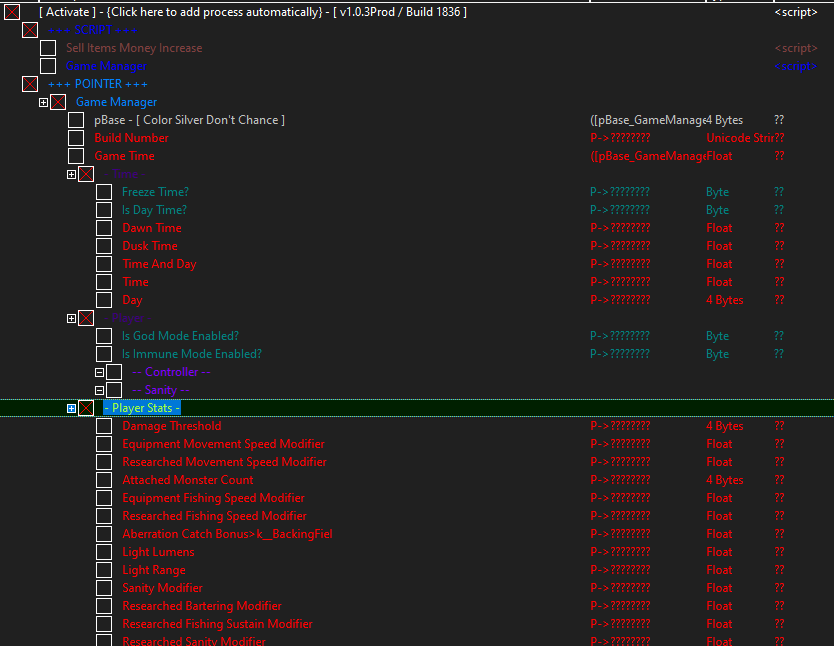 Once you stumble upon a cheat you desire, click to tick the box next to it, and the cheat will be automatically activated in the game.
Wrapping Up
So these are literally the only Dredge cheat engine tables you will ever need. If you encounter any issue or error while activating any of them, simply use the comment box below to notify us, and we'll try to provide a solution as soon as we can.