GamePigeon hacks abound. So if you are looking to simplify your gaming experience, here's the best GamePigeon hack you'll ever need.
GamePigeon is a suite of multiplayer mini-games integrated into Apple's iMessage app. Created by Vitalii Zlotskii, GamePigeon's collection of mini-games can be downloaded for free from the App Store, and they're designed to be played directly within the iMessage text conversations.
From Dots and Boxes to 8-Ball Pool, Chess, Crazy 8, Checkers, Word Hunt, Anagrams, Sea Battles, and more, GamePigeon boasts a diverse array of mini-games that appeal to fans of strategy games, card games, and word puzzles.
Despite redefining social gaming on iOS devices, GamePigeon's list of mini-games can be challenging, especially for beginners. So if you are looking to simplify your gameplay and easily win every competition, here is the best GamePigeon hack to utilise right now.
GamePigeon Hack
It is one thing to challenge your friends to play a variety of entertaining mini-games directly within the iMessage app and another to win each competition and reach the top of the leaderboard.
While we acknowledge the GamePigeon concept, advancing in its vast array of mini-games requires strategic thinking. But assuming you lack this attribute, you can still simplify your gaming experience by using GameSeagull to hack GamePigeon with ease.
For those wondering, GameSeagull is basically a tweak for GamePigeon. It features a plethora of cheats and/or hacks for GamePigeon mini-games, and they include:
8 Ball, 8 Ball+, 9 Ball
Extended trajectory lines
Disable hard mode.
Always show trajectory lines.
RGB trajectory lines
Infinite ball lines
Always move cue
Sea Battles
Archery
Disable Wind
Target is always set to 50 feet away.
Word Games
Word unscrambler (Anagrams and Word Hunt)
Auto Win (Anagrams)
Darts
Cup Pong
Mini Golf
Tanks
Misc
Now, without beating around the bush, here's how to hack GamePigeon using GameSeagull.
How to Hack GamePigeon Using GameSeagull
With GameSeagull created in the form of a .deb file, installing it on your iOS device using a powerful File Manager such as Filza requires a jailbroken device. So if your iPhone or iPad is already jailbroken, simply follow the steps below to hack GamePigeon using GameSeagull.
Install Filza File Managers
To begin with, open Cydia on your jailbroken device, search for "Filza File Manager," and install it.
Alternatively, click on Sources >> Edit >> Add and type in the repo http://tigisoftware.com/cydia/ into the provided box, then click Add Source.
Wait for the process to complete, then return to the Cydia Source section and select TiGi Software. From here, jump into All Packages >> Filza File Manager >> Modify >> Install.
Note: If you encounter a sudden freeze or crash whilst opening Filza File Manager, simply add this repository, https://apt.itsnebula.net/, to Cydia, open it, select All Categories, and install FilzaFixer.
Download the GameSeagull file.
The next step, obviously, is to download the GameSeagull file which is in .deb format. So to get this one going, open up Safari or another browser on your iOS device, then head over to the following URL on Github and download the GameSeagull.deb file. Make sure you know the location where it's saved.
https://github.com/donato-fiore/GameSeagull/releases/tag/1.6
Open Filza, locate, and install the GameSeagull.deb file.
Now launch the Filza File Manager app from your home screen and navigate to the directory where you downloaded the GameSeagull.deb file. By default, it should be in the "Downloads" folder or in the location you chose during the download.
Once found, tap on the GameSeagull.deb file to open it with Filza. You will see the package details. Simply tap "Install" in the upper right corner of the screen, followed by the "Action" button, to begin the installation process.
Now wait for Filza to extract and install the GameSeagull.deb file. This may take a moment. After the installation is complete, Filza will prompt you to respring or reboot your device for the changes to take effect. So go ahead and tap the Respring button, and you'll be good to go.
Play GamePigeon Hack
After rebooting or respringing your iPhone, you can check and see that the GameSeagull.deb file has been successfully installed on your jailbroken iOS device.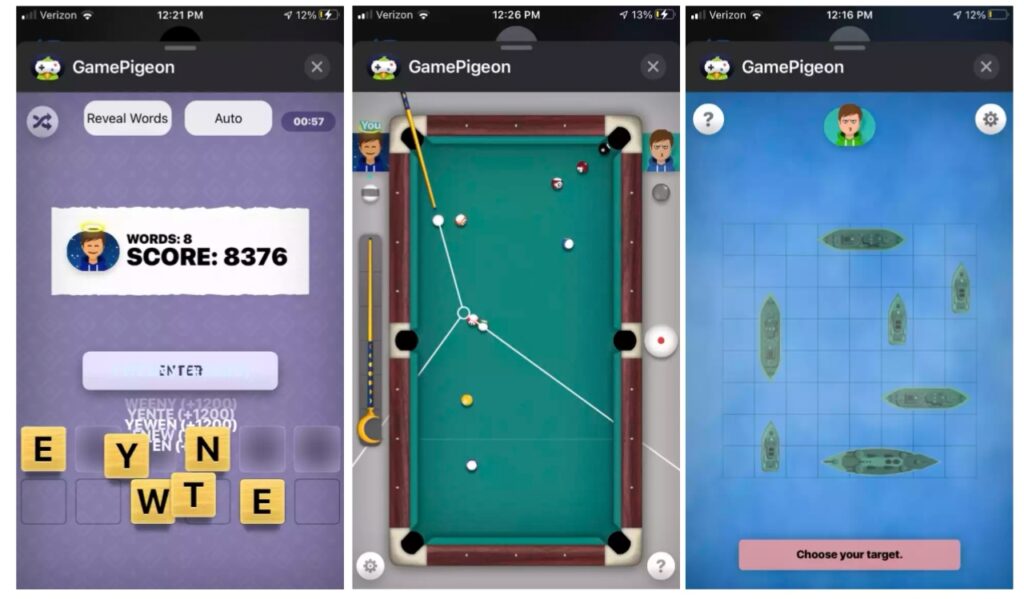 Now go ahead and open it, then tap to toggle on the hacks you want, and then open up GamePigeon to see the hacks in effect.