Roblox Mad City Codes abound. So if you are looking to get free money, cars, skins and more, then here's a list of codes for Mad City.
When you ask an addicted Roblox player which game simulates Grand Theft Auto Series, he'd tell you it is Jailbreak. Pressure him "further" and you do hear him mention Mad City. At its core, Mad City is undoubtedly one of the most popular games on Roblox. It brings a whole new world to explore, a slew of stuff to do as well and dozens of superheroes.
Unlike Jailbreak which embraces the fact that it's more like prison break, Mad City doesn't reinvent prison genre and this is probably one of the many reasons why it's gaining massive audience. In Mad City, players get to choose whether to be good or evil.
You can painlessly cause chaos in the city as a criminal and/or super villain or you can choose to do good by acting as a super hero or a police officer – with the goal to arrest arm robbers and by so doing bring justice to the city.
Assuming you're looking to simplify things or make your gameplay more easier, then having lots and lots of resources will be of essence. There are of course a slew of cars, skins and weapons in Mad City and most of them can be purchased with money. So if you're looking to get vehicle skins, weapon skins and spoilers, then here's a list of all the currently active Mad City Codes.
0N3Y34R – Gives you the Birthday Fireworks vehicle skin
RealKreek – Gives you the KreekCraft vehicle skin
Napkin – Gives you the NapkinNate vehicle skin
5K37CH – Gives you the Sk3tchYT vehicle skin
KraoESP – Gives you the KraoESP vehicle skin
Bandites – Gives you the Bandites vehicle skin
uNiQueEe BACON – Gives you MyUsernamesThis vehicle skin
D1$C0 – Gives you the Disco vehicle skin
M4DC1TY – Gives you the Black Hex AK47 skin
W33K3NDHYP3 – Gives you the Monochrome vehicle skin
T4L3N – Gives you the Talon vehicle spoiler
B3M1N3 – Gives you the Hearts SPAS skin
B34M3R – Gives you the Sunbeam vehicle skin
S33Z4N2 – Gives you the Frosty vehicle skin
STR33TL1N3 – Gives you the Streetline vehicle skin
S34Z4N3 – Gives you the Plasma vehicle skin
TH1NKP1NK – Gives you the Pinky vehicle skin
S34Z4N4 – Gives you the Purple Zebra vehicle skin
So these are all the Roblox Mad City Codes worth redeeming right now.
How to Redeem
With the codes now in your custody, it's time to redeem them. So if you're completely unaware of how to go about this, then here's the process to redeem codes in Mad City.
To begin with, head over to Roblox and fire up Mad City. Once the game loads, click on the Menu button at the top right corner of the screen to open up the phone in the game.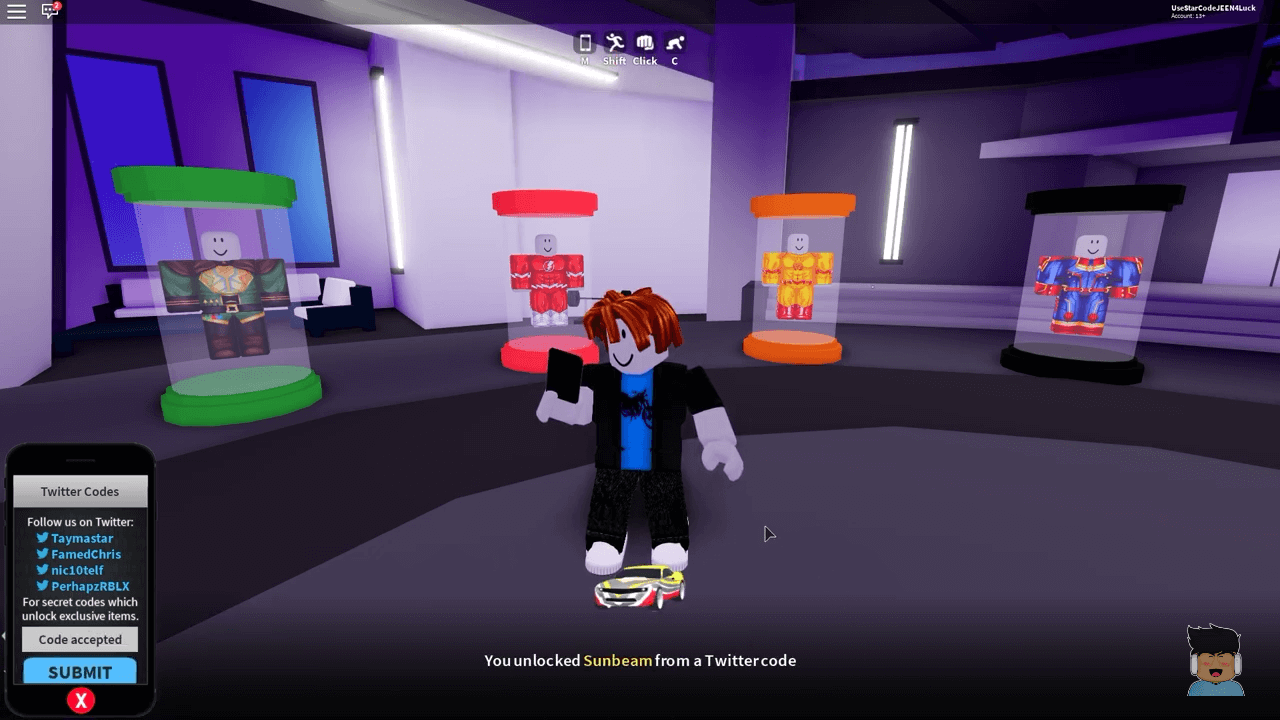 Next up, find the blue Twitter icon and click on it. A new window will appear, simply enter any of the above listed Mad City Codes in the box that says Enter Code and then click the Submit button to get your reward.