NBA Youngboy Roblox ID abound. So if you are looking to add any of his hip-hop songs to your favourite game, here is all the NBA Youngboy Roblox ID codes to utilize right now.
Roblox songs have become an important aspect of the platform. Integrating music into your favourite game can help enhance the overall gaming experience by providing background noise and setting the mood for the game.
Also Checkout: It's Raining Tacos Roblox ID
In addition to making your game more lively, impressive and enjoyable, the use of music in Roblox games has led to the creation of a community of players who share an interest in music.
Roblox music allows players to express themselves, but finding a badass song that you can easily add to your game can be a daunting task. This is where NBA Youngboy songs comes in to play.
Who is NBA Youngboy?
NBA Youngboy, also known as YoungBoy Never Broke Again, is an American rapper and songwriter from Baton Rouge, Louisiana. He gained popularity with his hit songs "No Smoke" and "Outside Today". His real name is Kentrell DeSean Gaulden. He has released multiple studio albums and mixtapes, and has collaborated with many other popular artists in the hip-hop industry.
As a rapper and singer whose music generally falls under the hip-hop and R&B genres, NBA Youngboy has a plethora of songs of similar style on Roblox. So assuming you're looking to play them in the background whilst exploring the town in MeepCity, here is all the NBA Youngboy Roblox ID codes to utilise right now.
NBA Youngboy Roblox ID
With over 91 singles, 25 mixtapes, 3 EPs and 2 compilation albums, NBA Youngboy has sang a dozen of songs since debut. Below is a list of all the currently active songs ID from NBA Youngboy available on Roblox
| | |
| --- | --- |
| Song Name | Song ID |
| Traumatized | 2100247233 |
| Safe then Sorry | 8083172096 |
| Dumb | 6572432235 |
| Nurse | 5846410084 |
| Hellcat | 7876242444 |
| School Girl | 6710805624 |
| White Teeth | 6813288997 |
| Dirty Stick | 6841958569 |
| Speed | 6842029043 |
| Free Meechy | 8781068873 |
| Carry On | 8627761809 |
| Whatever I Say | 8877404504 |
| Rock Peace | 8543088250 |
| Little to A Lot | 9007282165 |
| Who You Supposed to Be | 5221624997 |
| Murder Business | 9132603688 |
| Speed Racing | 8975532909 |
| War | 8980362281 |
| There GGo Da | 7010544872 |
How to Play NBA Youngboy Songs in Any Roblox Games
Roblox is unquestionably nice. It not only offers free services, but it also allows users to listen to any song as long as they have the correct music ID and boombox item. Of course, there are numerous options for the latter, with the cheapest Boombox costing as little as R$250.
Now assuming you already have one, simply follow the instructions below to start playing NBA Youngboy songs in your favourite Roblox 3D experience.
To begin, launch Roblox and navigate to your game world.
From here, click on your boombox
Then enter any of the NBA Youngboy Roblox ID listed above into the blank space.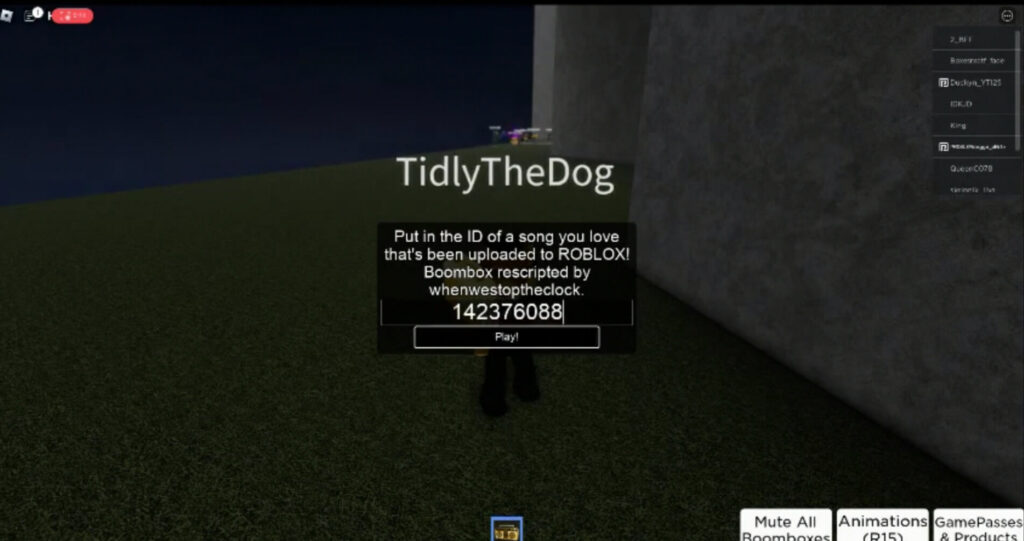 Once finished, press play.
That's it, your music will begin playing loudly!
Wrapping Up
So this is arguably the list of all the working NBA Youngboy Roblox ID to utilise right now. Please keep in mind that the music may be removed for copyright reasons, so try to use it as soon as possible