Roblox promo codes galore. So if you're looking to get free virtual items, then here's all the active promo codes for Roblox and how to redeem them at Roblox.com/promocodes.
Roblox isn't actually a game. Think of it as the kid's version of Steam or a site similar to YouTube – in the sense that it provides a tool that can be used to create content for others to enjoy.
The platform host millions of user-generated 3D experiences many of which attract hundreds of thousands of players each day.
Also Checkout: How to Find Free Items on Roblox
It is the best place to experience digital socializing as a kid and one of its strong point is that it offers a premium currency that can be used to purchase avatar clothings and accessories.
Now assuming you do not want to fork out cash to buy Robux, we have got a list of all the currently active Roblox promo codes to redeem right now.
Roblox Promo Codes (Active List)
For one thing, there are a ton of Roblox promo codes available, but many of them have already expired. This is largely due to the fact that they are only valid for a certain period of time. Hence, we urge you to redeem the codes below as soon as possible..
Now without further ado, here's an up-to-date list of all the active Roblox promo codes that you can redeem right now for virtual items.
SPIDERCOLA – Gives you Spider Cola shoulder pet
TWEETROBLOX – Gives you the Bird Says shoulder pet
The above Roblox promo codes can be redeemed by heading over to the code redemption page at Roblox.com/promocodes. Simply log in to your account, copy and paste the code into the provided box and click the redeem button.
Island of Move Promo Codes
The following code gives you essential virtual items and must be redeemed in the Island of Move lobby.
WorldAlive – Gives you a Crystalline Companion
StrikeAPose – Gives you a Hustle Hat
VictoryLap – Gives you Cardio Cans
DIY – Gives you a Kinetic Staff
SettingsTheStage – Gives you a Build it Backpack
GetMoving – Gives you Speedy Shades
Roblox Free Items
There are a dozen of items on Roblox Avatar Shop and while most of them cost Robux to acquire, there are some that can literally be bagged for free. Below, we will walk you through on how to find free items on Roblox.
To begin with, fire up your web browser and navigate to https://www.roblox.com and sign in to your account.
From the homepage, click on Avatar Shop at the top of the screen.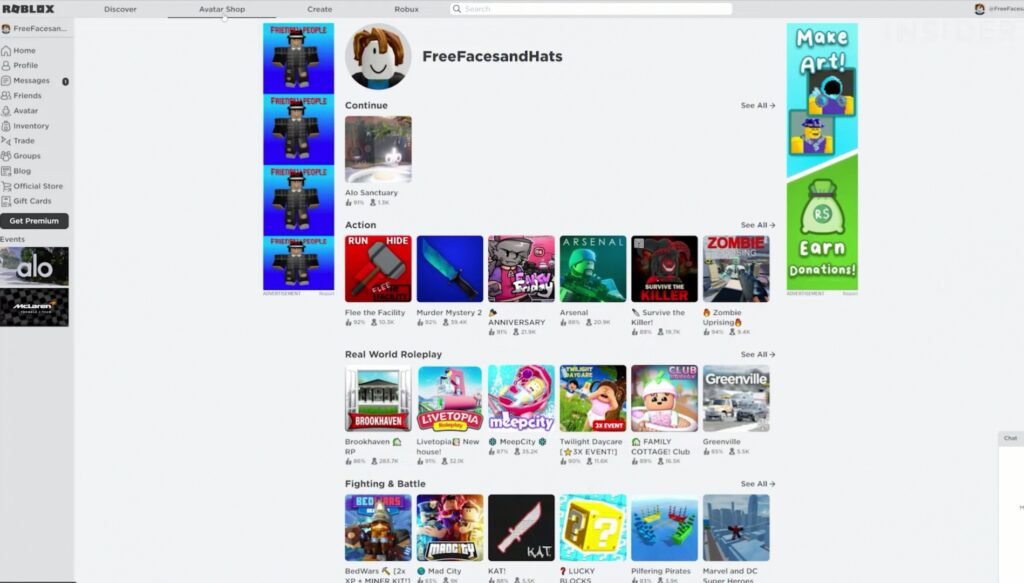 A new page will appear. Now on the left menu pane, click on the plus (+) sign beside Featured and select All Featured Items from the drop-down.
From here, click on Relevance at the top right side and select Price (Low to High) from the drop-down menu.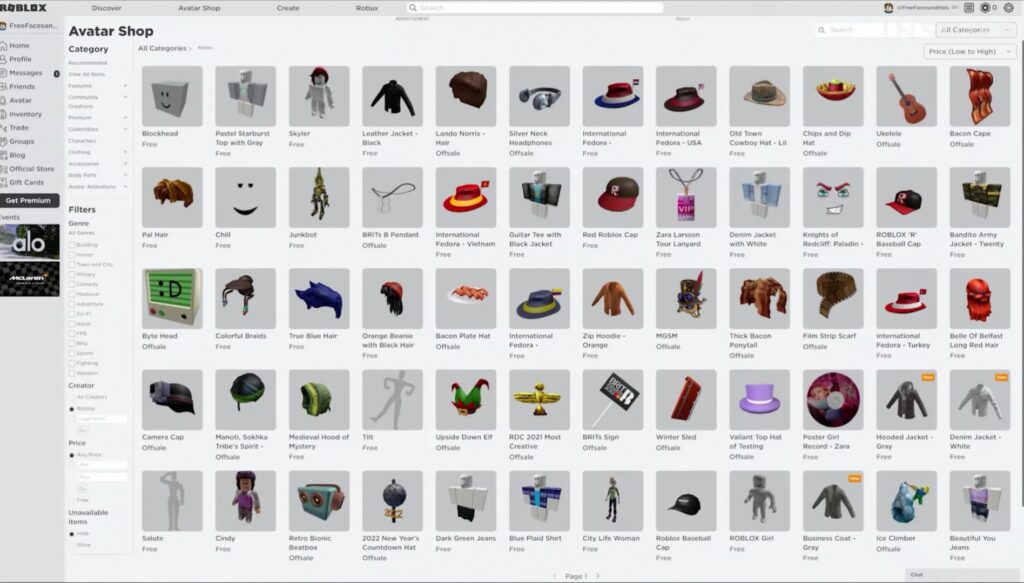 That's it. You'll be presented a dozen of free items. Go ahead and select the one you desire and click on Get to acquire them.
Wrapping Up
So these are every single active Roblox promo codes there is as well as how to find free items on the platform. So if you do not want to spend a dime, they're better off redeeming them at roblox.com/redeem. Overall, happy gaming!