There are a plethora of melodies we haven't played and as a Roblox user, fishing out the best music or song and applying it to your game can be a dream come true. Now instead of listening to the generic tracks and/or tones that come out from most Roblox games by default, you can easily use the Boombox Codes we have listed further down below to play a specific kind of music you want to listen to.
Playable via browser or its mini-client, Roblox can be said to be the best free to play sandbox game after Minecraft. It is a platform with many facets and this means that while some may choose to play other people's creation and probably chat with friends, there are others relentlessly creating and sharing their own 3D games using the wide array of voxels and Lego-like blocks provided.
The platform is generous enough to allow users add or listen to music while creating games or completing various quests and adventures but prior to doing this, you will need a special in-game item called the Boombox. This for folks uninformed is a musical gear that can be used to play any song available on the platform. It comes at a cost though since acquiring it will mean purchasing a gamepass.
Of course there are games such as Roblox High School that gives you the Boombox item for free but in titles such as Jailbreak, you'll need to cough up some Robux in other to own one. Now assuming you already have the Boombox in custody and probably want to add music to your game or to create some atmosphere by listening to music whilst gaming, then here's a list of the must-add Roblox Boombox Codes.
Roblox Boombox Codes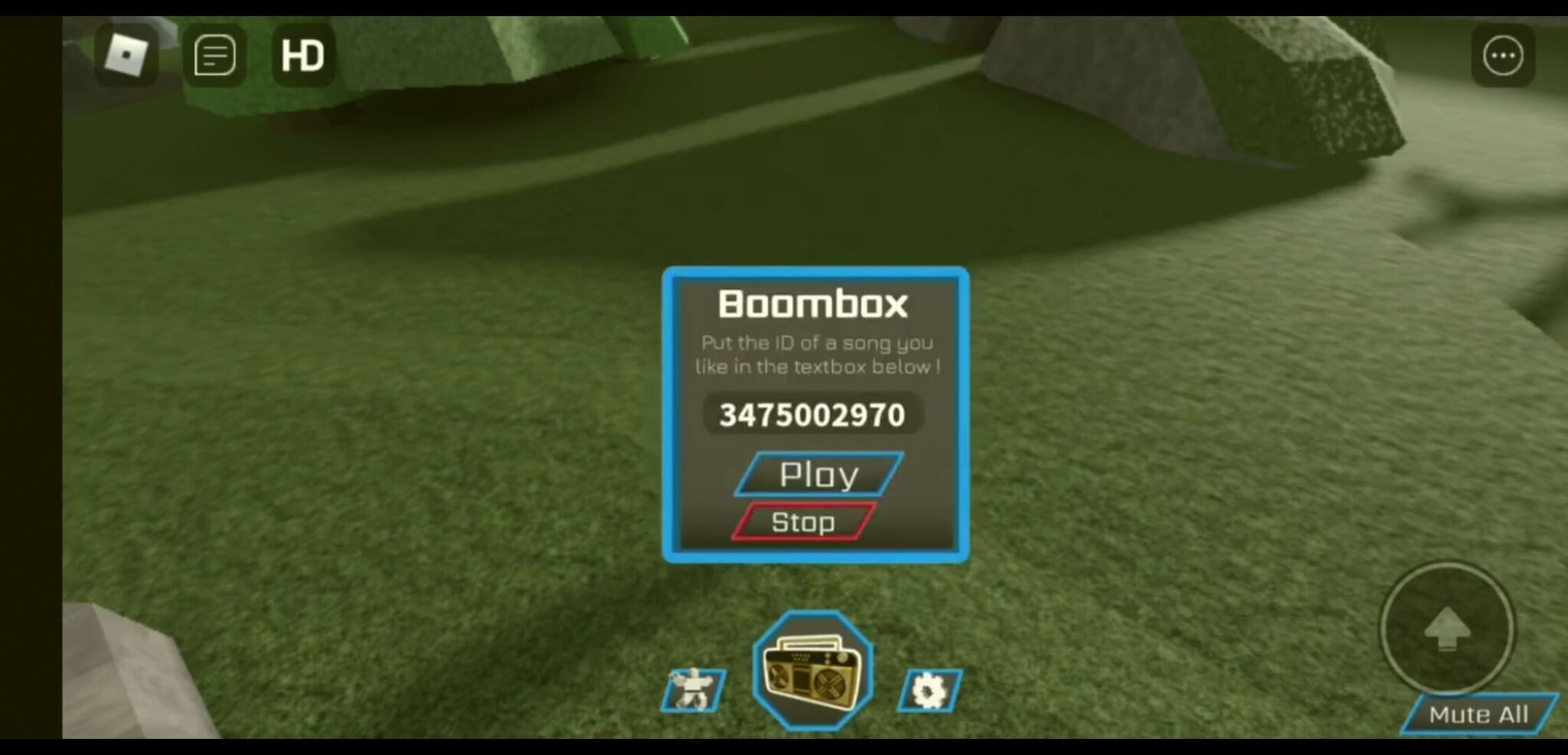 The fact that you're here simply means one of two things. First is that you're either building a game or probably playing one. No matter what the scenario might be, you shouldn't overlook the importance of sounds and music whilst creating a game. When combined creatively, they can build suspense and even breathe life to the game itself. Now without further ado, below is a list of some of the best Roblox boombox codes you should add right now.
6258935933 – Stop in the name of the law
4662452515 – Roll 'em
2507128460 – Grubhub perks
4462135562 – On me
5899105146 – The Real Slim daddy
142069173 – I Can Swing My Sword
5524231425 – Thinking Bout You
5865869489 – Really Love
5913921822 – Mood
5255122859 – Put your hands on my shoulder
5555790185 – Lemonade
31814752468 – Someone You Loved
4883713881 – Stay
4954877483 – Play Date
2631240760 – Wrap me in plastic
5704204672 – Your Got It
5208266425 – Don't rush
4924408580 – Toosie Slide
3545226467 – American Boy
4767530611 – Just the Two of Us
5015230842 – Circles
4410003988 – Watermelon Sugar
1341533521 – Havana
5336519283 – Mood Swings
4032764849 – Myself
5027740608 – Train Wreck
5545085477 – Wap
4612328369 – Fleetwood Mac
657284150 – Pretty Girl
5922324757 – Put Your Records on
5868031777 – Backyard boy
1612359191 – Promiscuous Girl
2680187020 – Love Story
5934833294 – Whoopty
5182322162 – Happiest Year
5321298199 – Daisy
5326205880 – Stunnin
5700151615 – Mad at Disney
1213631593 – Agggrls
5124654069 – BlueVerry Faygo
4920228588 – RockStar
4838896614 – City of Angels
5474368046 – Toes
2875388155 – Make you mine
5959099726 – Shower
4755430395 – Don't start now
5017745383 – Deep End
4805195742 – Moral of the Story
5713788248 – Tap in
5236951606 – How you like that
4600012334 – Kraazy
4736766355 – Skeckers
5010082173 – They Call Me Tiago
4802055455 – No Idea
5160602746 – The Box
1459324507 – Hrvy
4820087591 – Binding Lights
558981232 – Wild Things
4825865389 What's my name
5485570437 – Fine China
5595658625 – Overwhelmed
5972725880 – Holiday
6087886739 – Smells like Drill Spirit
3588291342 – Sofia
4698245190 – Whats Poppin
6066769798 – Pov
547886671 — Laffy Taffy
4969809261 – Sketchers
4635746167 – Lottery
5225350099 – Can We Kiss Forever
5157188076 – Be Kind
4215105077 – Rules
6273232048 – The Code
Wrapping Up
Utilizing the above Roblox boombox codes is pretty simple. Rather than delay, you can easily enter a game world in Roblox and then from there, you can click on your boombox and type in any of the listed boombox codes and watch it play out loud for others to listen to. Overall, this is our favorite Roblox Boombox codes and since we love 'em, you should too. So go ahead and give each and every single one of them a try and endeavor to drop some comments if you have a boombox code that's worth sharing.