Shovelware's Brain Game Script galore. So if you are looking to get hacks such as auto win, auto play and more, here's all the Roblox Shovelware's Brain Game Script to utilise right now.
Shovelware's Brain Game is one hell of an interesting comedic game show, hence it is no surprise to see it garnering over 5 million visits with more than 8,000 players actively playing.
Created in 2021 by Shovelware Systems for the Roblox platform, its objective task players to win prizes by answering a series of increasingly difficult but entertaining questions.
Also Checkout: Shoot People Off A Map Simulator Script
For one thing, Shovelware's Brain Game brings hundreds of fully voiced questions with loads of wacky prizes to earn. The game also features customizable podiums, buzzer sounds, and more.
It is a great brain teaser, one that test your cognitive abilities and spatial reasoning using a variety of query types and as you progress through the levels, the more challenging the questions become.
Now if you're looking to compete for the highest score and reach the top of the leaderboard by quickly and accurately answering each question as they come, then here's all the Roblox Shovelware's Brain Game Script to make use of.
Shovelware's Brain Game Script
From Auto Win to Auto Reply, Auto Choose Category and Auto Join, there are a dozen of Shovelware's Brain Game Script designed to help users simplify their gameplay. So without further delay, below is all the Roblox Shovelware's Brain Game Script to utilise right now.
Script 1
Script 2
loadstring(game:HttpGet("https://sleepylucapis.herokuapp.com/shovelware?file=lua"))() 
How to Execute Scripts in Shovelware's Brain Game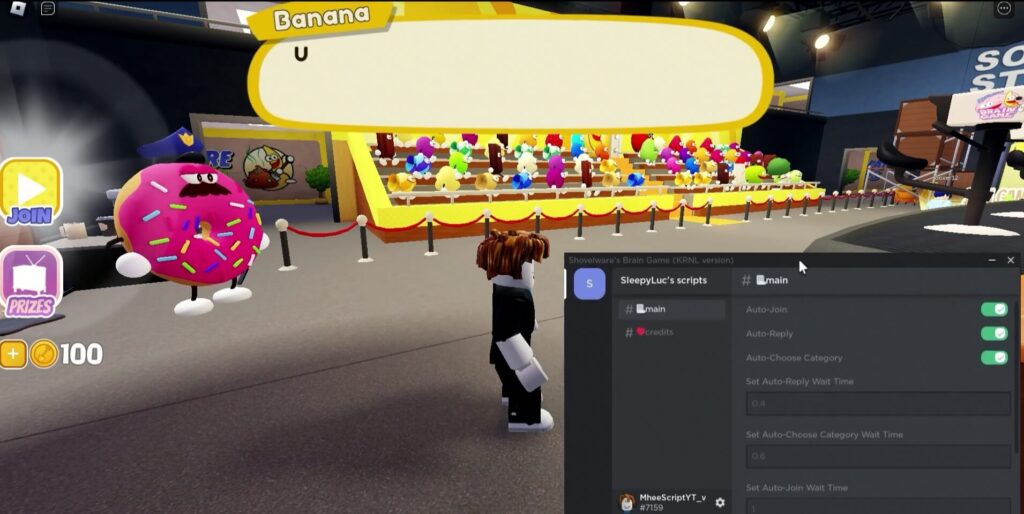 Prior to executing scripts in a game on Roblox, one will need to employ the services of a reliable Roblox exploit. From Krnl, Fluxus, Synapse X and more, there are a plethora of them.
So assuming you do not have one downloaded yet, simply jump into our previous post detailing the best Roblox script executor and/or exploit and find yourself something that works.
Once installed, go ahead and jump into Roblox, then look up and click to open Shovelware's Brain Game as well as the downloaded exploit. Next up, copy and paste any of the Shovelware's Brain Game scripts listed above into the box found within the executor.
Once done, click on Attach followed by the Execute button and the script GUI will pop-up. Now go ahead and enable the hacks you prefer.