Unused Roblox gift card codes galore. So if you are looking to get free Robux and other exclusive virtual items, then here's a list of all the unused Roblox gift card codes to redeem right now.
Rated as the #1 playground for kids, Roblox is simply a multiplayer online game-creation website where users design and upload their own games and also play games created by other users.
It is actually the first of its kind but despite the fact that it's free-to-play, one will need to have a decent quantity of its virtual currency called Robux in other to flex the plethora of paid stuff available on the platform.
Of course, there are several ways to get this Robux, but if you do not want to fall victim to some cheap scam, then the easiest way to bag yourself a ton of Roblox Robux is by using real-world money.
The platform sure features a dedicated section where users can painlessly purchase Robux, but if you are looking to get extra items aside from the in-game currency, then you're better off using a gift card code.
What Are Roblox Gift Card Codes?
To put it simply, Roblox gift card codes are digital redemption codes that you can enter at https://www.roblox.com/giftcards to get exclusive virtual items as well as credits that can be used to purchase Robux and premium subscriptions.

They mostly come in digital and physical gift forms with denominations of $10, $25, $50, or any custom amount. Now if you're looking for where or how to get unused Roblox gift card codes, then read on as we walk you through the legitimate ways.
How to Get Roblox Gift Card Codes
It is often said that the best things in life are free but as much as we acknowledge the deep hidden meaning behind this proverb, we still won't deny the fact that it doesn't apply to Roblox Robux.
For one thing, getting an unused Roblox gift card code is close to impossible considering the fact that each code can only be used once per account.
But never say never. So if you are hell-bent on finding a Roblox gift card code that has never been used before, then time and effort will be highly required.
Now before we jump into the how-to thing, we'd like to urge you to stay clear of Roblox gift card generators. These tools often claim to offer free gift card codes for Roblox Robux provided you complete mundane tasks in the name of human verification but do note that they're fake and do not work at all.
Now without further ado, here's one legitimate way to get unused Roblox gift card codes.
1. Microsoft Rewards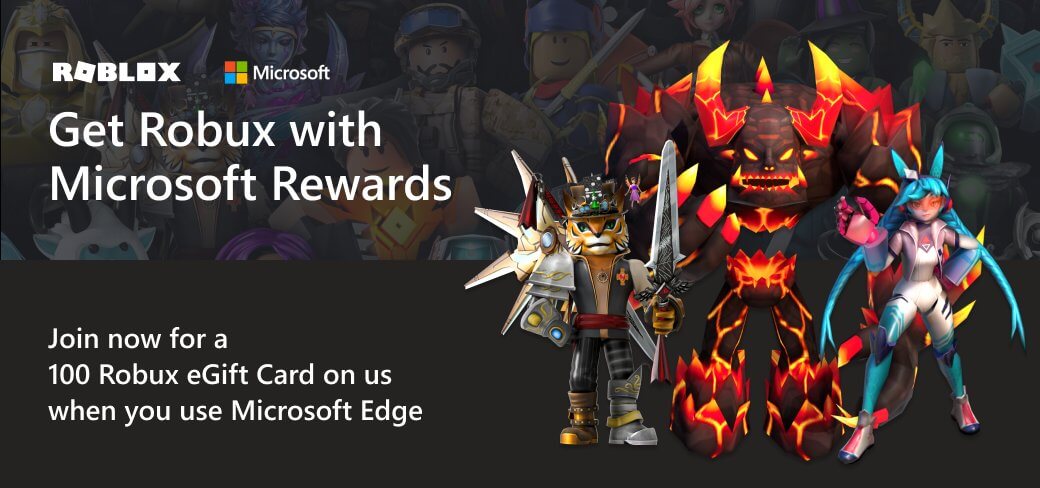 Microsoft pouts Roblox as the ultimate virtual universe where users can create, play, and be just about anything they can imagine. Now in a bit to support players, they introduced a way to earn 100 Robux eGift Card provided you complete some tasks which are easy of course.
To get started, players will need to join the program by signing into their Microsoft account. If you do not have one, simply create it by clicking here.
Once this is done, the next step will be to search on Bing using Microsoft Edge. Performing this task daily we give you up to 270 points and once you have accumulated 1,500 points which takes 5 days or more, you can then exchange or redeem them for 100 Robux gift card.
Unused Roblox Gift Card Codes
As we stated earlier, it's pretty difficult to come across a Roblox gift card code that's unused. But having dug dip into the web, we found some PINs worth trying out. So without beating around the bush, here are some of the Roblox gift card codes to redeem right now.
6273820518
910 433 6743
947 726 1418
834 906 0159
893 344 2769
799 912 0475
855 061 5545
917 347 9408
So these are some of the unused Roblox gift card codes working as of writing this article. Do note that they can only be redeemed once per account, so go ahead and claim them as soon as you can.
How to Redeem Roblox Gift Card Codes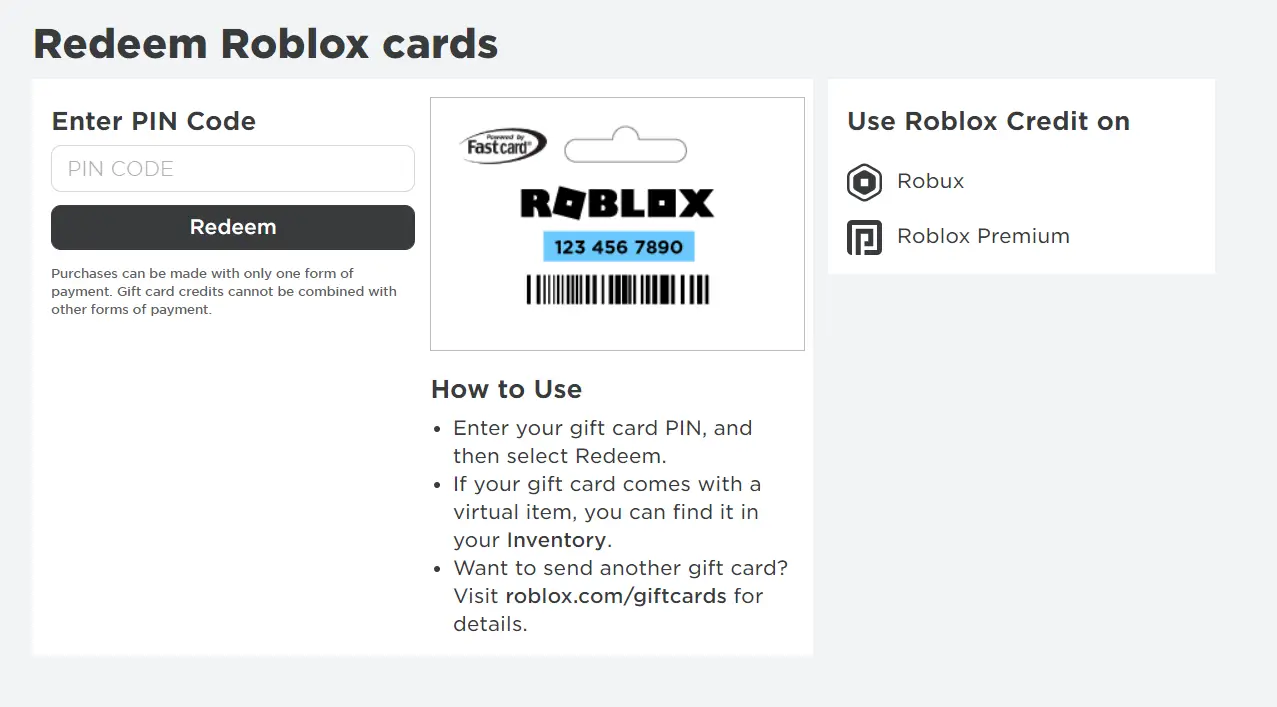 Before we proceed, it's worth knowing that Roblox Gift Cards come in two types. Some offer credit i.e real money value that can be used to buy memberships or Robux whilst most gift cards from Amazon upon redemption add the virtual currency Robux to your account balance.
Also note that Roblox gift card codes can only be redeemed using a browser and not the app itself. So without further ado, here's how to redeem Roblox gift card codes.
To begin with, ensure you're already logged into your Roblox account. Once this is done, head over to the Gift Card Redemption page using your web browser.
From here, enter the code from the gift card into the provided box and then click the Redeem button to add the credit or Robux to your account.
You should receive a successful message by now. Go added and click on the Use Credit option once revealed and you're good to go.
Redeeming a Roblox Gift Card Code on Purchase
Aside from the above method, you can also redeem your Roblox Gift card codes whilst checking out on the platform. To do this, follow the guide below;
Start by heading over to the Avatar Shop, Membership page, or Robux page.
From here, select the product you want to buy, and on the next page, choose Redeem Roblox Card as your payment method.
Once this is done, hit Continue and then type in the code on the gift card.
Click on the Redeem button once you're through and your Roblox credit balance will be updated automatically.
Now hit the Submit Order and you'll get a successful purchase message on your screen.
Wrapping Up
So that's it. If you are looking for how to get unused Roblox Gift Card Codes without spending a dime, then Microsoft Rewards is as of writing this article the best solution. So go ahead and Bing, then redeem those points for Roblox gift card codes. It's swift, it's easy, it's legitimate.