Venge.io hacks abound. So if you are looking to simplify your gaming experience by utilizing hacks such as Aimbot, Noclip, ESP, and more, here is how to hack Venge.io with ease.
.io games have become immensely popular in recent years, and this is entirely due to the fact that they offer simple mechanics, competitiveness, and minimalistic graphics. Today, there are a plethora of them littered all over the internet, including the famous Venge.io.
Created by the developer behind RoboFight.io, Venge.io is a popular browser-based multiplayer online game in which players engage in team-based or free-for-all battles against opponents from around the world.
Also Checkout: Krunker.io Hacks
The game features fast-paced elements as well as different game modes and maps, and in addition to its in-built store where items like skins and camos can be purchased, it also offers a variety of weapons to choose from.
Now, assuming you are looking to eliminate opponents easily, get infinite ammo, or even play god, here's the only working Venge.io hack to utilise right now.
Venge.io Hacks
As stated previously, Venge.io hacks galore, and the best ones feature cheats such as Noclip, Teleport, Instant Respawn, SpeedHacks, ESP, NoRecoil, AntiAFK, Invisibility, and more. So without further delay, here's how to hack Venge.io.
How to hack Venge.io
Prior to delving into how to hack Venge.io, it is important to download and install a userscript manager as well as a reliable and, most importantly, feature-rich Venge.io hack script. So let's quickly get things started.
Install a userscript manager.
Said to be a browser extension or tool that allows users to manage and run userscripts, the internet houses a plethora of userscript managers such as Violentmonkey, but for this guide, we will make use of Tampermonkey since it is lighter, more secure, and more efficient.
So to get this one going, open your PC browser application and go to the extension or add-on store for the browser (e.g., Chrome Web Store for Google Chrome, Firefox Add-ons for Mozilla Firefox).
Once there, use the search bar visible on the store's page to look up and select Tampermonkey, then click on the "Add to Chrome" (or the respective browser's equivalent) button to install the Tampermonkey extension.
Once this is done, you should get a successful message, and the Tampermonkey icon will automatically appear just beside your browser search bar at the top right corner.
Note: If the Tampermonkey icon fails to appear, you'll need to manually pin it by clicking the "pushpin" icon next to Tampermonkey within your browser extension page, which can be accessed by clicking the "puzzle piece" icon visible at your browser toolbar, just beside the search bar.
Find a Venge.io hack script.
Also known as userscripts, these small code snippets are known to modify web page behaviour by adding new features and more. Of course, there are a dozen of them, but we strongly recommend the Venge.io hack script right below.
https://paste-drop.com/paste/XM1Yd6zyPN
Install the Venge.io hack script.
For this part, we are assuming you have already copied all the code or data in the Venge.io hack script recommended above into your clipboard. If you haven't, simply click on the button that says Copy Content.
Next up, click on the TamperMonkey icon visible at the top right corner of your web browser, just beside the search bar, and select Create a new script or Dashboard from the drop-down menu that will appear.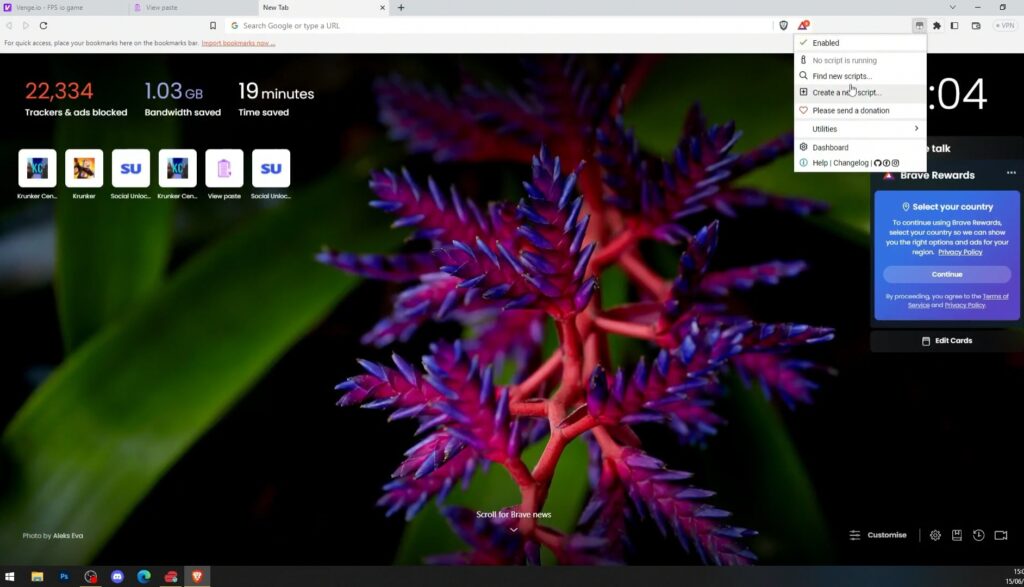 On the Tampermonkey Dashboard, simply click the plus (+) icon next to "Installed Userscripts" at the top to open the Tampermonkey text editor.
From here, highlight and delete every single code or piece of data within the text editor, then paste the Venge.io hack script data you copied earlier into your clipboard into the provided box.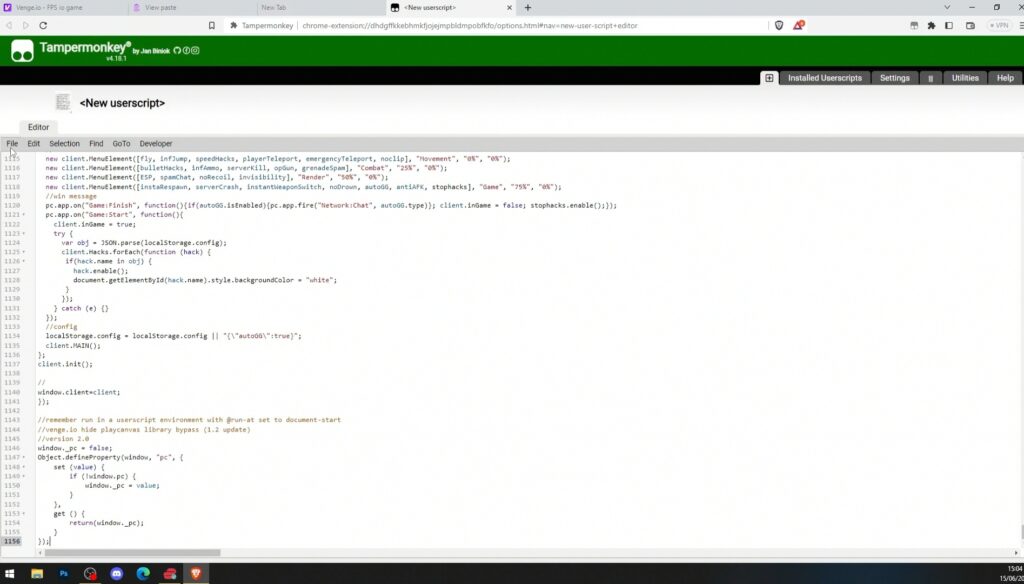 Once this is done, click on File from the top left, then select Save. Now back to the Tampermonkey dashboard, ensure the Venge.io hack is enabled, and then jump into the game itself.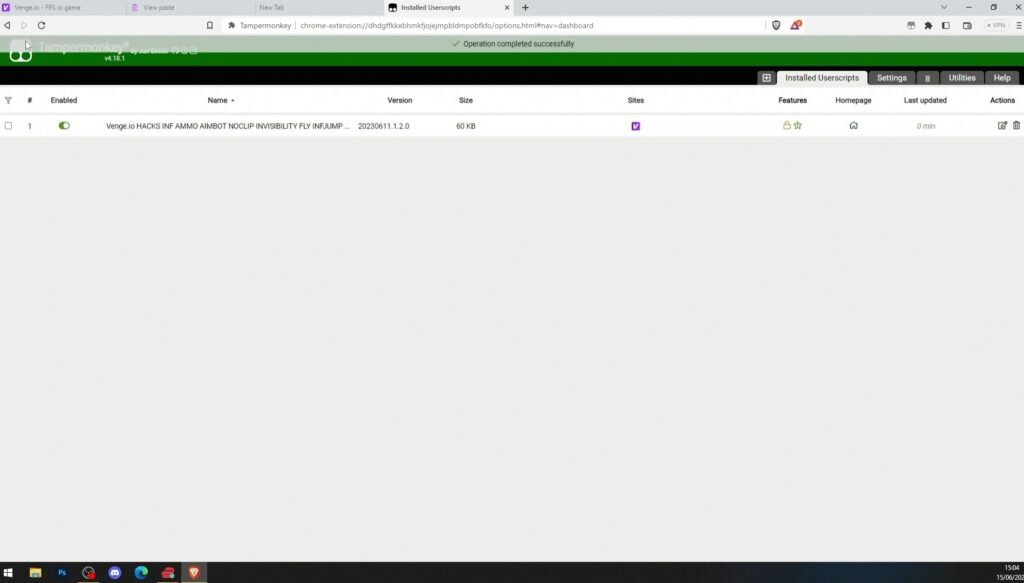 Enjoy the Venge.io Hack!
Once you are logged into Venge.io, you will be able to see the hacks readily available. Simply navigate through the cheat options and click to enable the hacks you desire, then load a save or start a new game, and you'll be good to go.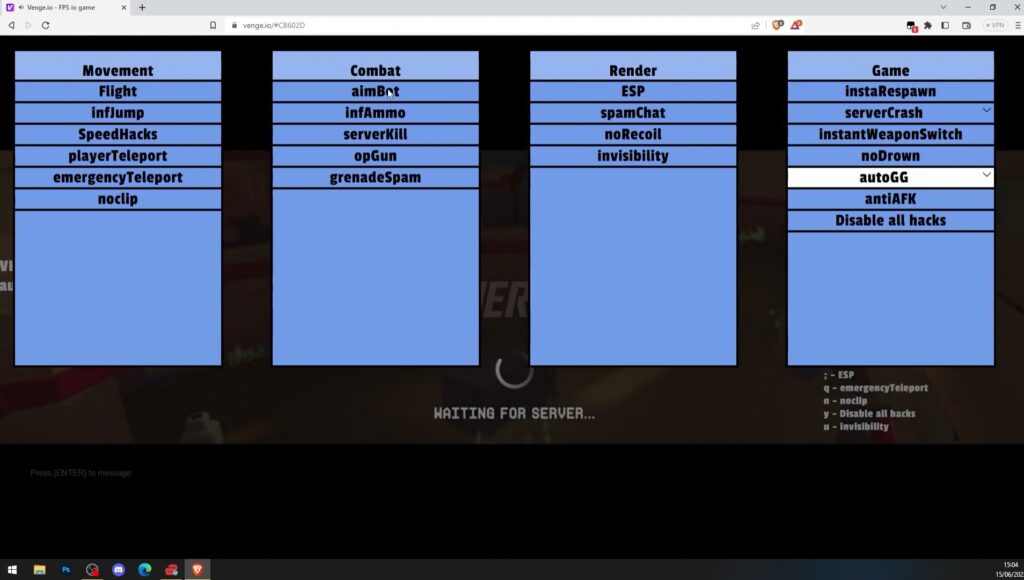 Wrapping Up
So this is arguably the best Venge.io hack to make use of. If you have a Venge.io hack script that is more advanced compared to the one we have shared above, simply use the comment box below to share it.