Looking for how to hack Among Us to unlock all skins and other stuff, then here's the best Among Us hacks for mobile to utilize right now.
Among Us is an online multiplayer social deduction game that's full of intrigue. It is quite similar to Town of Salem but rather than a lobby, it's gameplay takes place on a spaceship made of different units. At its core, Among Us task players to identify the intruder who has snuck aboard with intent to kill everyone.
The game initially kicks off with you playing either online with friends or against an AI. Starting off, you'd be assigned the role of either a crewmate or an impostor. As the latter, your mission will be to eliminate the entire crew by sneaking up to them and hitting the kill button. But if you happen to pick the role of a crewmate, then your job will be to figure out who the impostor is before he kills everyone.
Also Checkout: Lords Mobile Hack and Cheats
Just like Town of Salem, Among Us features a dedicated chat room where all players appear after each action to discuss who the impostor is. They are able to do so through voting and whichever player that gets the most votes tends to stand trial in other to escape lynching.
Sincerely speaking, Among Us is fun and very interesting. It is thrilling, full of suspense, deceit, betrayal and what not. It's character customization is simply one of the best out there and you'd love the game's graphics. Now if you're looking for how to hack Among Us in other to unlock all the skins and probaby do other stuff, then here's the best Among Us hack to utilize right now.
Among Us Hack
It is extremely surprising to see that despite being popular, Among Us offers security holes that can be feed on. Using hacks or perhaps cheats, you can easily kill players at will or impersonate them if need be.
That aside, you'd be able to walk through walls, supercharge your character speed, teleport around, control movement of other players, ban or remove ban and most importantly, you'll be able to obtain paid in-game items for free.
Sound interesting right? I know it does. Below, we're going to walk you through on how to hack Among Us without installing Mod APKs.
How to Hack Among Us
A quick Google and you'd see a slew of sites claiming to be able to hack Among Us for free buff. Don't be deceived, these tools don't work. They'd urge you to complete mundane task and at the end of the day, you will be enriching the pocket of the developer whilst going home with nothing.
Luckily, we found the free alteration tool GameGuardian to be working perfectly. So here's how to utilize it to hack Among Us.
Download GameGuardian Script for Among US
From here, we assume you already have GameGuardian installed on your mobile device (incase you haven't, simply Google it out). Once that's done, go ahead and download any of the scripts listed below for Among Us.
Different scripts, different features. Download them all!
Execute the Script
Now it's time to do the execution thing. So to get this one going, simply fire up GameGuardian and click the "Start" button, then minimize the app.
Now launch the Among Us game installed on your Android phone. You should see a "GG" icon floating on the screen. Click on it and select Among Us as the "Process" in the window that'll pop-up.
Now click on the "Play" icon located at the far right corner of the screen. Another window will pop-up, go ahead and click the three horizontal dots beside the file's bar and then browse through your device to locate the Among Us script you downloaded earlier.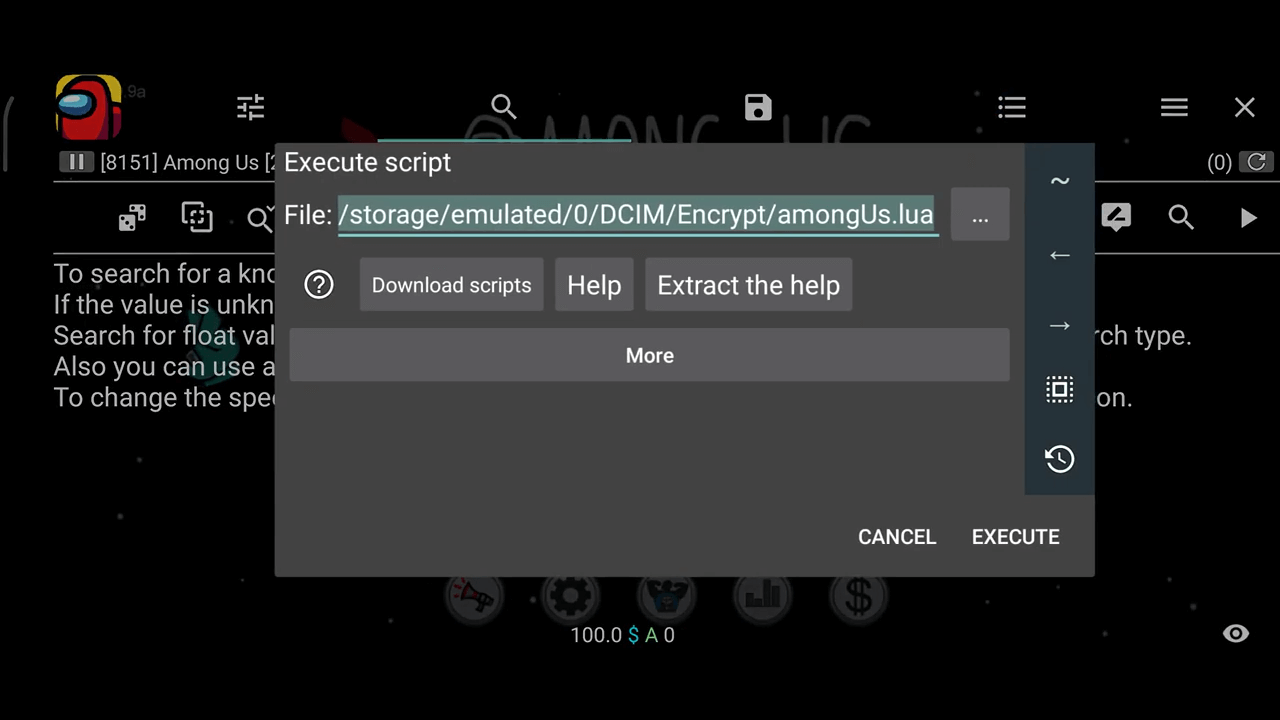 Once found, click on it to select and then hit the "Execute" button. That's it. You can now select which hack you want and it'll instantly inject into the game.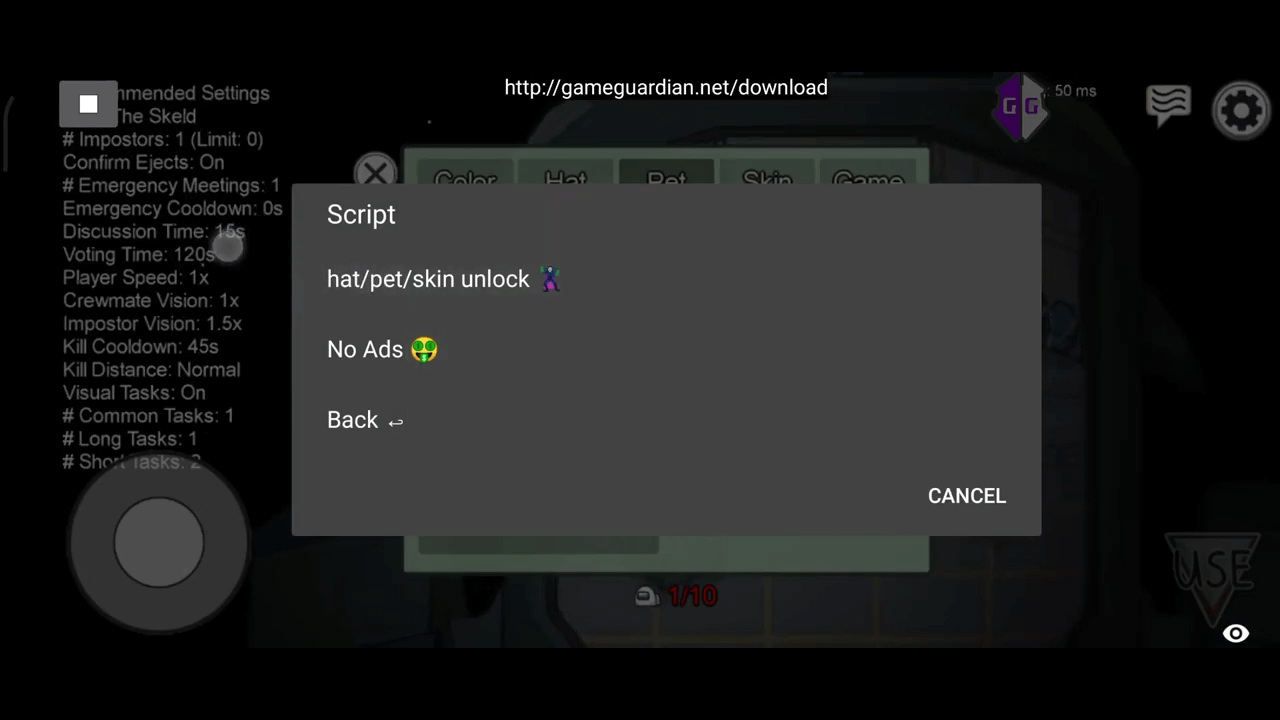 Note: If after selecting a hack and changes aren't made, simple select the hack again and you will get a desired result.
Wrapping Up
So this is literally how to hack Among Us and feel like a boss. The method we outlined above is completely safe and comes at no cost. Simply give it a try and drop your testimony below. Also endeavor to inform us if you got any Among Us hack that's worth utilizing. Till then, happy gaming.