MTG Arena is a collectible card game designed for higher IQ's. Its gameplay might be a little bit complex compared to other games in the CCG category, but it sure evened the Pay-to-Win factors quite a lot. Now despite featuring tons of contents, excellent graphics and unique gameplay, MTG Arena still lacks the friends list feature.
Also Read: MTG Arena Release Date for Mac is Already Scheduled
Imagine showing the game to your friends and saying "but we can't play together". A trading card game that deprives players of the ability to challenge friends wouldn't be fun I think, and that's probably the reason why majority of folks are still playing HearthStone.
In the State of the Beta that was held last year, Chris Clay answered a slew of questions concerning the update of Magic: The Gathering Arena. Among the plethora of queries that was asked, friends list made it to the top. Chris Clay on the other hand didn't shy away from the questions but instead, he gave a reasonable feedback that reads thus;
I'm going to start by ripping off this bandage quickly: the friend list and its associated features are still a ways out in our development timeline. As much as I regret having to say this (and it's probably more than you think), we have some technical and logistical challenges to overcome before we're going to be able to deliver it.

The initial features we're working toward includes your list of friends, the ability to chat with them, and the ability to challenge them to a game of Magic. These friendly games won't count towards daily wins or quest rewards. The friends list is also the foundation for us to build upon to eventually allow you to not just pod draft, but be in a pod draft with your friends.
Well fast-forward to October 2019, the highly anticipated MTG Arena friends list feature debuted and it is a way to directly challenge your friends for Magic. Constructed Brawl also came out same day and a slew of features alongside concepts such as friends deck sharing are already in development.
How to Challenge Your Friends
If you are looking to play directly against your friends in Magic: The Gathering Arena, then you'll need to meet up with two requirements. One is to have your username and five-digits code as well as that of your opponents, then a constructed deck with a minimum of 60 cards. Once you've everything ready, then follow the below guide to challenge your friends.
To begin with, fire up MTG Arena and click on the crossed swords at the top right corner of the home page. This will bring up the Direct Challenge window.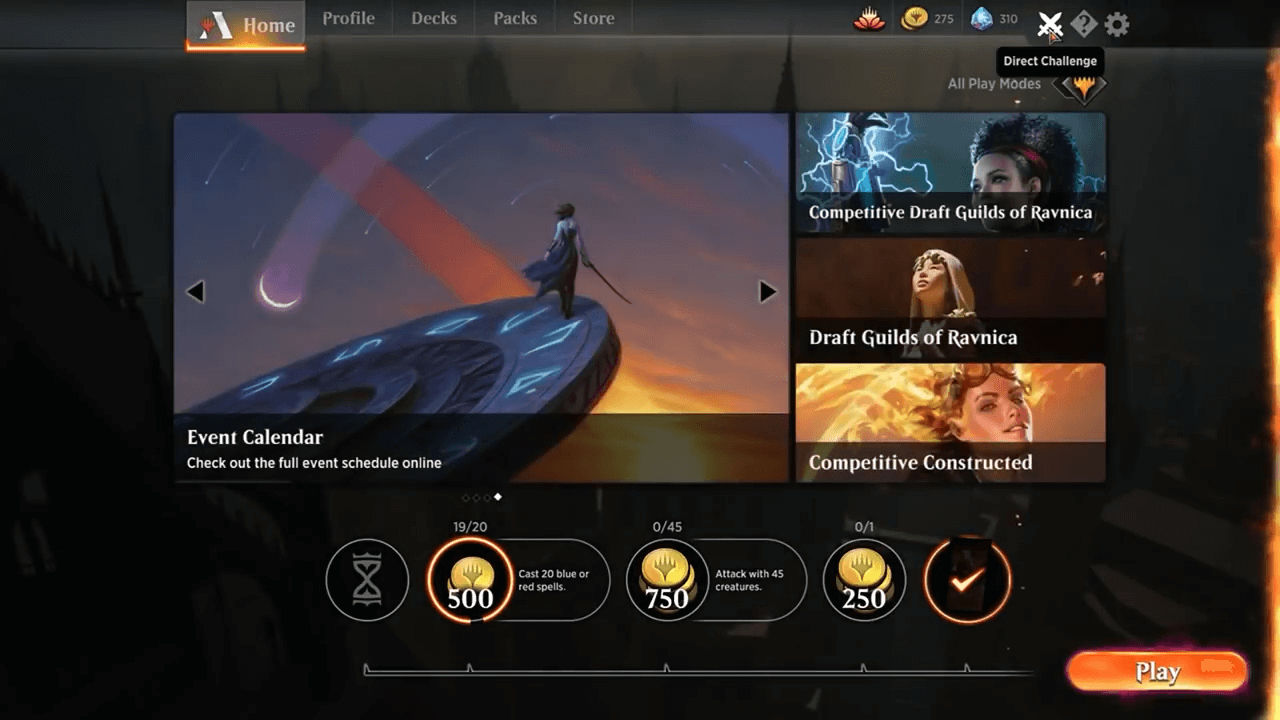 From there, you'll see your username alongside the five-digits autofilled by the system. Simply select your deck and enter your opponent's username.
Once done, click the "Play" button and you will be taken to a match loading screen. The system will now wait for your opponent to challenge you in return before pitting you against each other.