Cool clan names abound. So if you are looking for some funny or good clan names for games like Fortnite and PUBG, then here's a list of the best clan name generator.
If you are familiar with the Wu-Tang Name Generator, then chances are you're probably looking for something similar, perhaps to help you "come up" with a cool, funny and/or good clan name to use on games like Fortnite, COC, PUBG and more.
We've seen folks searching for how to change name in clash of clans and so on. This type of queries often pop-up when "newbies" choose names that aren't catchy and as such they'd tend to regret it later. There's absolutely no need to rush when picking a clan name.
Also Checkout: The Best Gamertag Generator for PS4 and Xbox One
Most of the games you see out there do not allow "a change of name" after choosing one. As such, you are expected to think of a good clan name that's either funny or cool prior to entering them. But assuming you lack the skills and/or charisma to come up with a clan name that's badass, then you will need the help of a good clan name generator.
These tools are specifically built to aid you skip the hassles of thinking hard all in a bit to come up with a clan name that doesn't suck. They're extremely handy and can be trusted too. So if you are looking for some cool, funny and good Clan names to use on games like Fortnite, Call of Duty Mobile, PUBG and more, then here's a list of the best Clan Name Generator to utilize right now.
1. Name Generator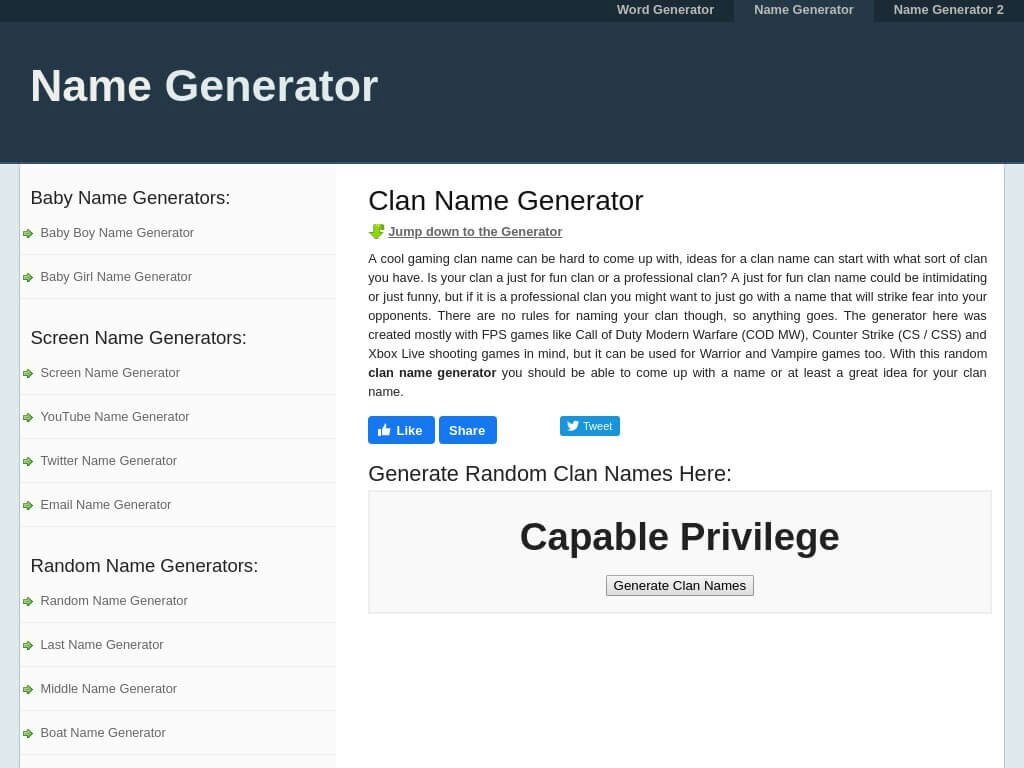 If Enormous Assassins won't do, then Futuristic Gangs will. Name Generator is undoubtedly one of the best clan name generator out there. It's a tool that randomly generates cool and funny clan names for first-person shooters like Call of Duty Modern Warfare, Counter Strike and more. Utilizing it is quite simple as all you will be required to do is to click on the "Generate Clan Names" button and you'll be present with a slew of good clan names to use.
2. Spinxo
Wait, before you input that name on Clash of Clans, think twice. If you are unsure of what you're about to do, then simply head over to Spinxo and "grab" any of the cool clan name listed on the site. At its core, Spinxo is one of the most popular Clan Name Generator that let's you create hundreds of personalized name ideas. Simply enter your nickname or name (to be precise) and the tool will do that work for you.
3. Nerd Burglars
Nerd Burglar's Clan Name Generator is in one word exceptional. It's the type of tool that can help you lift the burden of having to come up with a good clan name that's catchy. Featuring a dedicated filter that let's you pick a name based on what type of clan you are looking to create, Nerd Burglars Clan Name Generator is sure unique. From Medieval to Fantasy, Space and more, you'll surely come up with a good clan name that'll fit what you're looking to make.
4. Fantasy Name Generators
Personally speaking, I fancy Fantasy Name Generators user interface and theme. It is literally "classic". Similar to all the sites we listed above, Fantasy Name Generators is a platform which once logged in gives you ten random clan names. You can then hit the English/French names button to generate other names that are attractive. You should really give it a try.
5. Genr8rs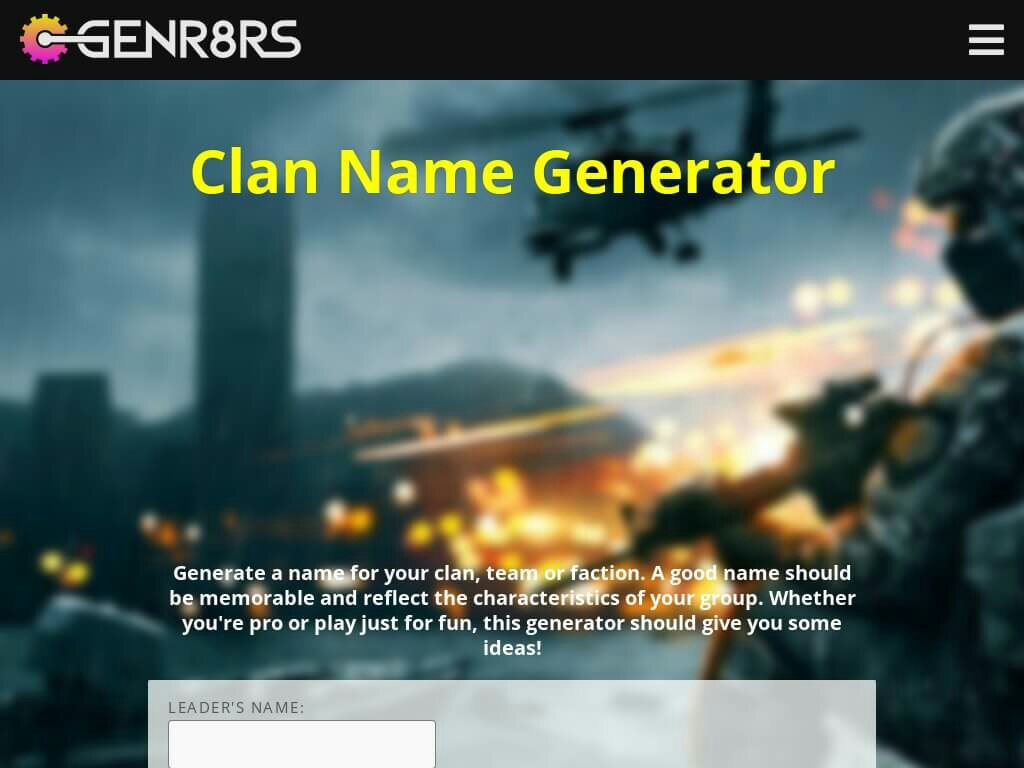 Genr8rs believes that a good clan name should be "memorable" and most importantly, reflect the attributes of the group you're making. The fact that you are a Pro at what you do doesn't matter and if by any chance you can't come up with with a cool clan name ideas, then utilizing Genr8rs is a must. It's basically an online tool or generator that can be used to generate a slew of funny and good clan names for your group.
6. Online Generator
Fighters of Merklin is good, but when you look at The Slayers of Darmor and The Sinners of Ohmar, you'd wonder which is better. For one thing, Online Generator is known. It is actually an essential tool capable of generating cool and funny Clan Names for users. Be it Destiny 2, Runescape and more, you'll certainly find a name that's suitable.
7. Namenami
Namenami is unequivocal. It is a simple and straightforward clan name generator that is worth using right now. Directly from the site's homepage, you'd see a cool clan name waiting to be claimed but if the first idea doesn't have the right feel, pressing the See Another button will instantly get you a new one. Go ahead and check 'em out.
8. iClan Websites
iClan websites was specifically designed to let users build a superior website for your clan or guild, but aside from this, it features a unique and reliable clan name generator that works like charm. From Stealth Devils to Rough Bridge, you will certainly find a good clan name to use.
Wrapping Up
Algorithm is good no doubt, but it can't be matched with the creativity of a human brain. But if you lack the charisma to come up with a good clan name, then the aforementioned tools will help.