Imagine you are playing Destiny 2 and the kill feed reads "BigB00tyJudy headshotted Type2Diabetes." Now that's funny right?. Choosing the perfect online persona can help build your reputation. The more simple and catchy your name is, the more people remember you. This is where gamertag comes in to play. It's essentially an alias or a username that represents you when you're playing games online.
The phenomenon is mostly prominent on Xbox live community and that's because it's a means of identification. It makes it easy for other players to message you, see what game you're playing and check your statistics. Initially, when you sign in to the Xbox app, Microsoft will automatically create a gamertag for you and if you don't like it, you can change it once but the second attempt will require you to pay $10.
Even though Microsoft is allowing users to use up to 12 characters whilst creating their username, you really do not want to choose a gamertag you'd regret later. That's why we're solemnly recommending you implore the services of these cool gamertag generator so that they can help suggest some badass, cool and funny gamertag for you.
1. SpinXO
If you are looking to come up with a simple and good gamertag but don't know how to, then Spinxo will help you out. It is a highly personalised username gemerator targeted at people who want a catchy and descriptive name for their own channel. For one thing, the site brings an easy to use and awesome user interface.
It works by allowing users to type in their name, and once they click the "Spin" button, 30 unique names will be generated instantly. Now let's say you don't fancy the names presented to you, all you'd need to do is to click the Spin button again and a bunch of random names will be suggested. You can also check the gamertag availability by clicking on it.
Visit SpinXO
2. Badass Gamertag
Its nomenclature typically says it all. Badass gamertag is simply a platform designed to allow users discover the most badass name that can be used on xbox live and other services. The site's real selling point is probably that user interface, it is by far the easiest and quickest method to find some badass gamertag that are worth using. Once you head over to the website, you do see an already suggested name such as "MadS'now" and you can also generate another if you want to.
Visit Badass Gamertag
3. Cool Generator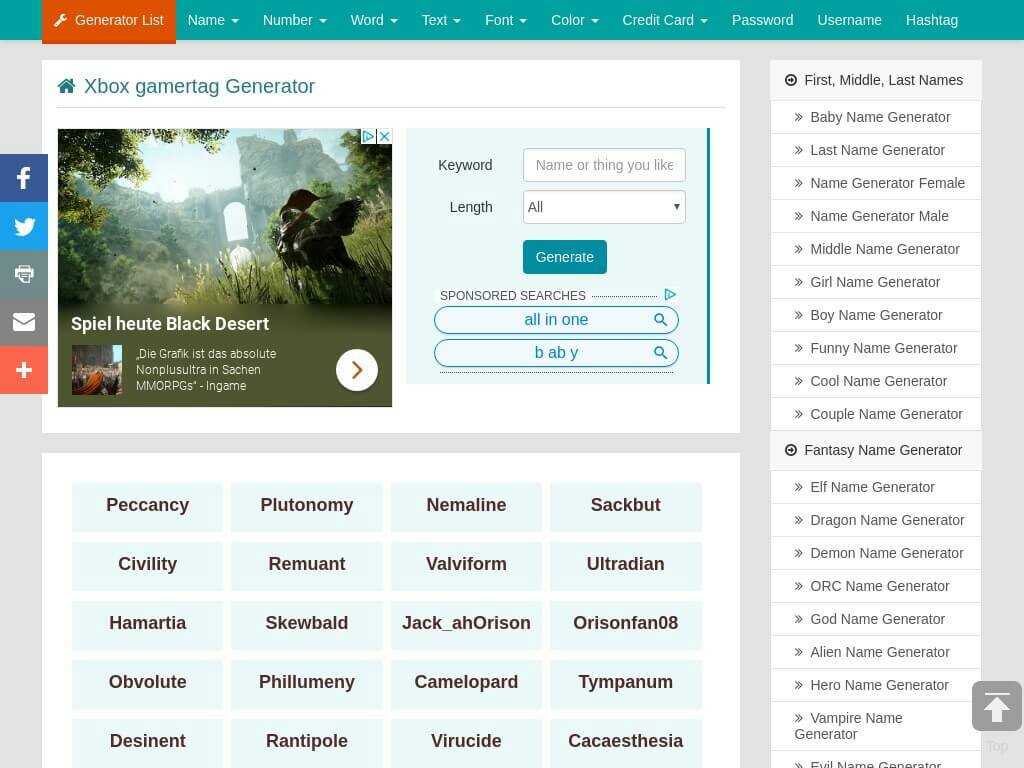 As we said earlier, a good gamertag is the key to grabbing and retaining your audience. It's quite essential and knowing this fully well, cool generator spawned. It's literally a service that let users generate countless usernames that they can make use of. All there's needed to do is to type in the keyword you like, and then select the length of the username. Once done, click on the button that says "Generate" and you'll get a lot of usernames for reference.
Visit Cool Generator
4. Get Gamertag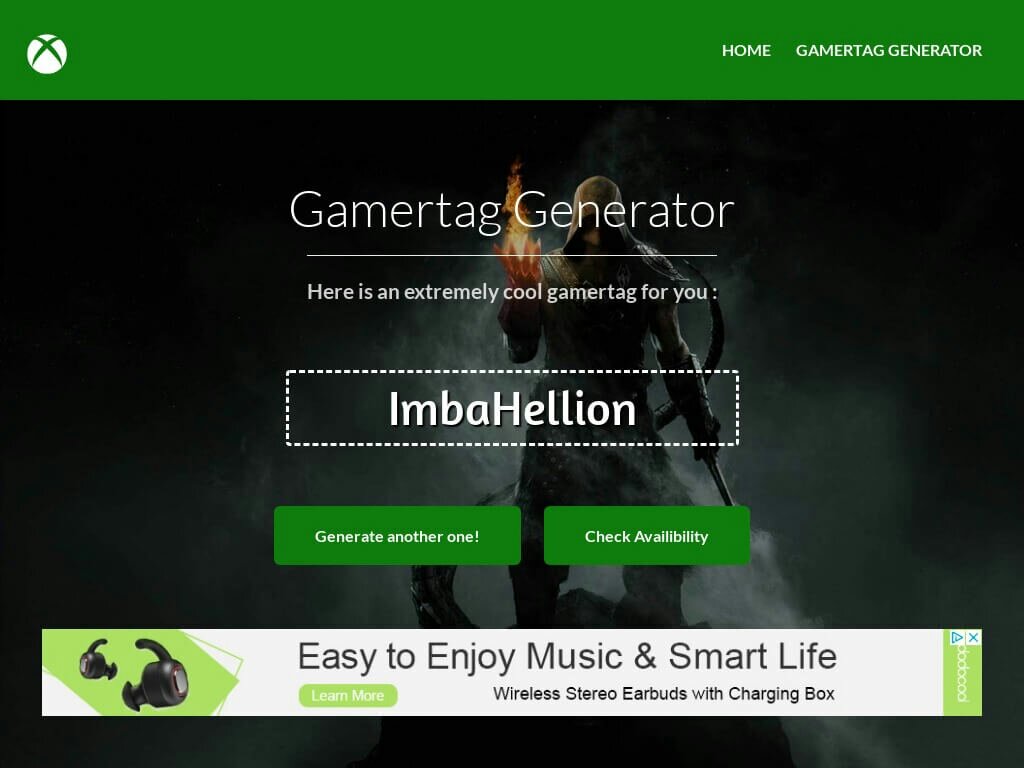 Get Gamertag is ideal for folks looking for anomity online. As a tool built to simplify the username searching task, get gamertag prides itself as the best Xbox name checker. It functions in such a way that when someone visit the site, they'd see a cool and badass gamertag generated for them. No need to input tag, and you can also check the availability and generate another one. Get Gamertag user interface is clean, it's able to achieve this feat by searching the xbox live database for names that aren't yet saturated.
Visit Get Gamertag
5. Jimpix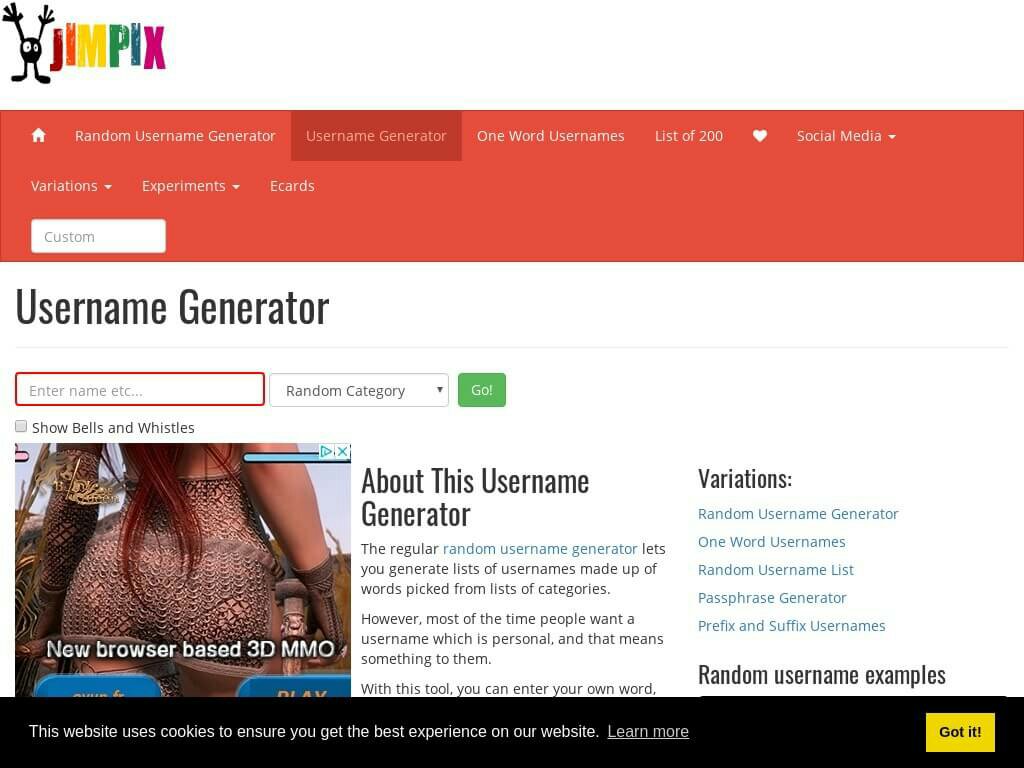 Finally, we have Jimpix. It's slightly faster than Spinxo and brings more advanced features. Just like its mates, Jimpix is a gamertag generator that generate lists of usernames made up of words picked from lists of categories. In other words, users can enter a name and choose one of 35 different categories including sily words, Shakespeare and taste. The tool will then generate random name relating to the one you entered and it does so by adding prefix and suffix.
Visit Jimpix
Final Words
A dozen of gamertag generator are out there to utilize. Some are literally bunch of garbage that can't come up with a good name. But the ones we listed above are reliable. They're capable of suggesting badass, cool and funny gamertag. Do patronize them often.