Block Race scripts abound. So if you are looking to get hacks such as auto farm, win farm, auto run, and more, here's all the Roblox Block Race script to utilise right now.
Block Race by Kitsune Play is an interesting 3D experience released in 2023 for the Roblox platform. The game, albeit new, has over 6,000 concurrent players and has amassed more than 1.4 million visits.
Its gameplay for the uninformed task players to swiftly pick up blocks on the ground and race to the finish line with them to earn rewards.
Also Checkout: Punch a Anime Script
Block Race features a tonne of levels to unlock, and reaching the top of the leaderboard is no easy feat. This is where scripts come into play.
So assuming you're looking to simplify your gaming experience, here's all the Roblox Block Race script to make use of.
Block Race Script
From Auto Collect to Infinite Blocks, Auto Run, Wins Farm, and more, there are a plethora of feature-rich scripts for Block Race. So without further delay, here's the Roblox Block Race script to execute right now.
Script 1
loadstring(game:HttpGet("https://raw.githubusercontent.com/ToraIsMe/ToraIsMe/main/0BlockRace"))()
How to Execute Scripts in Block Race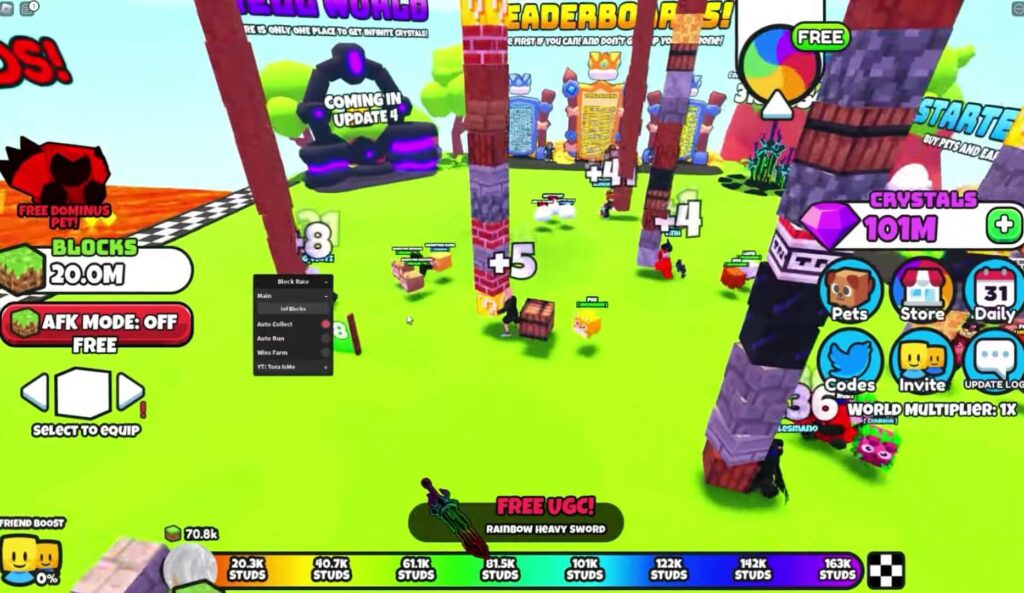 Prior to executing scripts in Block Race, one will need to employ the services of a reliable Roblox exploit. From Krnl, Fluxus, Synapse X, and more, there are a plethora of them.
So assuming you do not have one downloaded yet, simply jump into our previous post detailing the best Roblox script executor and/or exploit and find yourself something that works.
Once installed, go ahead and jump into Roblox, then look up and click to open Block Race as well as the downloaded exploit. Next up, copy and paste any of the Block Race scripts listed above into the box found within the executor.
Once done, click on Attach, followed by the Execute button, and the script GUI will pop up. Now go ahead and enable the hacks you prefer.