Aesthetic Roblox pfp galore. So if you're looking to create one, then here's the best Roblox Profile Picture Maker to utilize right now.
Believe it or not, Roblox is the real thing. It's in fact the largest user-generated online gaming platform on the internet and assuming you've kids who are tech savvy, do not be surprised to see that they have already "sold their soul" to the game creation platform – Roblox. Now for the uninitiated, Roblox is like a 'cross' between LEGO and Minecraft. It is basically an app that let's you play video games designed by other people on the platform.
Also Checkout: The Best Roblox Asset Downloader
Albeit free, it offers its own virtual currency which can be used to purchase several items from the store. While logging into Roblox is as easy as creating an account and entering your email/username and password, choosing an appropriate Roblox Profile Picture will perhaps be the biggest hurdle you'd face as a noob. But do not frit, for we will be revealing the best Roblox Profile Picture Maker that will assist you in your journey.
What's Roblox Profile Picture

The term profile picture is something we are conversant with and when you login to Reddit, Facebook, Whatsapp or Twitter, you'd be asked to setup one. While it's ubiquitous, most Roblox players (kids to be precise) may not know what it is.
Hence to educate y'all, Roblox Profile Picture is simply the image that represents you in all the interactions across the platform. In other words they're displayed as an avatar next to your account name on posts, comments and mentions.
While most players often choose their profile pictures randomly, picking something good or aesthetic can give others a glimpse of your personality traits and mood swings. So if you are looking for some aesthetic Roblox Profile Pictures to utilize, then here's the best tools and/or websites that can help you with that.
1. Placeit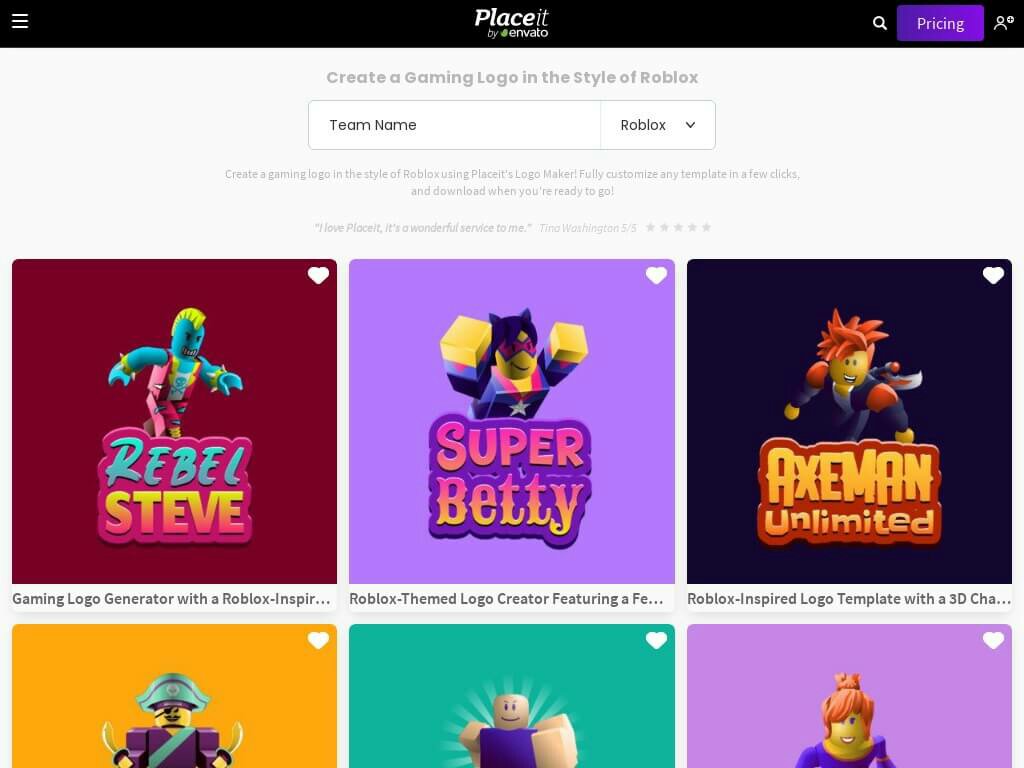 Assuming you are familiar with the leading marketplace where users garner to buy and sell creative assets such as themes, then Placeit shouldn't be new. It is basically a platform that offers tons of logos, templates, animated videos, and mockups.
Acquired in 2018, Placeit can be said to be an online tool or website that can help you bring your Roblox profile picture online easily. Let's say you need a new profile picture to integrate in your Roblox account, then you will find a plethora of 'em. The site offers hundreds of already made Roblox profile pictures with an option to modify or edit them to your liking.
From text to font style, you can easily change your character skin color and even add custom background pictures. While we acknowledge Placeit simplicity, it's worth knowing that downloading the Roblox profile pictures created on the site comes at a cost. So if parting ways with some dollars won't hurt you, then it's worth trying out.
2. Picrew
Ideas beget creations and when you look at Picrew, you'd see that it's the perfect example of what we have just said. While we personally utilize Picrew to create original characters for RWBY and other anime/manga, it's still one of the best Roblox Profile Picture maker out there.
At its core, Picrew was designed to help users bring out their creativity. It is basically an avatar creator site that allows you to make your own character which can be downloaded afterwards. For one thing, when you log into the platform, you'd see that it's fully in Japanese but with a few tricks here and there, you can easily use Google Translate or the in-built translator in Chrome browser to convert it to English or any language of your choice.
Despite offering a plethora of advanced features, Picrew is easy to use. Once on the site, you can painlessly change images accordingly and even create characters as per your choice. There are different types of clothing and accessories to choose from and you can even change the character's eyes, hair, etc.
That aside, Picrew features a random maker. So even if you lack creative skills, you can easily rely on this feature to get your character created randomly with an appropriate item assigned to it. It's really a great tool, and we highly recommend it.
How to Make a Roblox Profile Picture
There are only but a sheer amount of Roblox profile picture maker out there on the web, and while we have listed them here, it may not be enough. Hence we recommend you watch some of the YouTube videos detailing how to make a Roblox profile picture using the highly acclaimed Roblox Studio.
Nonetheless, if you are finding it difficult to find an easy-to-learn video, then simply watch the one above and it'll reveal the steps to you. No Blender, no Cinema4D, no Photoshop skills no problem. It's perfect for beginners.