Roblox bypassed audios galore. So if you're looking to add music to your game or to play any of your favourite songs whilst gaming on the platform, then here's a list of all the loud bypassed Roblox ID to utilize right now.
Ever joined a place on Roblox only to see some person with a Boombox playing loud music (usually rap) with swear words? If yes, then you have just listened to what is called bypassed audio. Bizarre right? I know you'd think that. In this article, we are going to explain what Roblox bypassed audios are and then we'll go further to list the IDs of the extremely loud ones.
In a bit to offer developers ways to make their games immersive and dynamic, Roblox introduced an audio marketplace where players can easily go to to select a song to add to their games as background music.
From the ever popular Old Town Road to Hit or Miss, Panini and more, its huge library of audios is pretty amazing and they can go a long way to set the atmosphere for different scenes.
Also Checkout: The Best Roblox Bypassed Audios
The plethora number of licensed music on Roblox can go as far as liveling up your gameplay and can even add realism to the in-game world. But in as much as they sound cool, there are players who prefer loud music with profanities and this is where the frequently searched bypassed Roblox ID comes in to play.
For the uninformed, they are some sort of loud, chaotic and profanity-laden rap that's full of frantic sound effects and are often cracked down on by Roblox moderators and as such difficult to find.
But do not be disappointed for we have got a slew of Roblox bypassed audios, thanks to the unique strings and/or numbers attached to them. So without further ado, here's a list of the best and loud bypassed Roblox ID to add to your game or listen to right now.
| | |
| --- | --- |
| Audio Name | Codes |
| Fall | 6927655476 |
| 20Min | 6751213328 |
| The Race | 6806559960 |
| Xxxanax | 6813407743 |
| Take a Step Back | 6841256087 |
| Gangsta Gangsta | 6950439715 |
| Joey Trap Sesame Street | 6902071257 |
| Zaza | 6902174188 |
| Easy E | 6858978754 |
| Subway Se*ist | 6858944107 |
| When The World Ends | 6372629332 |
| Genocide PT 3 | 6838679101 |
| Genocide PT 4 | 6763072398 |
| Genocide PT 5 | 6754831574 |
| Drink My Pi** You Nasty | 6808895774 |
| Miss The Rage | 6813521463 |
| Shotgun Willy Master Sword | 6858998319 |
| Shotgun Will Oreo | 6833821765 |
| D Rose | 6750452932 |
| Vamp Anthem | 6807211183 |
| Magnolia | 6769960024 |
| Gankin Lamez | 6822281365 |
Here's Some More
6899698980
6925784874
6840604767
6932702419
6864185619
6913834956
6927729595
6829707475
6834639251
6774872756
6872027090
6841256087
6796974408
6938430999
6942829110
6927364868
6762971156
6852999211
6889326215
6911963971
6775579667
4799047800
6835363176
6921062543
How to Use Bypassed Roblox ID
Prior to utilizing the above listed bypassed Roblox ID, players will need to purchase and equip any of the Boombox item on sale. For the uninformed, they are a type of virtual radio or digital music player and the cheapest amongst them all sells for R$250.
Now assuming you have already bought one, simply "jump" into your inventory and equip it. Once done, it should appear either on your avatar's hand or shoulder.
Now go ahead and enter a game world that offers supports for the boombox item. In there, click to select the Boombox item and this will reveal a prompt which will ask you to input a Boombox code.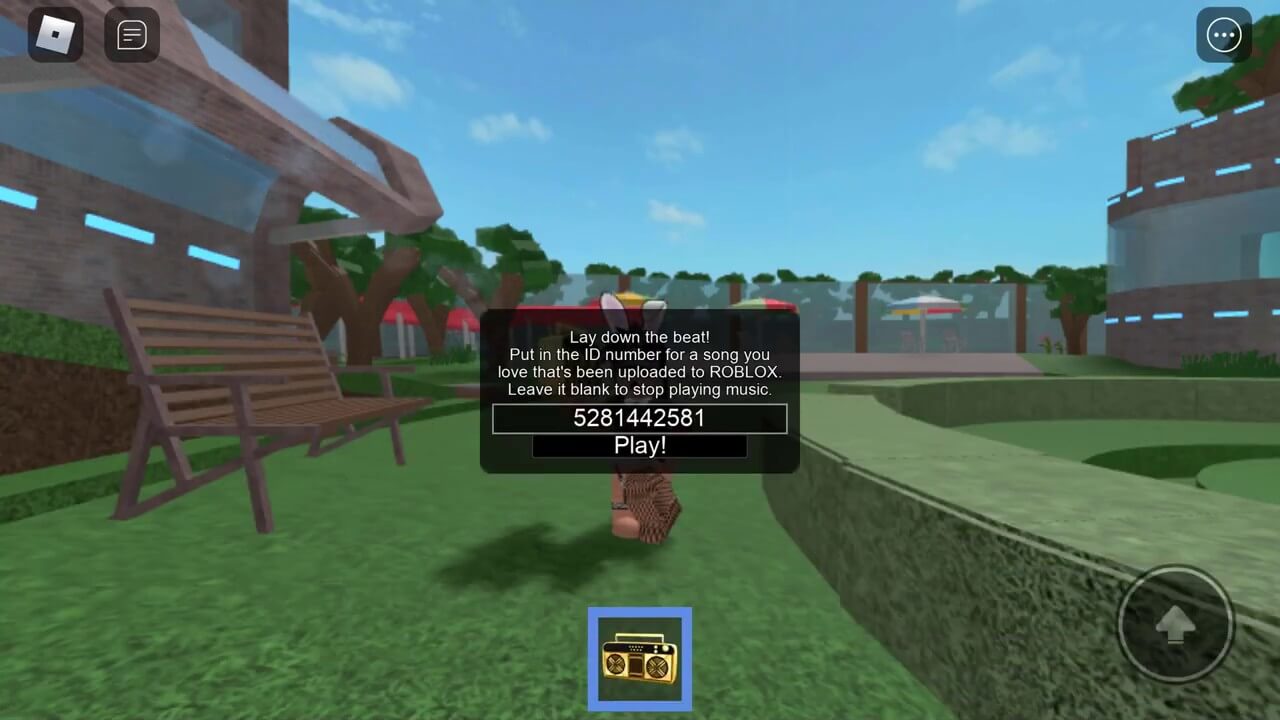 Without hesitating, copy any of the loud bypassed Roblox ID listed above and paste it into the provided and/or empty pop-up text box. Once done, hit the Play button and you'll be good to go.
Wrapping Up
So this is the list of all the loud bypassed Roblox ID worth listening to right now. Albeit inappropriate, they're pretty entertaining and can be considered more energetic compared to the generic music loitered all over the Roblox audio library. Overall, happy gaming.