Castle Fusion is one hell of an amusing clicker. So if you're looking to get free gems and souls, then here's a list of Castle Fusion Idle Clicker codes.
The thing with Idle games is that they are baffling. Unlike Fortnite and other notable titles where you have to "grind" to progress, clicker games typically play themselves – even when you are offline. They're literally fun and exciting to play and one such incremental game that has stood the test of time is none other than Shark Jump's own Castle Fusion Idle Clicker.
It's a good game per se with lots of stuff to do and the story line is quite interesting. Its gameplay (for folks who aren't aware) is set in a 3D medieval world where players are tasked to merge towers to create stronger ones whilst defending their empire against an invasion of orcs and goblins.
Also Checkout: Clicker Heroes Codes
Castle Fusion features a ton of weapons and locations to unlock and there's a plethora of upgrades to do too. Now the fun part is that even when you're offline, the game automatically plays itself, thus generating scraps for you and these can be used to upgrade defenses when you come back online.
Castle Fusion Idle Clicker Codes
As with most games out there, Castle Fusion Idle Clicker offers a sheer amount of active redeem codes that once redeemed rewards players with free gems and souls. These text codes galore but most of them are already outdated. Fortunately, we have garnered the ones that are still working and they're listed below.
FREESODA – Gives you 10 Gems
BIGDADDY – Gives you 10 Gems
NO FOG – Gives you 15 Gems
GOBLIN – Gives you 20 Gems
COINAGE – Gives you 40 Gems
2SPOOKY4ME – Gives you 1,000 Souls
So these are all the currently active codes for Castle Fusion Idle Clicker. Do endeavor to bookmark this page as we'll be updating it with new codes once they drop by.
How to Redeem Castle Fusion Codes
The steps to redeem codes in Castle Fusion is pretty easy and straightforward. So to get this one over and done with, simply fire up the game and navigate your way to the Market/Shop section.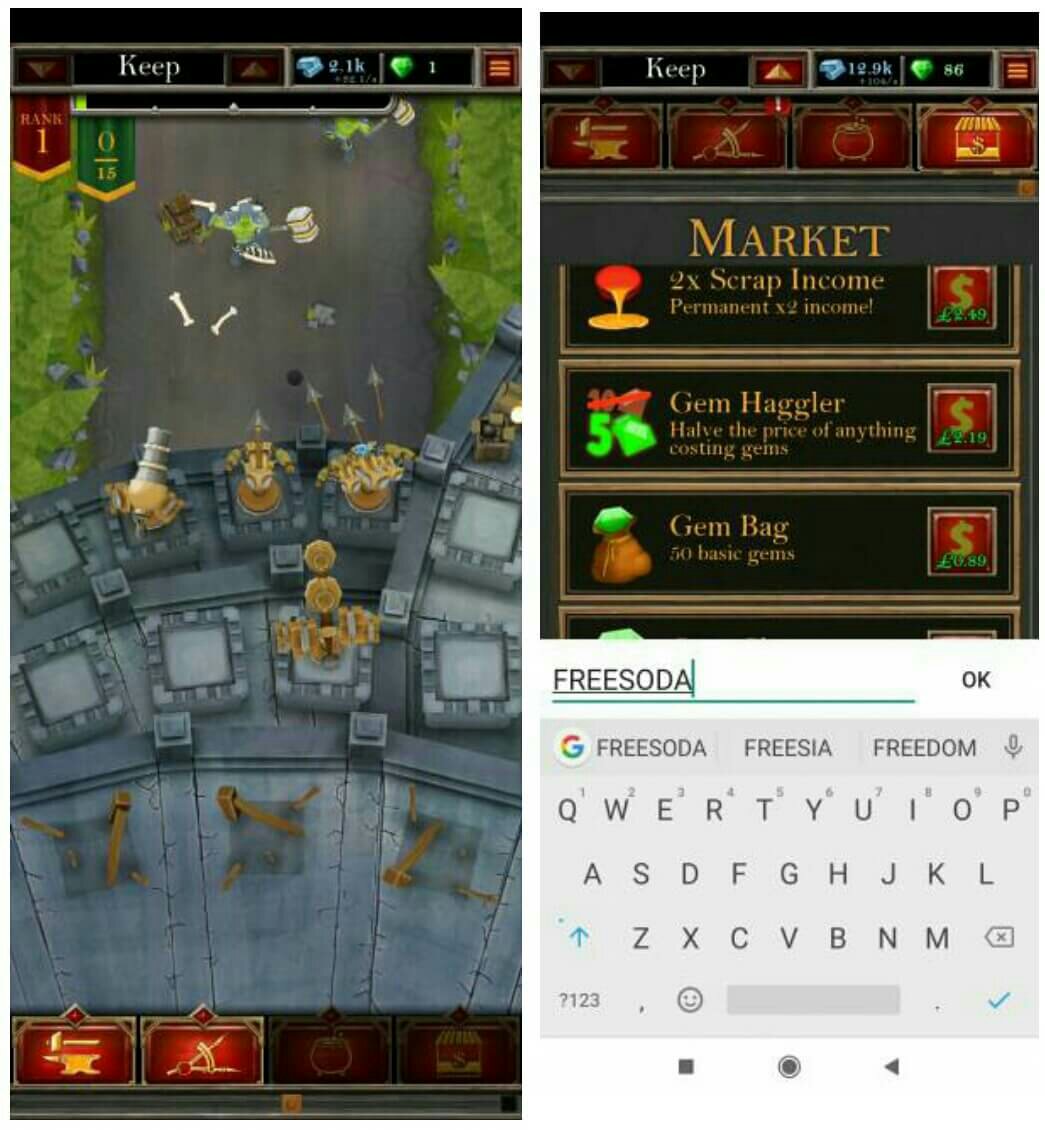 From here, scroll all the way to the bottom and you should see a place to to insert codes. Simply copy and paste any of the above listed codes to get your rewards.