Epic Minigames Script galore. So if you're looking to get unlimited coins and more, then here's some of the currently active scripts for Roblox Epic Minigames.
The massively multiplayer online game creation platform which hosts a plethora number of user-generated 3D experiences has proven to be one of the best kid's playground in the US, and aside from Adopt Me and MeepCity, Epic Minigames is perhaps one of the most engaging games published on the platform so far.
Also Checkout: Roblox Super Hero Tycoon Script
Released in 2015, Epic Minigames grew from obscurity to become one of the most popular games on Roblox and as of writing this article, it currently sees over 10,000 active players and has amassed over one billion visits since launch.
It's gameplay is as you'd guessed, as it let's players choose from a wide variety of minigames, allowing them to level up and earn coins for each win perfected and the coins earned can be used to buy stuff such as gear, pets, effects, etc for your character.
Now assuming you are looking to spruce things up by eliminating the hassles of grinding and probably bag yourself infinite coins and what not, then you are better off utilizing any of the scripts listed below.
Epic Minigames Script
Albeit old, Epic Minigames scripts galore and they offer essential hacks that can help you progress swiftly. From Instant Win to Infinite Coins, Auto Farm and More, below's some of the currently working scripts for Epic Minigames.
Script 1
Script 2
loadstring(game:HttpGet("https://raw.githubusercontent.com/Eazvy/epic/main/epic"))()
Script 3
How to Execute Scripts in Epic Minigames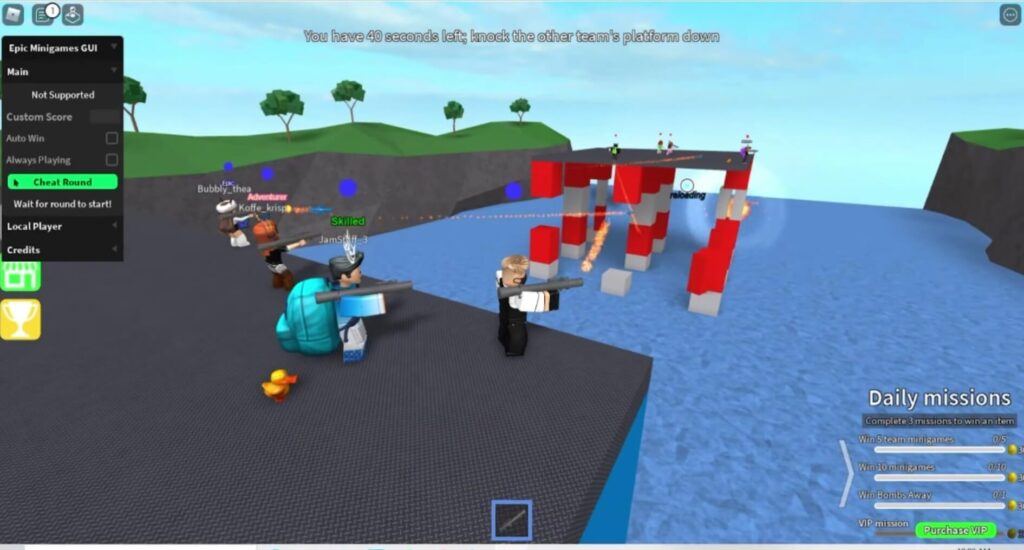 Prior to executing scripts in a game on Roblox, one will need to employ the services of a reliable Roblox exploit. From Krnl, Fluxus, Synapse X and more, there are a plethora of them.
So assuming you do not have one downloaded yet, simply jump into our previous post detailing the best Roblox script executor and/or exploit and find yourself something that works.
Once installed, simply go ahead and jump into Roblox, then fire up Epic Minigames as well as the downloaded exploit. Next up, copy and paste any of the Epic Minigames scripts listed above into the box found within the executor.
Once done, click on the Inject button followed by Execute and the script GUI will pop-up. Now go ahead and enable the hacks you prefer.