Ixion Cheat Table abound. So if you are looking to get hacks such as infinite resources, science, max trust, hull integrity and more, below is all the Ixion cheat table to utilise right now.
Surving Mars, RimWorld, Cities: Skylines and Banished are examples of popular city building survival simulations, but assuming you are looking for something that features a narrative-driven adventure, and strategic positioning of building, we recommend giving Ixion a try.
Released in 2022 by Bulwark Studios, Ixion's gameplay begins after a horrendous incident befalls Earth and brings about its end. Depicting players as the Administrator of the Tiqqun space station, the game's mission involves finding a new home for humanity.
Also Checkout: Baldur's Gate 3 Cheat Engine Table
Similar to most city building survival simulations, Ixion's gameplay mainly involves building and managing a city, whilst facing various survival challenges such as resource management, natural disasters, and more.
It is a pretty solid game per se, but its complex mechanics requires hours of gameplay and it is almost impossible to complete the storyline. Now assuming you are looking to construct and manage a space city from scratch without having to encounter a failed game, below is the best Ixion cheat table to utilise right now.
Ixion Cheat Table
In Ixion, it is one thing to sustain your colony with enough resources and another to survive whilst doing so. Using a feature-rich Ixion cheat table guarantees an easy gameplay as they help you apply certain hacks needed to progress without restrictions.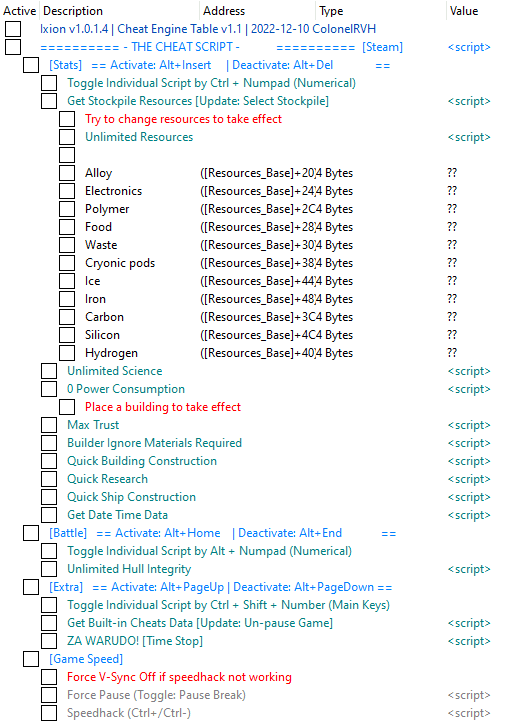 From unlimited resources to science, hull integrity, max trust, quick research, fast ship and building construction, no power consumption and more, Ixion cheat table galore and the best amongst them features essential hacks that reduces the game's difficulties and ensures a more relaxed gaming experience.
Installing Ixion Cheat Table
Ixion cheat table is basically a collection of pre-made modifications for the game, created by other users and saved in a format that can be loaded into Cheat Engine. Hence, prior to injecting a cheat table into Ixion, we'll first need to sideload the mother tool.
So to get this one going, navigate to the URL below to download and install the latest version of Cheat Engine.
https://www.cheatengine.org/downloads.php
Once sideloaded, simply head over to the URL below and download the latest version of Ixion Cheat Table.
https://mega.nz/file/R55AGCya#x3QFJ-2hJ4BWEe7C5dsWmeYtSmkFi-QWgWOuZ4wZo3c
With that done, go ahead and double-click to launch Ixion as well as Cheat Engine.
On Cheat Engine, click on the computer icon in the top left corner and select Ixion from the process list.
Once done, click on the "File" menu within Cheat Engine and locate the Ixion cheat table downloaded earlier.
Once found, select it and click "Load" to open the Cheat Engine table.
That is it. You can now check the boxes next to the modifications you want to enable.
Once done, test your modifications in Ixion to make sure they work as intended.
Wrapping Up
The above Ixion cheat table offers a plethora of essential features including shortcuts that can help you toggle specific cheats on/off without having to switch back and forth between cheat engine. Overall, happy gaming.