Gimkit hacks galore. So if you're looking to get unlimited money or auto answer bot, then here's how to hack Gimkit with ease.
Targeted mainly at teachers who do not like Kahoot, Gimkit has grown to become one of the best quiz and game show app for classrooms. The tool basically feels and plays just like Kahoot! and offers unique features that makes students focus more on gameplay.
Gimkit for the uninformed is simply a web-based student-response tool that allows teachers to create or choose premade kits or question sets and have students answer them in real-time using a unique game code.
Also Checkout: Blooket Hacks for Coins and More
Unlike Kahoot, the reward for answering each question correctly in Gimkit is money, and this can be used to purchase upgrades and power-ups.
Gimkit is unique in the sense that it does away the idea of earning points in favour of virtual currency which helps in gaining second chances and boosting the amount of money earned per correct answer.
For one thing, the tool offers different game modes and aside from the Classic and Team modes, its KitCollab feature shines, thanks to the fact that it lets students build games by submitting questions before kick-off.
Now assuming you are looking to cheat in-game, or to integrate bots that can automatically answer questions for you, then here's one of the best Gimkit hacks to utilize right now.
Gimkit Hacks
In a bit to simplify its gameplay, a kind developer who goes by the name ecc521 on github developed an auto answer bot for Gimkit and it functions by running a loop which automatically answers queries for you and upon earning enough money, it goes to the store to purchase a needed upgrade.
It is pretty useful per se, and even though it is unable to auto purchase power-ups, it gives you far too much money necessary for progressing.
How to Hack Gimkit
Before we begin, it is important to know that the Gimkit hack we are about to share below works solely on Chrome browser for desktop. So if you already have that installed, simply head over to this page on Github and copy all the scripts found within the page to your clipboard.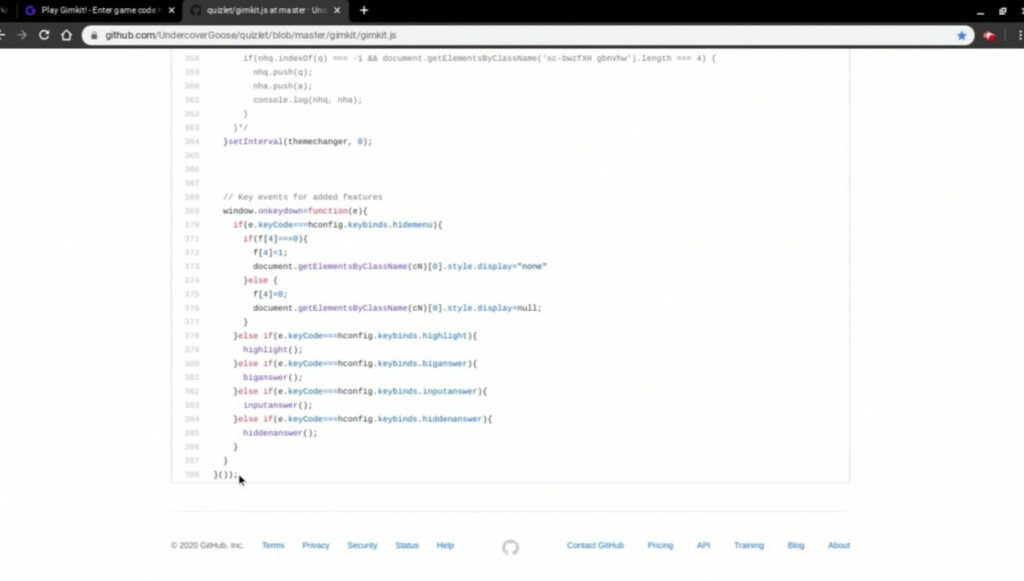 Next up, join an on-going Gimkit session and inspect element by pressing F12 or right-clicking on your mouse.
A new window will slide-out from the right-pane, simply click on the Console tab at the top and paste the code or script you copied earlier into the provided box.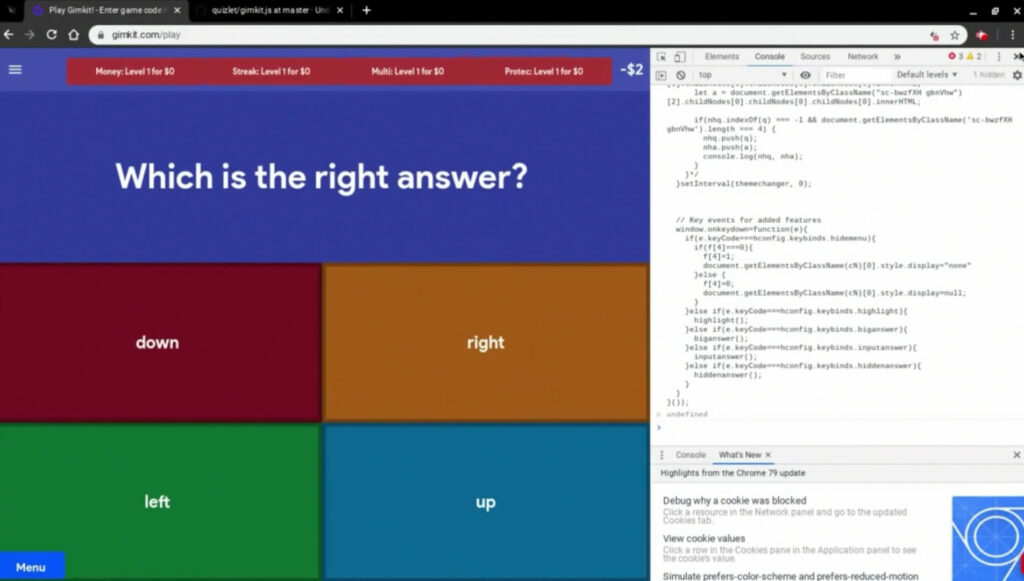 Press Enter once done and the hack will be injected into your game. To experience it, simply refresh the page and you will be good to go.