Kpong Krnl key is basically a connection established by Icebearc to help users get Krnl key for free. Today, we'll walk you through on how to bypass Kpong Krnl key with ease.
Cheating in video games has existed for as long as the games themselves, with the first cheat codes invented for play testing purposes. Today, a dozen of games allow for the implementation of cheats and Roblox is definitely no exception.
First released in 2006, Roblox is a platform that houses a wide variety of games made by its users within the company's Studio. Albeit kid-friendly, the site hosts certain 3D experiences that are fairly challenging, and this has opened up opportunities for exploit.
However, unlike most actual video games, cheating in Roblox games requires the use of an exploit and scripts. There are of course a plethora of options in regard to this, but of all the Roblox exploits out there, Krnl has proven to be the safest and most reliable of them all.
Created by Ice Bear with the help of other developers, Krnl is a program or most preferably a Roblox script executor that allows users to execute (or run) scripts in the Roblox environment. These scripts are often used to cheat in games, or to automate tasks within the platform.
Despite its dependability, Krnl fails the keyless exploit check, prompting users to look up Kpong Krnl key online. Now if you're trying to authenticate your access to Krnl in order to run scripts without interruption but keep getting redirected to the Kpong Krnl key page on Linkvertise, read on as we explain what it is and how to bypass it.
What is Kpong Krnl Key?
Prior to utilizing Krnl exploit, users are required to input a string of characters. These text are known as Krnl key, and can only be gotten by navigating to Kpong page on Linkvertise. Hence to put it simply, Kpong is a connection established by Icebearc that enables users to get Krnl key.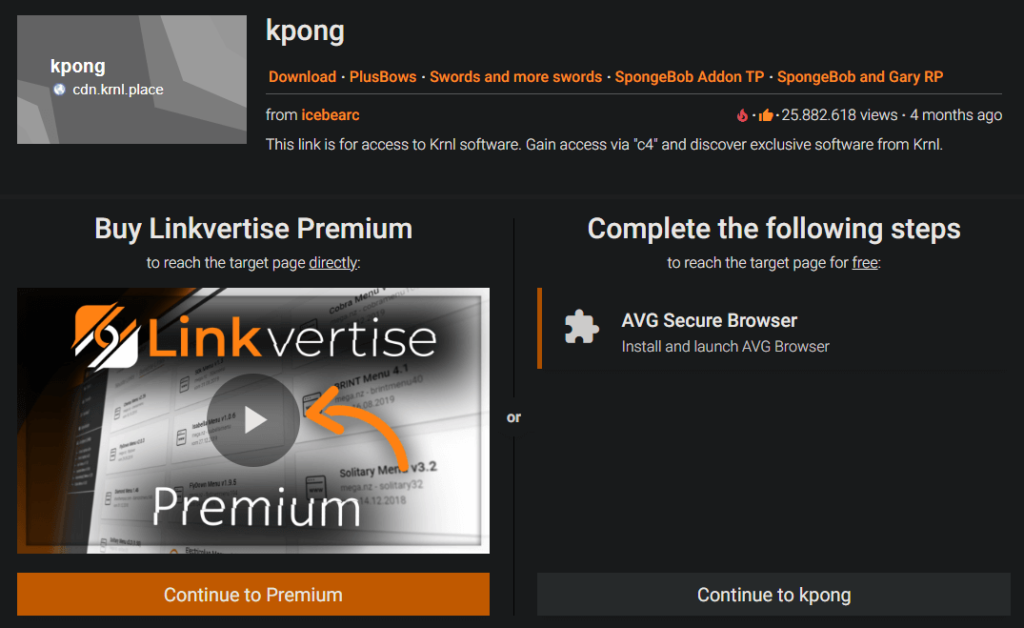 While we understand the developer's intent on using this strategy to generate revenue, the downside however is that users are often prompted to install and launch malware-rifed softwares before landing on the actual Krnl key page.
Now assuming you do not want to download virus-infested apps or to spend at least two minutes trying to navigate through a bunch of ads, we have explained below a thorough guide on how to bypass Kpong Krnl key effortlessly.
How to Bypass Kpong Krnl Key
Bypassing Kpong Krnl key is often difficult especially when faced with tantrums of errors. While our previous Krnl key bypass method involved the use of Tampermonkey and a dedicated GreasyFork script, many of our readers have shown discontentment as the process literally entails sideloading third-party softwares.
Today, in this article, we are going to unravel an easy, new, fully tested and 100% working Kpong Krnl key bypass method you should use. No downloads, no problem! All that is required is a bit of patience and you'll be good to go. So without further delay, here's how to bypass Kpong Krnl key with ease.
To begin with, simply copy the links below and paste them in the address bar of your favorite browser. Checkpoint 1 comes first, followed by Checkpoint 2, and so on. Always wait 15 seconds on the Linkvertise page after completing the captcha and hitting the submit button presented in each checkpoint.
Checkpoint 1
https://cdn.krnl.place/getkey
Checkpoint 2
https://cdn.krnl.place/getkey_games
Checkpoint 3
https://cdn.krnl.place/getkey_interface
Checkpoint 4
https://cdn.krnl.place/getkey_scripts
Checkpoint 5
https://cdn.krnl.place/getkey.php
Once you're done with Checkout 4, Checkpoint 5 will instantly present the Kpong Krnl key as shown below. You can now go ahead and input it into the Krnl script executor for authentication.
That's all!
Wrapping Up
Culminating over 91million views, Kpong Krnl key is arguably amongst the most viewed resources on Linkvertise. The guide above comes in handy if you're looking to get a Krnl key without wasting hours downloading third-party softwares.