Krunker hacks galore, so if you are looking to simplify your gaming experience by utilising hacks such as ESP, Aimbot, Wallhack, and more, here are the best Krunker.io hacks to make use of right now.
Krunker.io is a fast-paced first-person shooter web browser game that can be difficult to master depending on a player's skill level and experience with FPS games. Like any competitive online game, mastering it and achieving a high level of proficiency can be challenging. This is where Krunker hacks come into play.
So assuming you lack good aiming skills, quick reflexes, map awareness, and strategic thinking required to excel in the game, we have unravelled below the best and undetectable Krunker hacks for aimbot, wallhack, ESP, and more.
What is Krunker.io?
Developed by Sidney de Vries in 2018, Krunker.io is an incredible online multiplayer first-person shooter that rose to prominence thanks to its fast-paced gameplay, simple graphics, and easy accessibility through web browsers.
In the game, players can choose from a variety of classes, each with unique weapons and abilities, as they explore a large map, gunning down enemies and completing various objectives in different game modes, which include Free for All, Team Deathmatch, Capture the Flag, Parkour, Control, and Hardpoint.
It is a pretty cool game that appeals to a wide audience, and one of its strong points, in addition to creating custom maps and mods, is its support for in-game customization, which allows players to modify crosshairs, skins, and other visual elements.
Now, assuming you are looking to see the positions of other players in-game or to see through walls and even aim and shoot at opponents automatically, here are the latest Krunker hacks to utilise right now.
Krunker Hacks
As a web browser game, hacking Krunker.io requires the installation of Tampermonkey and a feature-rich userscript. So without beating around the bush, here's how to hack Krunker.
Install Tampermonkey
For those unaware, Tampermonkey is a popular browser extension that allows users to manage and run custom scripts (userscripts) on web pages to modify their behaviour or add new functionality. To hack Krunker.io, this versatile tool is literally needed. So let's install it.
To begin with, open your web browser (Tampermonkey supports various browsers like Google Chrome, Mozilla Firefox, Microsoft Edge, Safari, etc.) and go to the extension or add-on store for your browser (e.g., Chrome Web Store for Google Chrome, Firefox Add-ons for Mozilla Firefox).
From here, use the search bar visible on the store's page to look up Tampermonkey.
Once found, click on the "Add to Chrome" (or the respective browser's equivalent) button to install the Tampermonkey extension.
Download a Krunker.io Userscript.
The next step is obviously to find and download a feature-rich Krunker.io userscript. For the uninformed, userscripts are small code snippets or scripts that modify web page behaviour. They usually have the a.user.js extension and can be obtained on websites like Greasy Fork or GitHub.
However, for this article, we're going to make use of Krunker Central's Krunker.io hack script. So without beating around the bush, simply download it from the link below.
Krunker.io-hacks-aimbot-esp-wallhack.rar
Install the Userscript.
Once you download the Krunker userscript from the URL above, extract it using WinRar or 7-Zip.
With that done, jump into the extracted folder and click to open Krunker Hack Script.txt with your Notepad.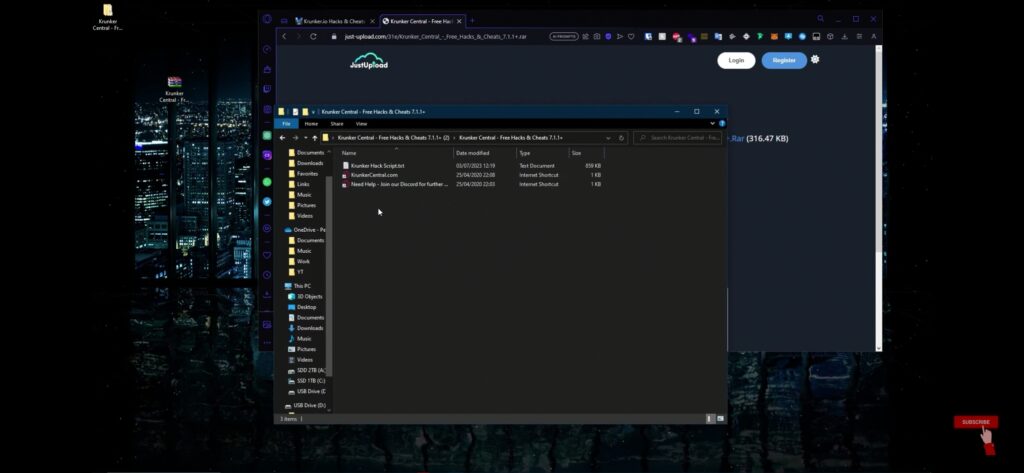 From here, highlight and copy every single code or piece of data within the Krunker hack script to your clipboard.
Now on your web browser toolbar, click on the TamperMonkey extension icon at the top right corner, just beside the search bar, and select Dashboard from the drop-down menu that will appear.
Note: If you are unable to find the Tampermonkey icon, you'll need to manually pin it by clicking the "pushpin" icon next to Tampermonkey within your browser extension page, which can be accessed by clicking the "puzzle piece" icon visible at your browser toolbar, just beside the search bar.
On the Dashboard, click the Plus (+) icon next to "Installed Userscripts" at the top to open the Tampermonkey text editor.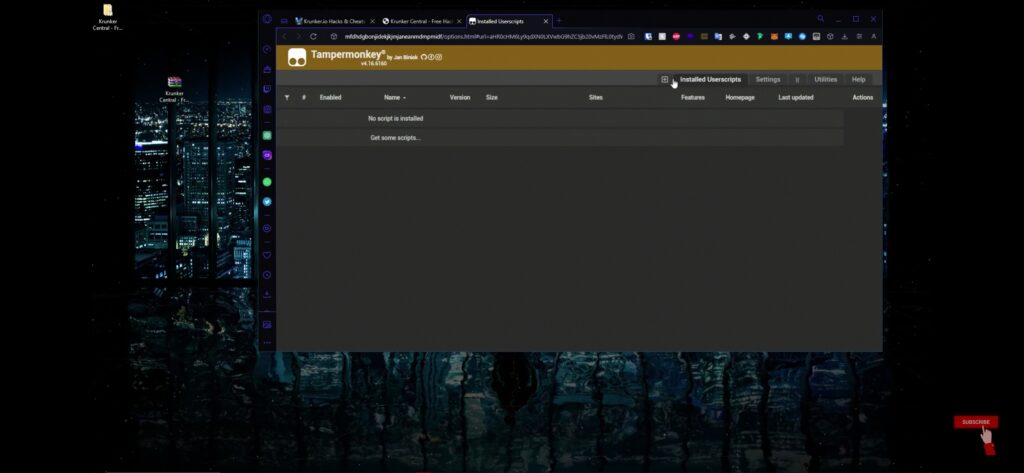 From here, highlight and delete every single code or piece of data within the text editor, and then paste the Krunker hack script codes you copied earlier in your clipboard into this box.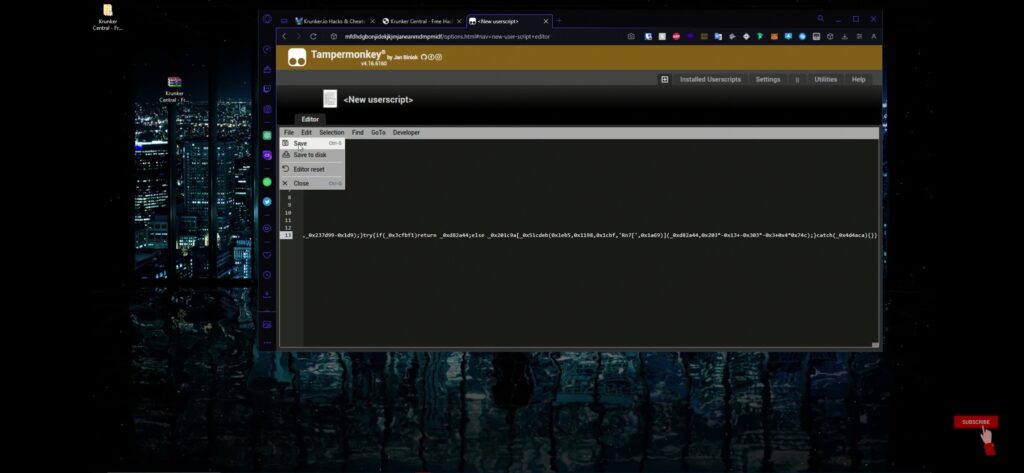 Once that is done, click on File from the top left, then select Save.
Now, on the Tampermonkey dashboard, ensure the Krunker hack is enabled, then jump into Krunker.io.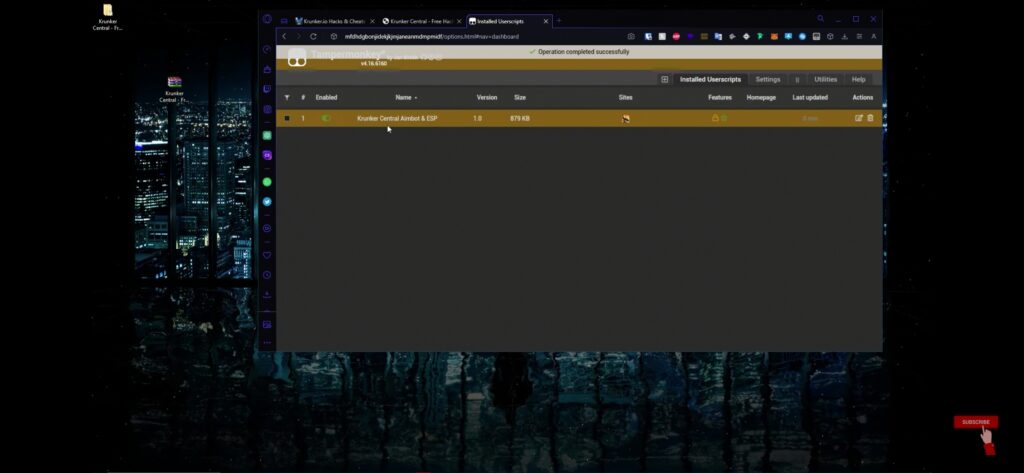 Enjoy Krunker Hacks!
Once you hit Enter after inputting Krunker.io in your web browser, you'll be greeted with a pop-up saying that the cheat implemented requires a licence key to function. Simply click OK.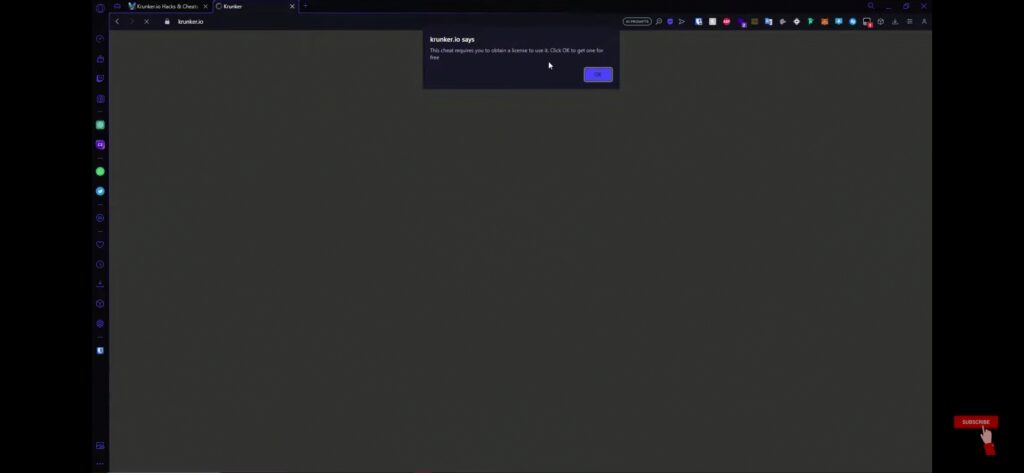 On the next page, click Continue to initiate key generation, and once the process is complete, click Enter key into extension, and you'll be good to go.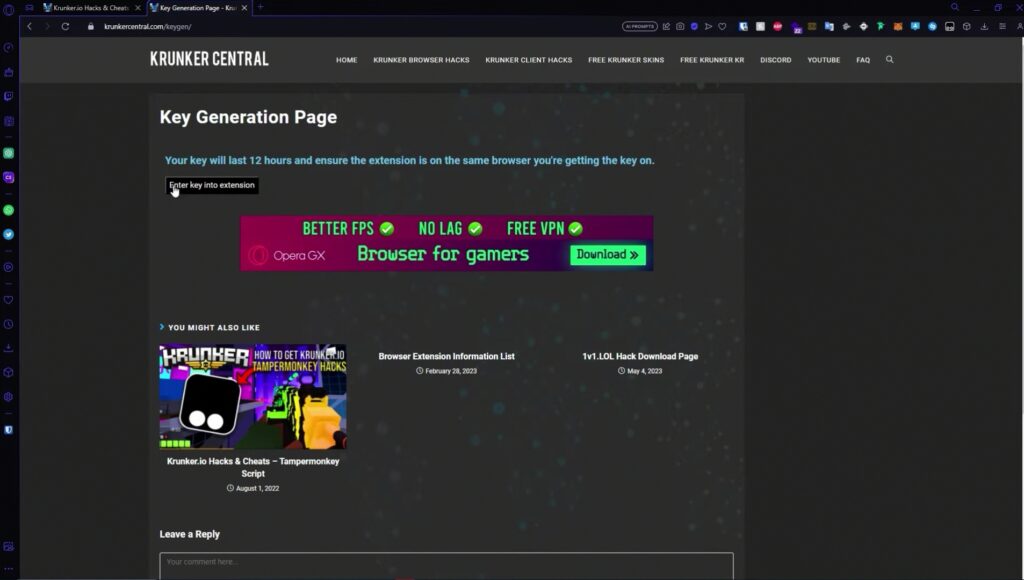 Now on the Krunker.io main menu, you should see a Cheats option just below Settings in the left pane.
Go ahead and click it, and you'll be greeted with a plethora of Krunker hacks to toggle on and off.
Simply navigate through the cheat options and click to enable the hacks you desire.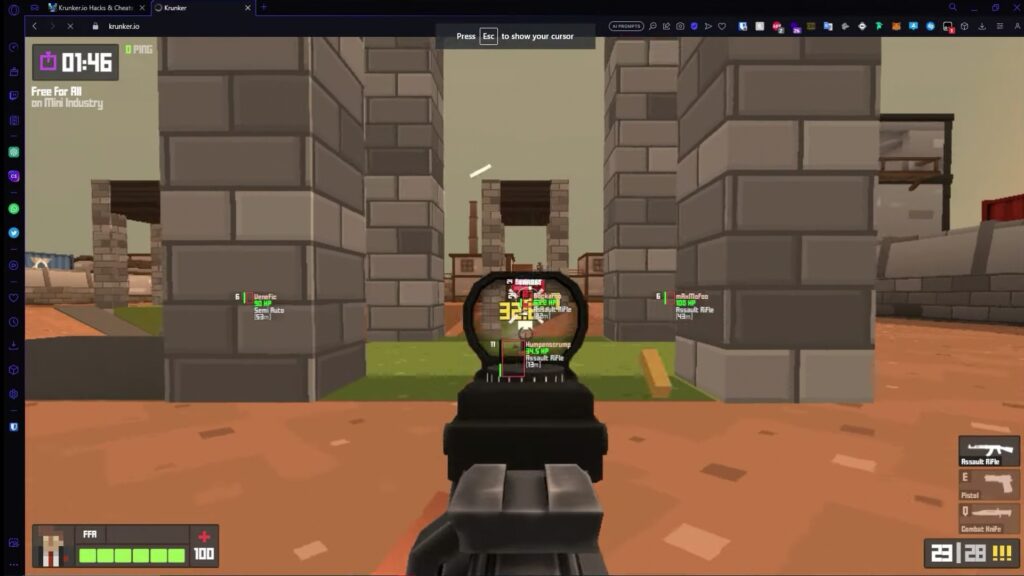 Once done, load a save or start a new game, and the hack will be automatically implemented.