Legends of Speed Codes and Script abound. So if you're looking to get free pets, gems, steps and more, then here's a list of codes for legends of speed.
Roblox is fun. It is undoubtedly the best game creation platform ever and has evolved to be a home to a slew of kids in the US. From Bubble Gum Simulator to Slaying Simulator, Roblox's catalogue of games is undoubtedly plethora. One such game that's currently making waves on Roblox right now is Legends of Speed, an adventure parkour full of thrilling challenges.
Its gameplay is as simple as ever. Players guide their avatars through "hoops" whilst collecting orbs and more. Aside from being fast-paced, £ne of the things that make the game engaging is the fact that it let's players race with their friends. There are of course rare trails to unlock but this will require gems.
Also Checkout: Rocitizens Codes
In Legends of Speed, gems is regarded as the in-game currency. You certainly won't be able to buy pets or get those rebirths. Now if you are looking to travel through different maps faster, unlocking as many levels as possible, then here's a list of all the currently active Legends of Speed codes to redeem right now.
Legends of Speed Codes
There are a slew of codes for legends of speed and even though most of them have expired, we have managed to garner the ones still active. So if you're looking for free gems that can be used to buy pets, then here's a list of all the currently working legends of speed codes.
Launch200 – Gives you 200 gems
hyper250 – Gives you 250 steps
sparkles300 – Gives you 300 gems
speedchampion000 – Gives you 5,000 Gems
SPRINT250 – Gives you 250 Steps
legends500 – Gives you 500 gems
How to Redeem Codes in Legends of Speed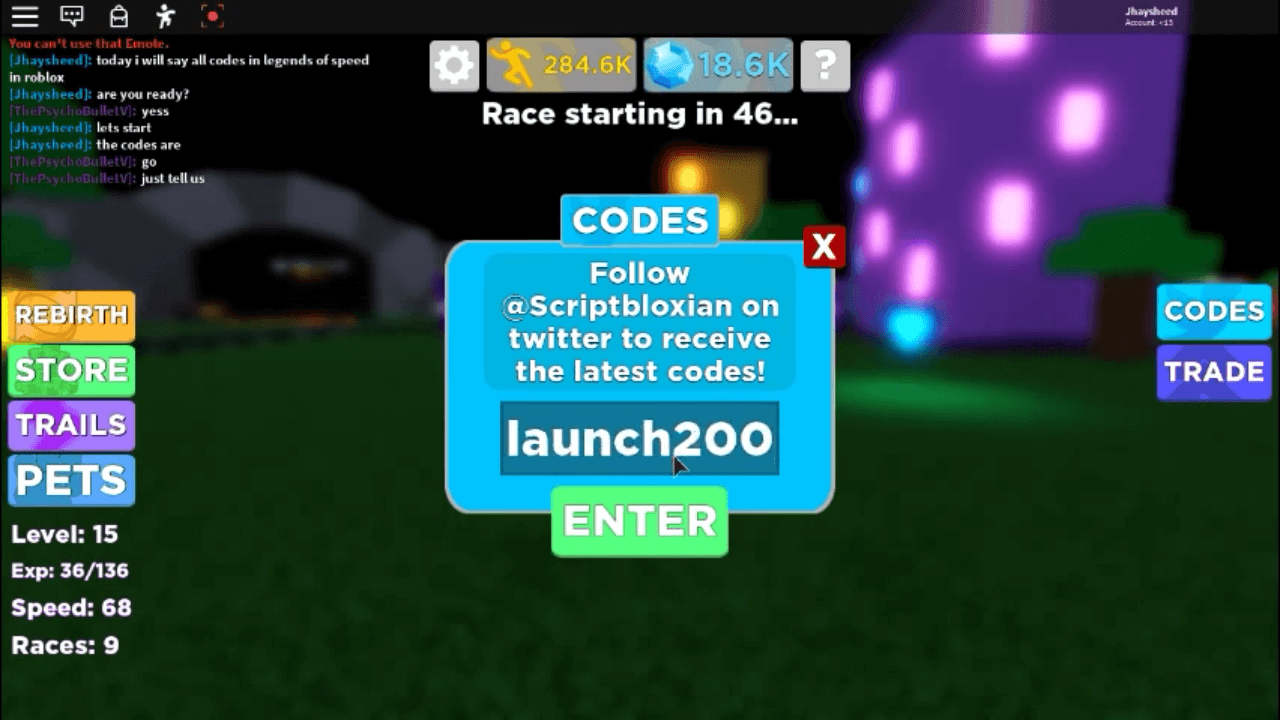 To redeem the above listed legends of speed codes, simply fire up the game on Roblox and click on the blue "Code" button located at the right side of the screen.
A new window will pop-up, so go ahead and type in the codes listed above into the blank box and click Enter to redeem.
Legends of Speed Script
Looking to get infinite steps? Perhaps you aren't satisfied with the aforementioned codes and probably looking for a working Legends of Speed hack Script for unlimited steps. We congrats, for you've arrived at the last destination.
So to get infinite steps on legends of speed, simply copy the script in here and use the exploit JJSploit to execute it.
Important Notice: Don't use your main Roblox account to execute this script. Always use your alt account. If you don't have one, endeavour to create it.