Lumber Tycoon 2 maze map galore. So if you are looking to purchase painting items, then here's a well detailed map for the Maze in Lumber Tycoon 2.
Lumber Tycoon 2 is an incredibly made tycoon game. It task you to grind from scratch in other to attain wealth and in as much as there's zero automation, it's wood-chopping mechanics is something you'll fancy.
Starting off, players are urged to purchase an axe using the $20 bill gifted as welcome bonus. While this may seem little, you can easily get one of the lousy hatchet for as low as $12.
Once equipped, you'd be thrown into a virtual universe where the sole purpose is to chop down trees, process logs into planks and then cash them all in at any nearby Lumbermill for better tools and equipments.
Also Checkout: Lumber Tycoon 2 Scripts for Money and Axe
For one thing, Lumber Tycoon 2 is extremely exceptional. It let's you experience the oddly serene life of a lumberjack and equally gives you the zeal to work harder in other to afford your own sawmill, truck and even houses.
Now as you'd know, Woods are the main source of revenue in Lumber Tycoon 2 and there are 20 species of them, each with different value. Now assuming you're looking to get the Cavecrawler which is one of the rarest wood in-game, then one such place to find it is in the Maze.
Lumber Tycoon 2 Maze Map
Located just below the Tropics and the Ocean, the Maze is a convulated tunnelling system where players can venture into in other to acquire the Cavecrawler wood.
It features a Fine Arts Shop where players can easily buy painting items and albeit dark, you'd get to encounter 4 NPCs with different traits, a complicated Black Wall as well as the Safari Exit Hole.
Now assuming you have already found your way at the entrance of the Maze which is located at the back of the Tropics, then here's one cool map to help you get around it.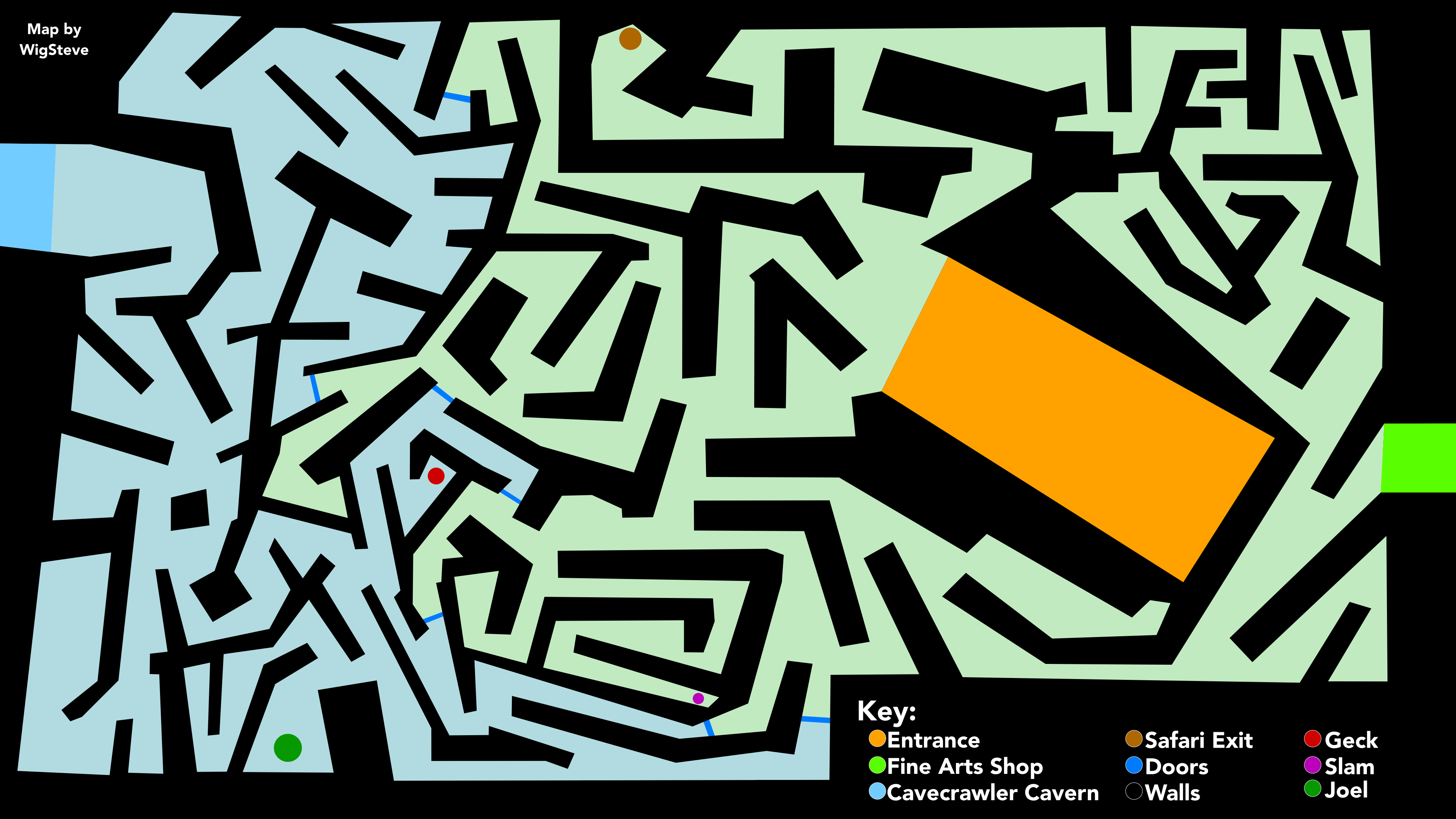 Specially made by WigSteve, the above Lumber Tycoon 2 Maze Map is well detailed and crystal clear. It uses colored pointers to mark the key areas in the maze and with it, you are certainly never going to get lost whilst adventuring in the Maze.