Assuming you are on Roblox browsing through the lists of games available on the platform, then chances are you've probably come across Magnet Simulator. Now I know, you're probably asking yourself what's the theme of the game and all those stuffs. Well the name itself isn't alluring but if you can move past that, you will discover that it is a very interesting game to play.
With over 100 million visits and up to 1,000 concurrent players, you'll agree with me that there's a lot going on in Magnet Simulator. But what is that? What's the game all about? Does it have a goal?.
To cut the story short, Magnet Simulator is one of the best games on Roblox. It may not be as popular as Jailbreak and its likes but it's pretty good. Its gameplay is all about collecting coins using your magnet as well as pets and backpacks which helps you unlock new zones, gather more coins and gain loads of speed.
Also Checkout: Roblox Murder Mystery 2 Codes
But aside from this, there's a lot more to Magnet Simulator. Now assuming you are looking to get free rebirths, money, tokens, eggs, clovers and a free magnet pet, then here is a list of all the new and currently active Magnet Simulator Codes to redeem right now.
Magnet Simulator CodesThe below codes are all redeemable and they all work as if writing this article. One thing worth knowing is that you can painlessly redeem any of them without joining the Magnet Simulator group. So without further ado, here's a list of all the active codes for Magnet Simulator.
sub2itsmatty – Gives you a free Meme Egg
update27 – Gives you 50 Tokens
sub2snug – Gives you a free Meme Egg
theusualcash – Gives you 25,000 cash
cookies – Gives you a free Meme Egg
happystpatricks – Gives you 2,500 Clovers
robzi – Gives you a free Meme Egg
iloveyouall – Gives you 10,000 Cash
russo – Gives you a free Meme Egg
newestupdate – Gives you 25 Tokens
Magnet Simulator Codes that Requires Joining the Group
Prior to redeeming the below codes, you will need to join the game's official group first. Joining the group of course is free and can be done from here. Now without beating around the bush, here's a list of all the new Magnet Simulator Codes to redeem right now.
doubleyourmoneyagain – This literally doubles your money
discordcode – Gives you the Golden Dominus Pet
sub2squable – Gives you a free Korblox Egg
grouppet – Gives you a free Magnet Pet
Do redeem the codes as soon as possible before they expire. Also bookmark and endeavour to visit this page often for more codes.
How to Redeem
Assuming you're looking for a vivid walkthrough on how to redeem codes in Magnet Simulator, then tap yourself on the back for you've reached the last destination.
So to get this one going, simply fire up the game and click on the Menu icon visible at the top right corner of the screen.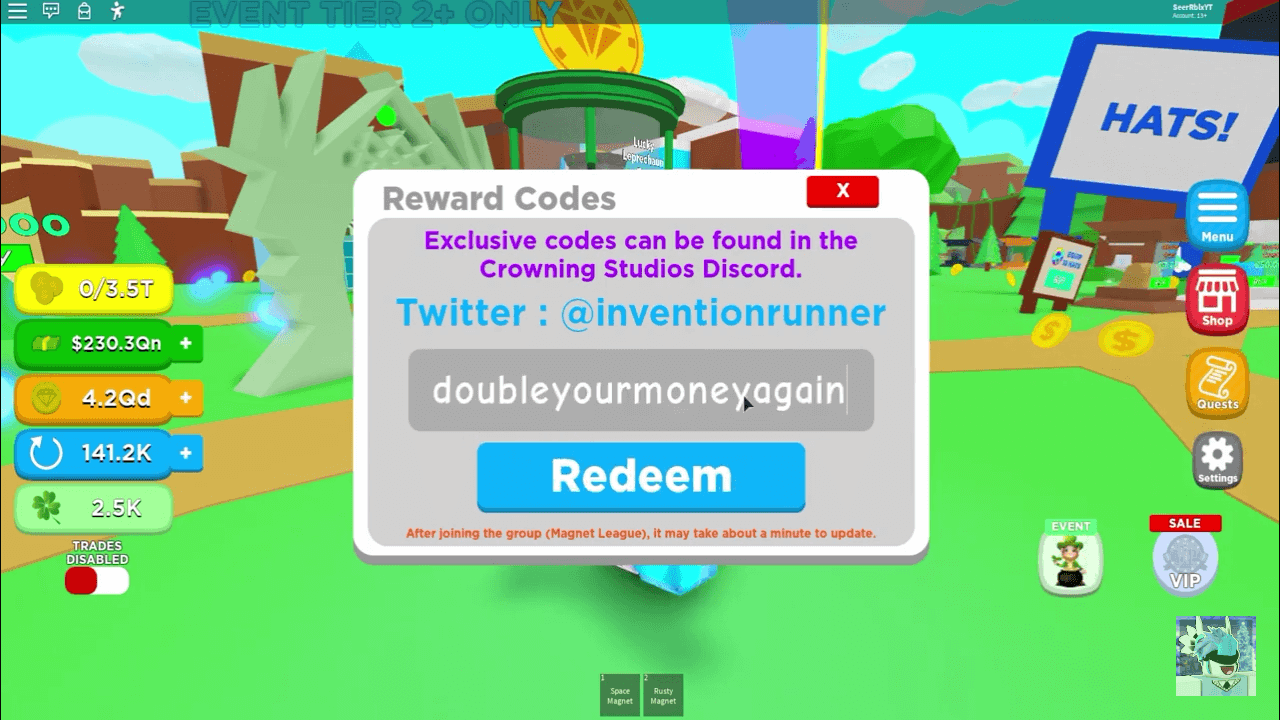 Click on the Codes button from the pop-up window that will appear and then enter any of the codes listed above into the box that says enter code here.
Once done, click Redeem to get your reward. That's as pretty easy as ABC right? I know. Overall, happy gaming.