Mobile legends redeem codes galore. So if you're looking to get free skin, diamonds, hero fragment and more, then here's a list of all the currently active Mobile Legends Codes to redeem right now.
Albeit free-to-play, it is without doubt that Mobile Legends is Pay-to-Win. But do not be mistaken, as its genre has managed to raise eSports to the position they currently hold today. For folks uninformed, Moonton's Mobile Legends is one of the best MOBA out there. It simply borrowed the aesthetic of Leagues of Legends to deliver a fast-paced gameplay.
At its core, Mobile Legends pits players in a 5v5 battle where the aim is to destroy enemy fortifications using well-trained heroes. It is fun per se and offers tons of customization abilities. Pros aside, you'll agree with me that Mobile Legends monetization system is unfair. The fact that you are required to pay in other to utilize its exclusive cosmetic improvements shows how "pay-to-win" it is, but there is hope and that hope lies in gift codes.
Also Checkout: Mobile Legends Hack for Free Diamonds and More
Yes you heard me right. There are a plethora of Mobile Legends codes lying out there on the web and once you get to redeem one of them, you'd be "bagging" yourself several in-game items including diamonds, magic portion, skins and/or fragaments. So without further ado, below is a list of all the currently active Mobile Legends redeem codes to utilize right now.
LaylasGift – Gives you a Premium Skin Fragment, Double Exp Card and Magic Dust
34ws5frwwxhe229dw – Gives you Hero Fragment, Small Emblem Pack and Skin Trial Pack
GDYEEEXHPV2W229EY – Gives you a Tournament Chest
WeAreMobileLegendsAllStars – Gives you 10 free tickets and an Obsidian Blade
TogetherWePlay – Gives you 1 Hero Fragament and a Cosmic Gleam
TogetherWeBattle – Gives you a Mecha Baby and Fortune Meteorite
BringItOn – Gives you a Conqueror and Premium Skin Fragment
MLBBAllStarMy2020 – Gives you EVOS Legends and Magic Wheel Option S
NEXT0922 – Gives you Skin Trial Pack, Hero Trial Pack, Magic Dust and Hero Fragment
Other Mobile Legends Codes
The Mobile Legends redeem codes we listed above have been proven by our team to be active as of writing this article. So try to redeem them as soon as possible before they expire. To add more, below is all the Mobile Legends Codes released this month. They may or may not work. So try them out when you're free.
WeAreAllStars
ffqwdcunnpjc228vj
MAYYOURWISHESCOMETRUE
ll3c3258t
jpzp6cqhzwx7228gk
tfc6eb3u9nc4228tw
On1re457g
7vlu2557g
qdvycy57f
Rzv6wwd2uynr2285d
gqpymmzum8py228r8
MMFQVJPD87DJ2989f
pvb3qncjauxr2289f
P9yapqsnv5v32289f
g99z2gxa6gzd2289f
kw7hff43hy872289f
g2wgs95rx39f2289f
a5xyqzw5rgf2285n
79777rwbq3rn2288t
m5z7t6b8zfxt2285k
Bsnqii3b7
staysafe
Smileone
thanksgiving
How to Fix Mobile Legends Redeem Codes Error
There are times when you'd try to redeem codes in Mobile Legends official website and you'll be prompted with tantrums of errors. Below is all the possible errors and how to fix them.
Server error – This usually occurs when the verification code expires. So enter a new one to fix the problem.
Processing error – When you get this type of error, simply click the redeem button again and it'll be resolved.
Incorrect CD format error – The codes listed above are case sensitive, so enter them as seen and you won't face this error
Bonus Tip: When you redeem a code and it says success but you're unable to see the reward in Mobile Legends, simply restart the game and you'll see your rewards in the game's mailbox.
How to Redeem Mobile Legends Codes
To get this one going, head over to the following URL
And enter your Game ID followed by the Verification code sent into the game's mailbox. Once that's done, type in any of the above listed codes and click the Redeem button.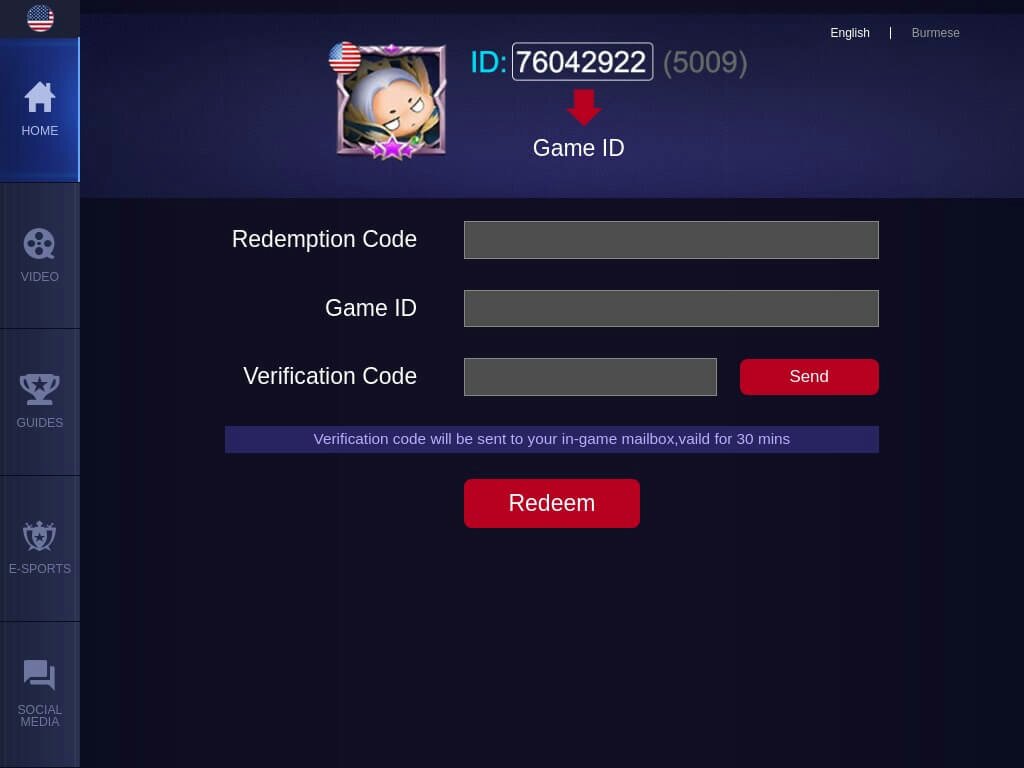 You'll receive a pop-up with a success message. Now jump into mobile legends inbox and you'll see your reward.