The video game industry is an ever-changing market, heavily influenced by new technologies and the gamers' never-ending thirst for innovative gaming experiences. In recent years, we've seen many new approaches to how we play video games, but none is as promising as blockchain games. What began as a means to sustain cryptocurrencies, is currently allowing developers to offer new gaming environments and reward gamers for their loyalty and dedication.
The blockchain technology was developed to serve as the public ledger for the first functioning cryptocurrency, Bitcoin. These blockchains are sequences of blocks containing cryptographic hashes, timestamps, and public transaction records, and are almost impossible to hack. Games that are based on blockchains are called blockchain games, or crypto games. Besides using cryptocurrencies, these games provide new experiences, and allow players to earn money by monetizing creations, trading in marketplaces and even investing in stock markets. As blockchain technologies become more popular and accessible, developers can finally reward gamers for the effort invested in the game.
Despite being a promising genre, the offer of blockchain games is still somewhat limited, and most games involve collectible-like gameplays, including collectible cards and virtual pets. However, there's an upcoming game that promises to be a breakthrough in the crypto games market: The Sandbox Game.
Developed and published by Animoca Brands, The Sandbox is an interactive gaming experience based on the Ethereum blockchain that allows players to create and design worlds and adventures, conceive items, scenery and avatar equipment, and trade all these assets on a decentralized marketplace with the game's own cryptocurrency, called SAND.
The game is currently on its open-beta phase, but it's already possible to buy different assets in the marketplace, and also purchase LANDs, The Sandbox's virtual building lots. If you like building worlds and adventures in games like Minecraft and Roblox, you'll certainly enjoy The Sandbox.
Decentralized ecosystem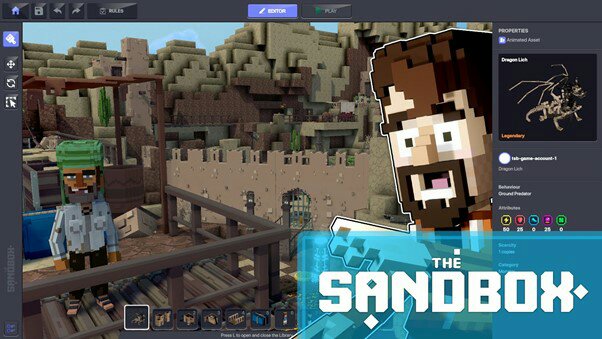 The Sandbox is a virtual ecosystem with a revolving metaverse, where players can build worlds, apply different gameplay mechanics, and create multiple characters and narratives within a fully decentralized environment. Everything created can be placed on LANDs, the virtual pieces of land in the Sandbox, where players can develop interactive levels that other players can pay to play. All these creations are called assets, and can be traded in the game's marketplace in the form of non-fungible tokens (NFTs).
The game is able to provide these new experiences thanks to three groundbreaking integrated tools. With VoxEdit, players and creators can design 3D objects, or voxels, that are the base for every asset in the game, including avatars, equipment and scenery objects. Game Maker is the tool that allows players to create their own worlds and games, place assets on LANDs and apply physics and gameplay mechanics to their creations. In the Marketplace, every asset can be transformed into a NFT, which are unique digital items on a blockchain, to be sold or traded with the creative rights bound to its creator.
As a creator, it's easier to profit from the game by creating different adventures, and designing multiple assets. But the overall gameplay revolves around the idea of gamers sharing their experiences and playing in each other's levels, so regular players can also profit in a play-to-earn system, by collecting resources, rewards and tokens.
The game also offers grants to creators in a project called The Foundation. So far, The Foundation has funded 15 game projects, with several more expected to be awarded soon.
The Currency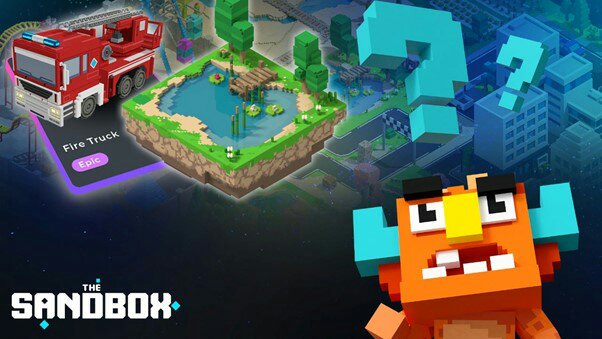 Everything in The Sandbox is dealt in SAND, the game's cryptocurrency, which is an ERC-20 utility token. Players must use SAND to play games, access other players' worlds and levels to play their adventures, and buy assets in the marketplace, such as items for avatar customization. But as a creator, SAND is used to buy LANDs, create adventures, and monetize them, as other players must pay an admission to access every world and level. Within the game's marketplace, there's also a stock market with a realistic passive revenue system, in which players and creators can invest.
Since The Sandbox has its own revolving metaverse, SAND is also used as a governance token, so gamers play a big part in the decisions about the game's rulings and future. Because it is a decentralized gaming experience, every aspect of the game is controlled by the players, not developers and publishers, and the more SAND a player has, the more influence in the voting system.