MTG Arena is a rare gem. Infact it's the grandfather of all deckbuilding games and I personally love the fact that it keeps its hardcore nature intact. From slick to being generous, Magic: The Gathering Arena typically replicates the fun of tabletop games. It's a CCG that makes you wonder what paper card will be in the future and even though it doesn't compare when it comes to social aspect like reading players and boards, it's still a great piece.
Also Read: MTG Arena Friends List Feature Lets you Challenge and Play with Friends
Now if you are looking to get free booster packs, XP, cosmetics and more, the plethora number of MTG Arena codes scattered all over the internet can help you do that. We have already cherrypicked all of the newly updated codes that are still working alongside their rewards. However, before we list them, let's walk you through the steps involved in redeeming the promo codes.
How to Redeem MTG Arena Codes
To begin with, simply fire up MTG Arena and click on "Store" directly from the home page. A redeem code box should appear, and that's where you'll type the MTG Arena codes we are about to reveal.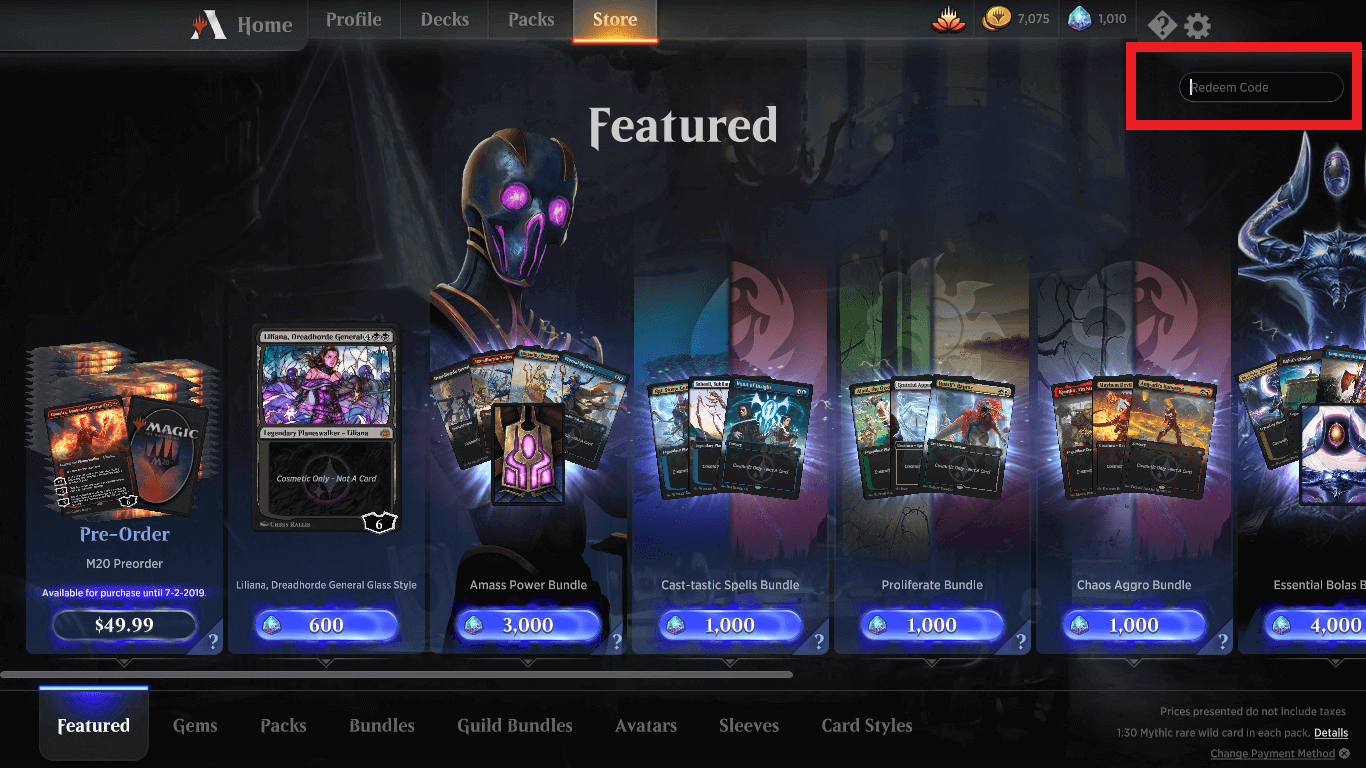 Do note that they are case sensitive, so you are expected to type them exactly as seen below. Use uppercase as well as lowercase letters where it's needed and once you're done entering the code, hit Enter to enjoy the freebies. So here are the best MTG Arena promo codes that works in 2019 and 2020.
MTG Arena Codes
MTG Arena codes do expire, and new codes are released daily to replace the old ones. Below, we have compiled a list of codes that are still active and they bring tons of rewards.
PLAYM20 – gives you 3 packs of M20
PlayEldraine – you get 3 packs of Eldraine
PlayWarSpark – gives you 3 packs of War of the Spark
PlayAllegience – you get 3 packs of Ravnica Allegiance
WRITTENINSTONE – gives you a cosmetic stained glass style of Nahiri, Storm of Stone
ShinyGoblinPirate – you get Premium Fanatical Fireband
OVERTHEMOON – gives you Arlinn, Voice of the Pack Stained glass card
SparkleDruid – you get Premium Druid of the Crowl
SHIELDSUP – gives you a glass style of Teyo, the Shieldmage
FoilFungus – you get Premium Deathbloom Thalli
INNERDEMON – gives you a cosmetic glass style of Ob Nixilis, the Hate-Twisted
ParallaxPortion – you get Premium Revitalize
ENLIGHTENME – gives you a glass card style of Narset, Parter of Veils
SuperScry – you get Premium pot
PlayRavnica – you get 3 Packs of Guilds of Ravnica
Wrapping Up
As we said earlier, there are a dozen of MTG Arena codes but most of them are outdated and no longer working. The ones listed above are the newest and latest promo codes and they work like charm. Do try them out one by one.