Pink GUI texture pack for Minecraft 1.18 galore. So if you are looking to replace the original Minecraft texture with something calm, then we've got the best Pink GUI texture packs for Minecraft.
Minecraft is the open-world par excellence. It is arguably the best quintessential gaming experiences ever made, and even though I ain't a fan, I have come to appreciate its endless possibilities.
Released in 2009 by Mojang and later bought by Microsoft, Minecraft is an adventure-packed sandbox game that task players to explore infinite worlds and build just about anything from the simplest house to the grandest castle whilst trying to survive.
Also Checkout: The Best Minecraft Skins
It's got zero storyline per se with graphics straight out of the early 1990s, but its allurement lies in the building aspect and of course the modifications players can make. From skins to mods, then there's the texture packs which literally overhauls the game's visuals.
For the uninformed, Minecraft texture packs or resource packs are add-ons that replaces the game's original textures, thereby giving its GUI a complete makeover. In other words, they are files designed to change the look and feel of the entire game.
There are a plethora of them to be sincere. But assuming you're looking to get over the futuristic or medieval-like texture packs in favour of something cute, then we have got two best Pink GUI texture packs for Minecraft.
1. Pink GUI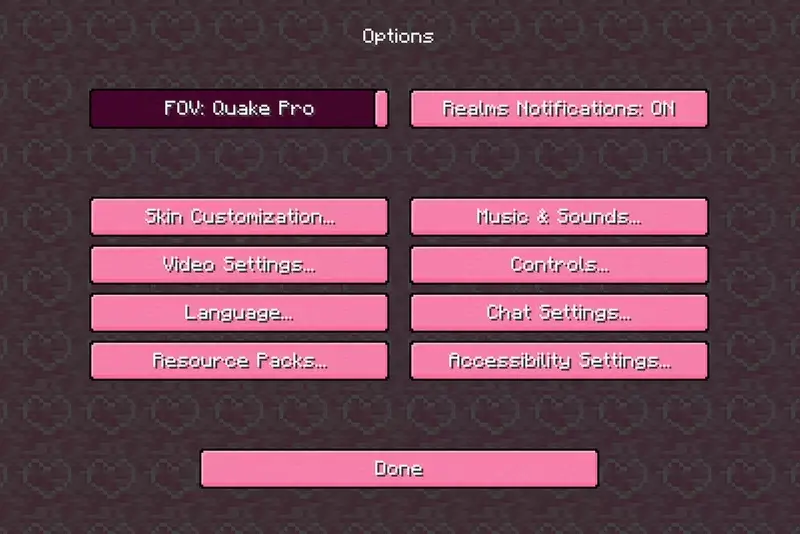 If you aren't aware, 32% of Minecraft players are girls and you'd know these genders love pinky stuff especially for their attractiveness and calmness. Hence in a bit to satisfy the female players on Minecraft, Ramna came up with a Pink GUI texture pack that shines and it's got some light colors to make it look awesome.
Download Pink GUI from here
2. Cute Pink GUI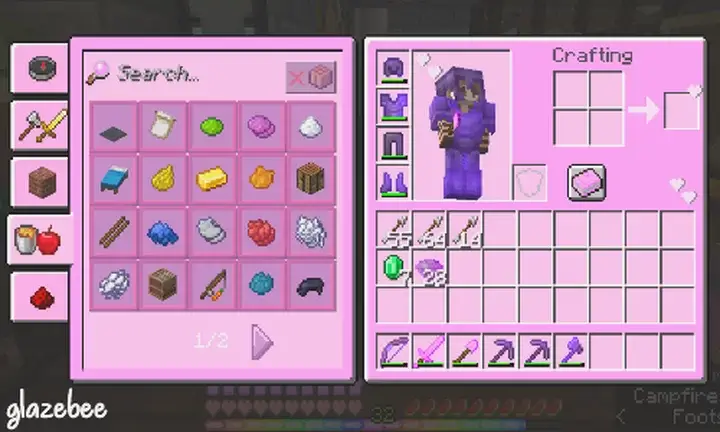 Research has shown that majority of Minecraft female players are kids and you'd know they have a thing for cute pinky materials. Having that in mind, Glazebee created Cute Pink GUI texture pack which overhauls Minecraft's vanilla GUI textures, thereby giving you a cuter inventory.
Download Cute Pink GUI from here
How to Install Minecraft Pink GUI Texture Packs
The steps to install Minecraft texture packs is pretty simple and straightforward. So assuming you have got your PC ready, then here's how to get things done.
To begin with, download any of the Minecraft Pink GUI texture packs listed above and ensure to save it in a directory you'll remember.
Next up, fire up Minecraft and click on Options from the main menu. From here, select Resource Packs followed by Open Resource Pack Folder.
This will bring up the resourcepacks folder. Go ahead and locate any of the texture pack you downloaded earlier in a new window and then drag and drop the file into the resourcepacks folder.
Once this is done, close both windows and then click Done directly under the Selected Resource Pack section.
Next up, click on Resource Packs once again and you should see the Pink GUI texture pack in the left-hand column, just under Available Resource Packs.
Simply click on the arrow to drag it to the right-hand column. Then click Done to load the texture pack.
That is it. You will now see the changes in the next menu. So go ahead and enjoy your game.
Wrapping Up
If you're a girl and you love playing Minecraft, then you're better off utilizing the above Pink GUI texture packs. They're free, easy to install and works perfectly fine.