Pixel Gun 3D promo codes galore. So if you are looking to get free coins and gems, here is all the active promo codes for Pixel Gun 3D.
Developed by Lightmap and published by Cubic Games in 2013 for iOS and Android devices, Pixel Gun 3D is basically the end product of taking Roblox's blocky elements, Minecraft's pixel art-style graphics and Fortnite's cartoonish battle royale concept and mixing it into one app.
As a first-person shooter, the game offers over 35 maps and more than 1,000 different types of weapons to choose from. In addition to its multiplayer mode which includes Team Deathmatch, Flag Capture, Co-op Survival and more, the game features a single-player campaign where the mission is to kill zombies and fight bosses.
Also Checkout: How to Hack Pixel Gun 3D
Similar to most online games, Pixel Gun 3D let's player purchase in-game items such as jetpacks, energy ehields, etc. using the coins earned from multiplayer battles. The game brings awesome character customization as well as a variety of skins, and you can even collect pets and join clan wars if need be.
Now assuming you are looking to bag yourself free goodies such as coins, gems, and more, or to nab essential gadgets that can help you progress faster, then read on as we unravel all the currently active Pixel Gun 3D promo codes to redeem right now.
Pixel Gun 3D Promo Codes
Seeing Pixel Gun 3D make waves is no surprise as it appeals to Minecraft lovers the most. Now if you are looking to grab free stuff without grinding, we have got a list of all the working Pixel Gun 3D promo codes to take advantage of.
How to Redeem Pixel Gun 3D Promo Codes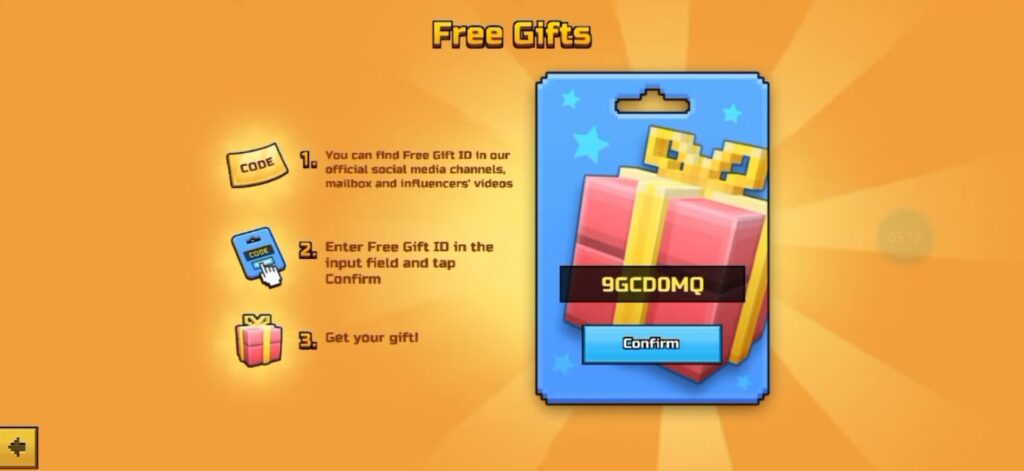 The steps to redeem promo codes in Pixel Gun 3D is pretty simple and straightforward. So to get this one going, tap to open Pixel Gun 3D and jump into the "Store" section from the main menu.
From here, swipe to scroll all the way to the right untill you see the "Free Gift ID" option. Click on it and type in any of the above listed codes. Once done, click on the button that says "Confirm" to get your reward.