Free Overwatch 2 Aimbot abound. So if you are looking to auto aim and shoot opponents, here's the best free Overwatch 2 Aimbot and a vivid guide on how to use it.
Highly anticipated since the original game's release in 2016, Overwatch 2 is the sequel to Overwatch, the popular first-person shooter from the developers Blizzard Entertainment. As expected, Overwatch 2 maintains the same gameplay as its predecessor, whilst adding new heroes, maps, an improved game engine, cross- platform advancement and a story mode tipped to launch in 2023.
Also Checkout: Roblox Aimbot Script
For folks uninformed, Overwatch 2 is a team-based action game where players take on the roles of various heroes, each with their own unique abilities and play styles as they work together to complete objectives and defeat opponents. It is an interesting game per se, but assuming you're looking to simplify your gameplay, we recommend utilizng any of the free Overwatch 2 Aimbot out there on the web.
Free Overwatch 2 Aimbot
An aimbot is a type of cheat or hack that is used in online multiplayer player games to automatically aim and shoot at opponents. Consider it a bot that provides insane aim assist in Overwatch 2, allowing users to quickly and easily take down opponents without any practice or skills.
Known to give users a significant advantage over other players, Overwatch 2 aimbot helps to land shot on targets without having to manually aim and there are some programmed to target specific body parts or areas of an opponent's body, and can also be configured to fire automatically when the target is in a certain location.
While there are a plethora of options in regard to this, it is quite hard to come across a free Overwatch 2 Aimbot that works. Fortunately, having combed the web, we came across a free Overwatch 2 Aimbot that you can use without spending a dime. So without any further delay, below is the best free Overwatch 2 Aimbot to utilise right now.
1. Overwatch 2 Cheat by ProGamersXD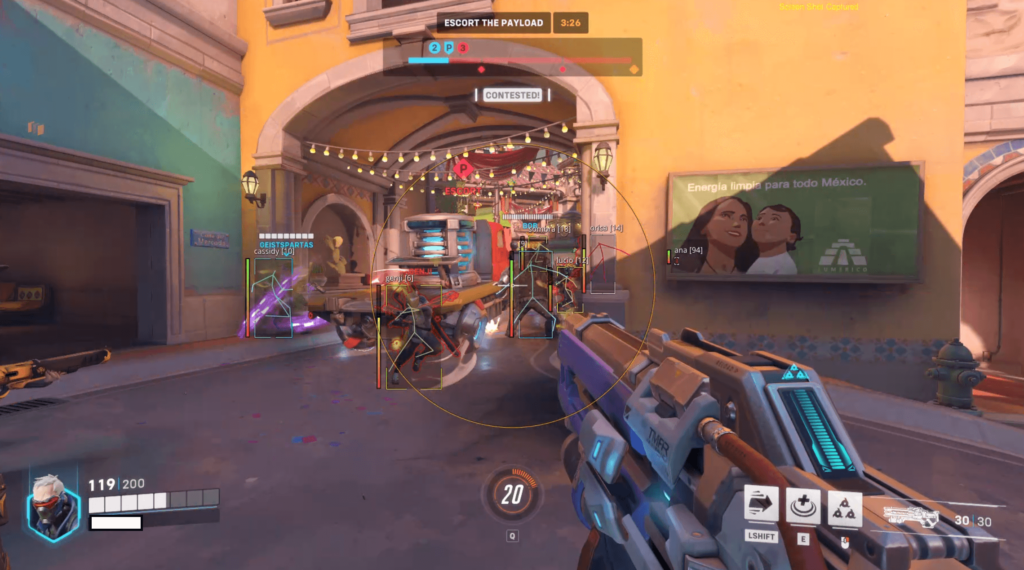 The Overwatch 2 cheat from ProGamersXD is undoubtedly the best amongst many because it not only offers a plethora of premium features that are highly configurable, but also gets beyond the game's built-in anti-cheat system. Below is all the perks it brings to the table.
Aimbot
Aim hotkey
Field-of-view
Aim smoothing
Target selector
Lock target
Switch target delay after kill
Draw crosshair
Show snaplines
Visibility checks
Aim at specific bone
Skip invisible
Flick shot
Prediction
Character ESP
Battlemode
Max render distance
Max healthbar render distance
Max name render distance
Max info render distance
Healthbar position
Healthbar style
Border style
Visibility checks
Max bones render distance
Bone style
Outline
Multiple color options
Radar
Show enemies
Show friendly
Color
How to Install
The steps to install ProGamersXD's free Overwatch 2 aimbot is pretty simple and straightforward. But assuming you are new to cheating, read on as we walk you through the process on how to use it efficiently.
To begin with, head over to the following URL on Github and download ProGamersXD's free Overwatch 2 Aimbot.
https://github.com/ProGamersxD/Overwatch-2-Cheat
Next up, right-click to extract the downloaded zip file using Winrar or 7-Zip. Do ensure all the files are extracted in the same folder.
With that done, simply double-click on the executable file to run the injector.
That's it. You can now fire up Overwatch 2 and the free aimbot hack will automatically start working.
Wrapping Up
Before we conclude, it is important to note that the use of aimbots is not permitted in Overwatch 2, and if a player is caught using one, it is a violation of the game's terms of service and can result in penalties such as account bans and gameplay restrictions. As a result, we recommend using the free Overwatch 2 Aimbot mentioned above on a secondary account. Overall, happy gaming!.