Roblox FPS Unlocker galore. So if you are looking to unlock the default 60 FPS, then here's one good Roblox FPS Unlocker to download right now and a well detailed guide on how to use it.
I am sure you have heard of Roblox. You almost certainly have if you have children. It is an online game creation platform, or preferably a metaverse or a digital playground that offers a free Studio where users, especially the creative ones can craft or build pretty much whatever they desire.
From sophisticated game challenges to big buildings, structures, landscape, clothings, artwork and more, the freedom is limitless. But in as much as it offers a plethora of 3D experiences that can be explored freely, Roblox FPS limiter is certainly a bane on the flesh, especially for players looking to take advantage of their expensive gaming rig.
Also Checkout: Roblox Mod Menu
As you'd know, Roblox is a pretty old game, which of course has stood the test of time. However, even though it has received a plethora of updates over the years, one such problem that is yet to be addressed is the frame rate, which is disappointedly capped at 60 FPS.
Hence in a bit to address or perhaps rectify this issue, Roblox FPS unlocker spawned, strictly with the goal to adjust the default frames per second according to a user's system capacity in order to achieve a seamless gaming experience.
What is Roblox FPS Unlocker?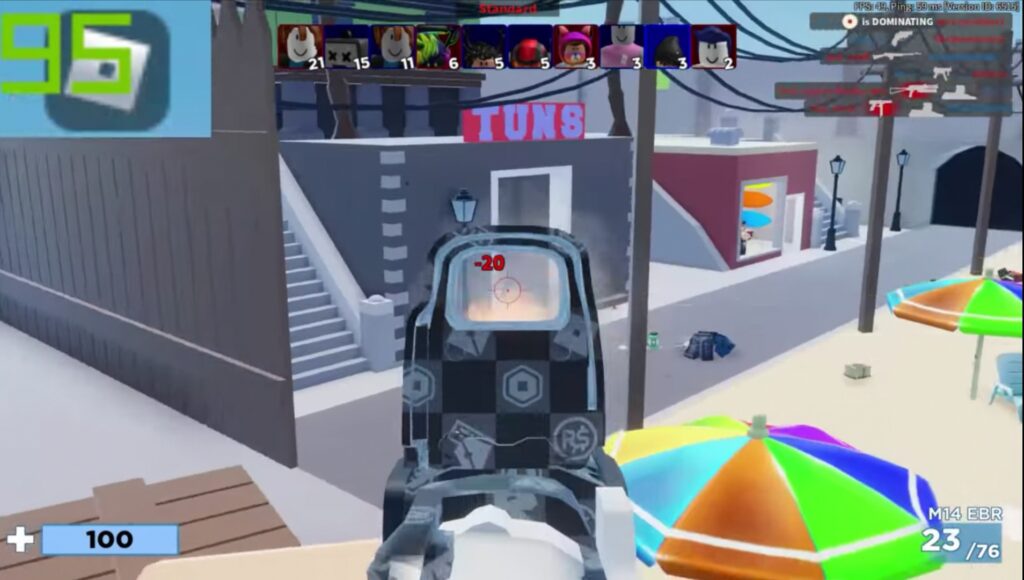 For the uninformed, Roblox FPS Unlocker is simply an unofficial open-source Windows tool that allows users to unlock the default Roblox frame rate, thereby allowing them to go over the normal limit of 60 frames per second.
Some FPS unlocker can be set to a user-defined FPS restriction or to no FPS limit at all. This allows players to experience smooth gameplay and also to get the most out of their monitors, especially one with a refresh rate of 60Hz or higher.
How to Download Roblox FPS Unlocker
No ban, no problem!. Roblox FPS Unlocker is an 100% safe and virus-free software that although available for Windows devices only offers an easy to download and setup guide. Hence it you're already itching to install or sideload the tool onto your PC, then here's how to download Roblox FPS Unlocker.
To begin with, head over to axtin's Github page and look for the latest release of Roblox FPS Unlocker. (As of writing this article, it should be v4.4.1).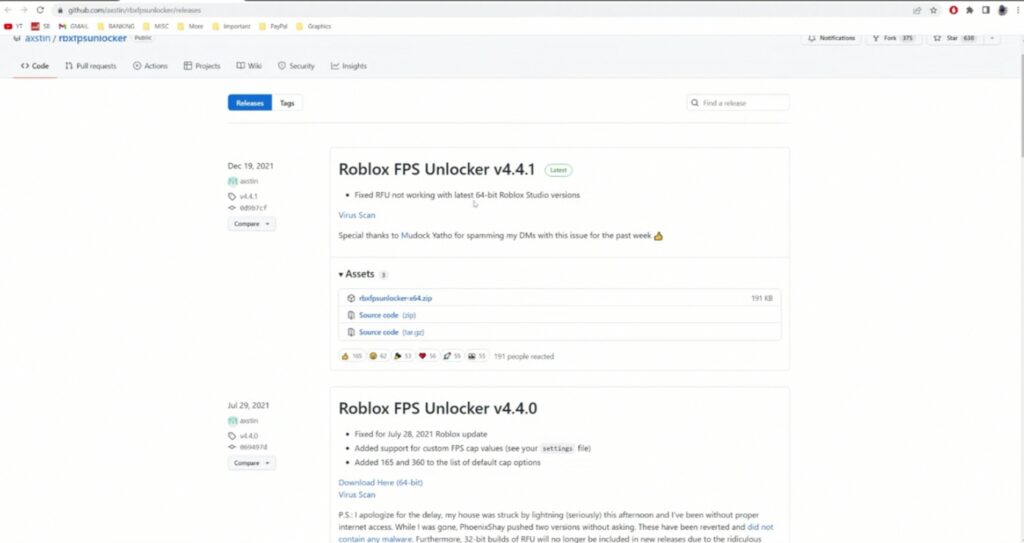 Now you will notice that there are two versions of the same software (i.e., 64bit and 32bit). So if you do not know which one to download, simply click on the "Start" icon on your Window's PC and then search for "System Information".
Once fired up, look for "System Type" which should be located under Item. If it is X86-based PC, then download the 32bit version of Roblox FPS Unlocker. However, if it is X64-based PC, then you should download the 64bit version of Roblox FPS Unlocker.
With the download completed, simply move the file to your desktop and extract it by right-clicking and selecting the appropriate options.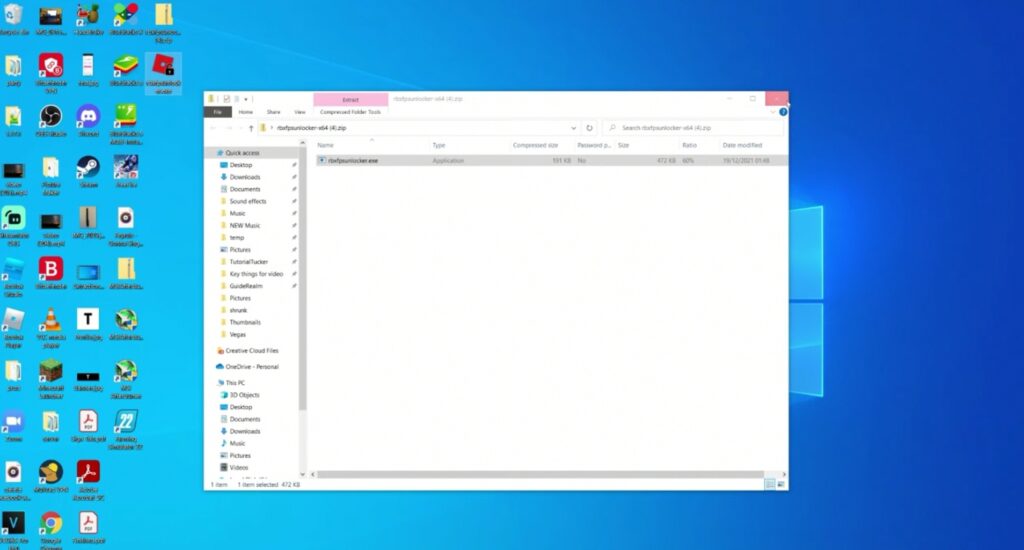 Once extracted, you can now access the folder and in there, you will see a file named "rbxfpsunlocker.exe". That is certainly the Roblox FPS Unlocker we are looking for. So drag it to your desktop and read on as we walk you through the steps on how to use the software.
How to Use Roblox FPS Unlocker
There are two ways to utilize Roblox FPS Unlocker. You can either double-click to start the software before running Roblox, or preferably, launch it whilst Roblox is running. Also make sure to open or run the file as administrator in order to avoid any errors.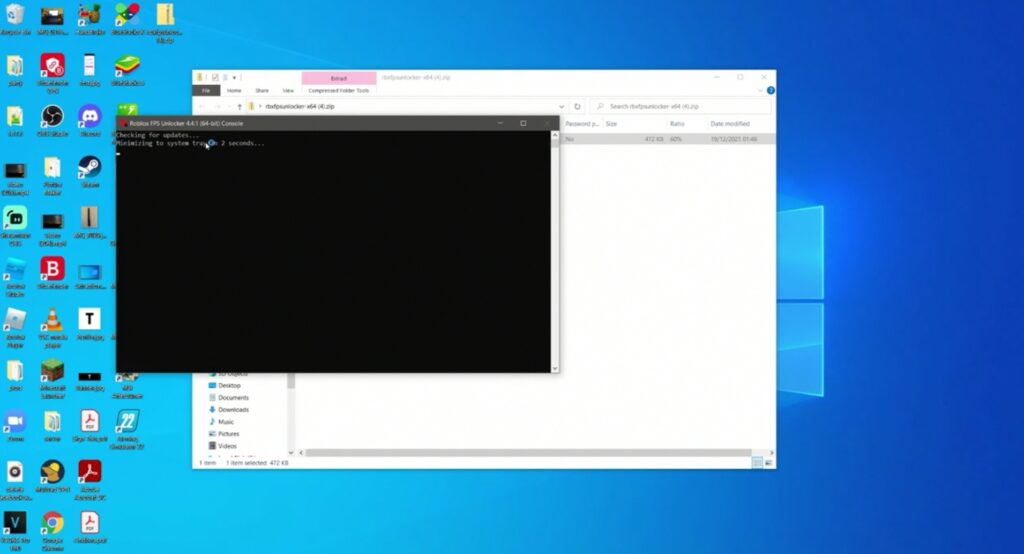 One thing with Roblox FPS Unlocker is that it requires little to no configuration. Just start a game on Roblox, mininmize it, then run Roblox FPS Unlocker and it will automatically modify or unlock the default 60 frames per second to a higher number.
Pressing Shift+5 on your keyboard will show the FPS counter on Roblox and if you desire, you can manually set the frame rate to a predefined number. To do this, click on the Show hidden icons in your task bar, then right-click on Roblox FPS Unlocker.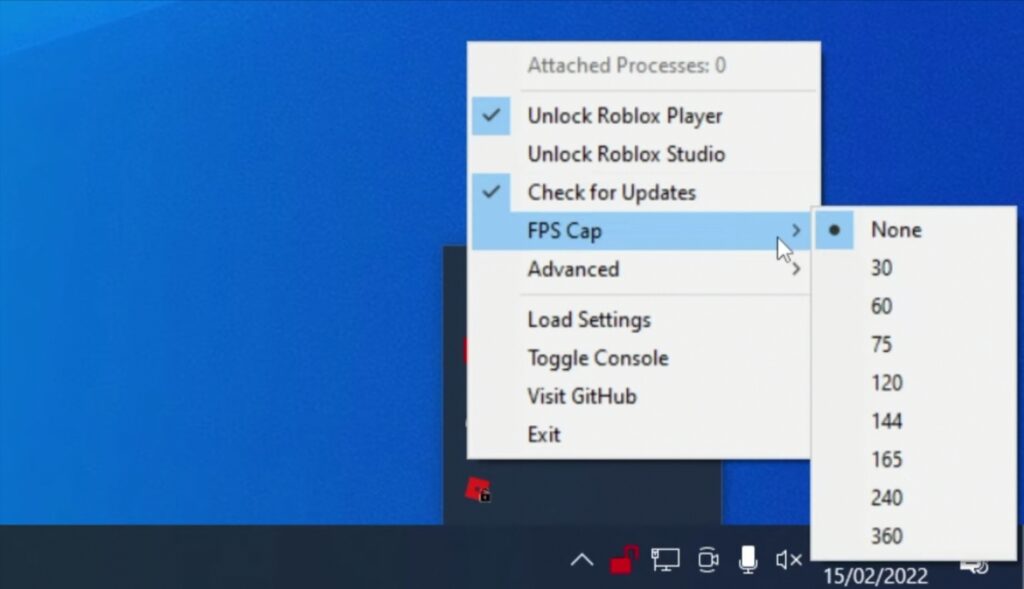 From here, hover your mouse to FPS Cap and select the number you want. You can also choose to let the program run whilst using Roblox Studio by clicking on the option that says Unlock Roblox Studio.
Wrapping Up
So that is it. We have walked you through the steps to download Roblox FPS Unlocker and how to use it amicably. However, if you want the program to run automatically whenever you start your PC, then simply right-click the executable file and select Create Shortcut.
Once done, press Windows Key+R on your keyboard and then type shell:startup. This will open a new window, go ahead and move the shortcut you created earlier into the new window and you'll be good to go.