Roblox new quick login feature is essentially handy especially when you are looking to get into the platform swiftly without entering your password or username. Today, we are going to teach you how to utilize it.
Who doesn't know Roblox by now? The massively multiplayer game creation platform brings together over 150 million active players monthly and in this stats, more than six million have in one way or the other collaborated in the creation of the games found on the platform.
This in fact is the site's biggest peculiarity as it allows players (in addition to having fun playing) to create their own virtual world in which the global community can interact. As a full blown sandbox, activities such as exploring the scenarios, collecting resources, fighting, manufacturing etc. can be done painlessly and you can even customize your avatar using various elements.
Also Checkout: How to Download Roblox on Chromebook
In Roblox, the possibilities are practically endless and its limitations depends on your imaginations. From Arsenal to JailBreak, Adopt Me and more, it offers a plethora of 3D games and even if you're not in the mood to create or play an RPG adventure, you can easily engage in chatting with other friends online.
As the largest virtual universe online, Roblox is literally one of a kind. It is an incredible beast with no competition and if you happen to come across the platform for the first time, you'd find it "overwhelmingly" awesome. While still waiting for the "Voice Chat" feature, Roblox has introduced a new feature called Quick Login and as someone looking to play on a new device, you'd find it captivating.
Roblox Quick Login Feature: Does It Make Any Difference?
For one thing, logging into a new device with your Roblox account has always been cumbersome especially when you do not remember the account credentials. Fortunately with the new quick login feature, you can quickly sign into another device without having to input your username or password.
This sure makes a difference as it limits the hassles of inputting your account details. But prior to getting into the how to thing, it is appropriate for you to know that as of writing this article, the new Roblox Quick Login feature hasn't been released to everyone.
You'd hardly see it on the Roblox app for iOS, Android and Xbox One, but it's readily available in the web browsers of the aforementioned operating systems. Now to get this one going, here's how to Quick Login on Roblox.
How to Quick Login on Roblox
The first prerequisites of course is to have two devices on hand. First is your primary device which in this case we're assuming has an already existing Roblox account logged in and the second is your secondary device which you're attempting to login with for the first time.
Now on your secondary device, simply open the Roblox Login page using your web browser and then click on the "Quick Log in" button above Facebook. This will generate a one-time use code. Simply copy it to your clipboard.
Now on your primary device, fire up Roblox and jump into Account Settings by clicking on the gear icon at the top right corner of the screen. From here, click on the "Quick Log In" option and then paste the code generated earlier into the box provided. Once this is done, click the "Enter" button followed by "Confirm" and you should be good to go.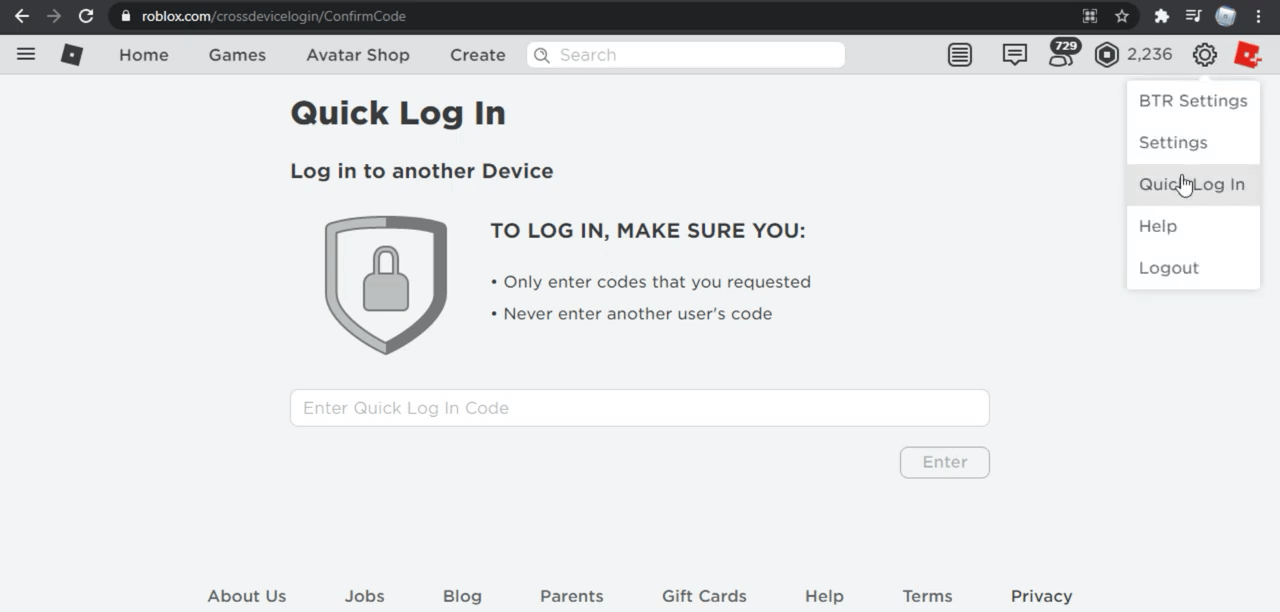 Now go back to your secondary device and you might see a message asking you to enter the two-step verification code sent to your email. This should be found in the email address you used to open the Roblox account in your primary device. So go ahead and input it and you'll be logged in instantly.
Wrapping Up
Quick logging into your Roblox account using the above guide means having access to the account's Robux and inventory. While this feature saves time, we urge you to only enter codes that you requested and never to enter another user's code. Overall, Roblox Quick Login feature is extremely handy especially when you're looking to log in to a new device without having to enter your password, email or username.