Mizt Hub is arguably one of the best FE script out there on the web. So if you are looking to get it, then here's the best Roblox Mizt Hub Script to utilize right now.
Said to be a metaverse, Roblox can be defined as a multiplayer online gaming platform that allows users to create, share, chat, and play 3D games online with other players.
It is a lot of fun per se, especially when it comes to building stuff within the Studio. But assuming you are looking to spruce things up and probably simplify your gameplay, then utilizing scripts is a must.
Also Checkout: Pet Simulator X Script
Of course we aren't talking about the Lua scripts that let's users build or create interactive games but rather scripts that can help apply hacks and/or cheats within a game for things such as infinite resources, health, ammo and what not.
Now, while there are a dozen of scripts made for each Roblox games out there, we stumbled upon something that works as an all-in-one and not only does it function smoothly but also free to grab.
We are talking about Mizt Hub, one of the best, feature-rich and undetectable Roblox script that supports a sheer number of games.
Mizt Hub Script
Albeit old and rarely updated, Mizt Hub stands out for it animations and simple GUI. It basically features some unique FE scripts and most of them work in games such as Ragdoll Engine and more.
For one thing, Mizt Hub supports the R6 body type and even though it works on Synapse only, it is still unique in its own good and floundering ways.
So without further delay, below is the only working Roblox Mizt Hub Script worth utilizing right now.
How to Use Mizt Hub Script
Utilizing Mizt Hub is pretty simple, as all you have to do is to execute the script using Synapse exploit and then wait for the GUI to pop-out.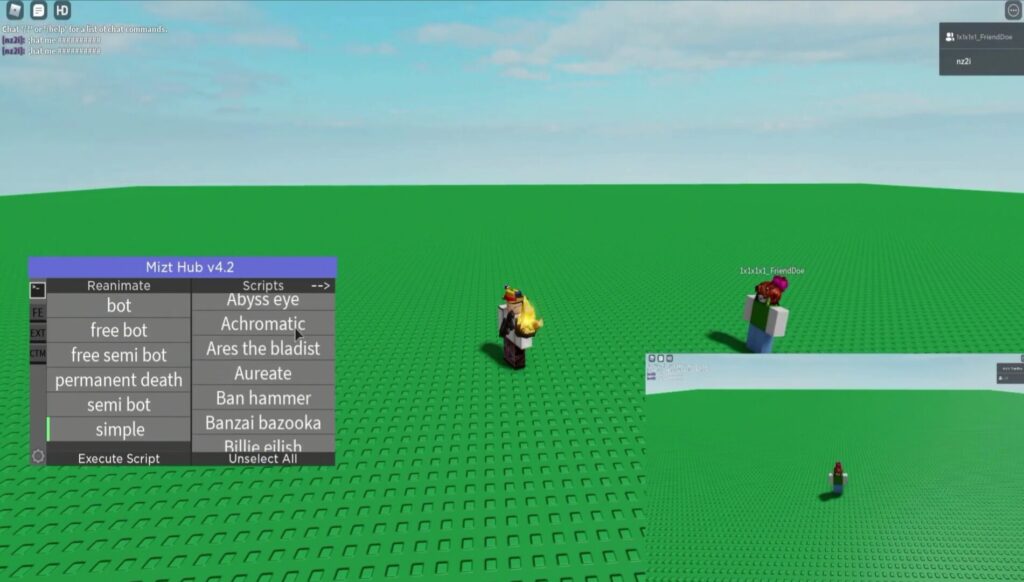 From, here, simply select the text that says simple under reanimate followed by the FE script you want and then hit Execute Script to initiate the hack.
Wrapping Up
So this is arguably the best Roblox Mizt Hub Script to utilize right now. It works, it is free, and of course zero downloads. So go ahead and make use of it.