Gaming hasn't always been online. Back then, we'd boot up any title we have on our PC and play as a character, offline, through a story to its completion. But things have changed, as we now have devices plugged into the world wide web that allows us to interact and play with friends while sitting in the comfort zone of our room.
First was Steam, then Battle.net and eventually, others followed suit. Today, it is hard to come by a place where we can game peacefully without entering a unique name that acts as a form of identification. Roblox sadly is no exception but we are here to help.
As a game creation platform where users are allowed to create and play games created by other users, Roblox popularity with the young gamer demographic is unbeatable and as such, you'd see kids making the mistakes of choosing random usernames that aren't meaningful.
Also Checkout: Roblox Free Clothes for Boys and Girls
Trust me, this only brings regret later on and once you realize that it costs 1,000 Robux just to change that name, you'd feel pain. For folks unaware, Roblox username is an alter ego or in this case a string of characters used to identify a user on the platform.
They are mostly "coded" to be unique and as a noob, it's highly advisable to think twice before choosing a name. Now if you lack the brains or idea of coming up with a moniker that's eye-catchy, then here's the best Roblox username generator to utilize right now.
1. Spinxo
Spinxo prides itself as an intelligent username generator that let's you create hundreds of personalized name ideas. The tool combines various popular keywords with your name to come up with a catchy username. From providing the best gamertag ideas out there to cool video game usernames, Spinxo can also suggest tailor-made username provided you add some keywords that describe your hobbies, personality, favorite number and more.
2. NickFinder
I can bet that players of Garena Free Fire and PUBG are well aware of what NickFinder is capable of. It's one of the best Roblox username generator out there and not only will it come up with a cool username for you, it also let's you customize the name to your liking while letting you choose the font that you like. Simply input your nickname or any random name and the tool will present a list based on what you entered.
3. Rare Name Generator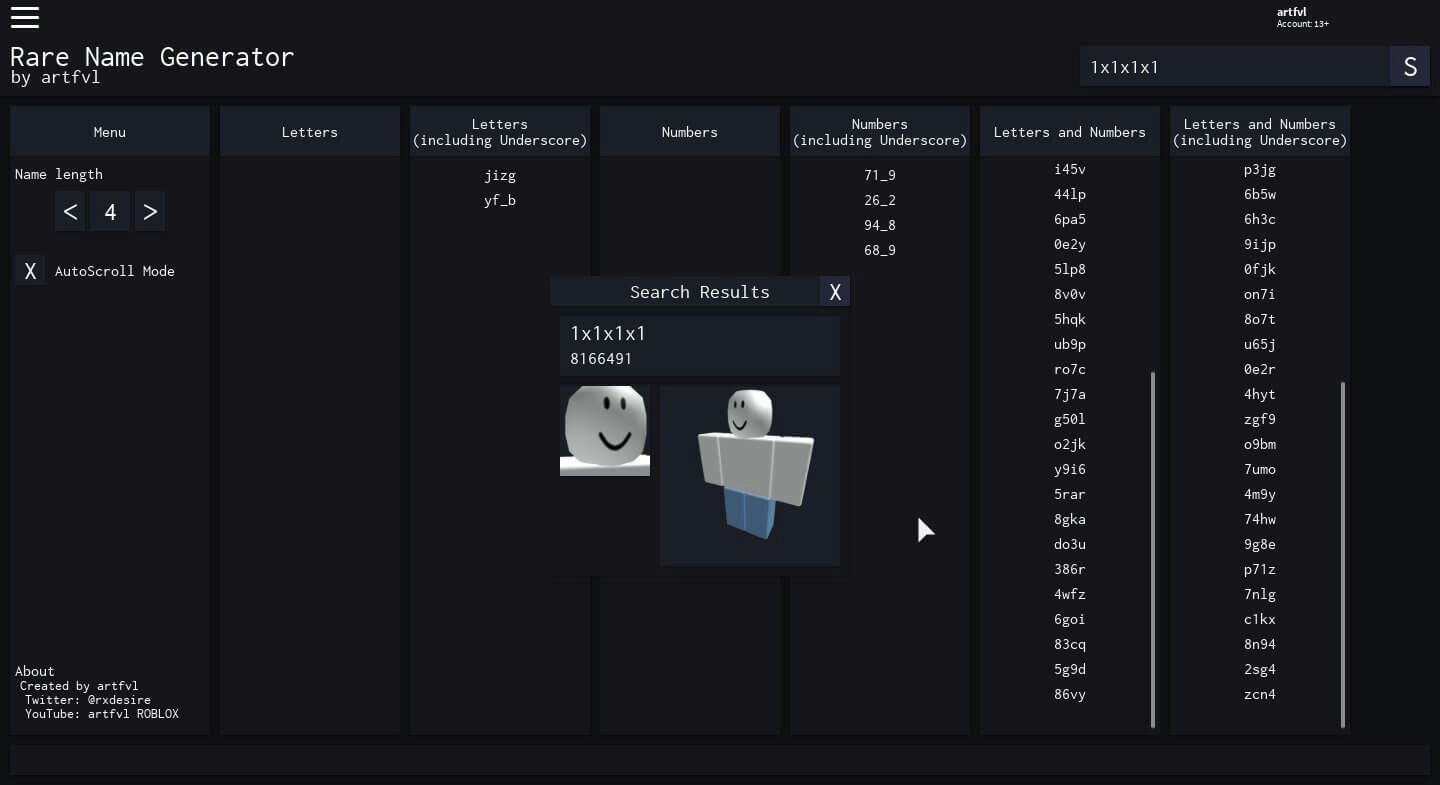 If you are looking to get an unclaimed Roblox username without having to crack your brain for ideas, then you should really look into rare name generator. It's a very handy tool that generates random strings of characters to be used as super short usernames. From length changer to autoscrolling mode and username search option, rare name generator is truly feature-rich and we urge you to give it a try.
20 Unclaimed Roblox Usernames
With over 150 million monthly active users, you will agree with me that a slew of Roblox usernames has already been taken. From VibrantMeg to BabieDancer, you'd find it really hard to find a good name to use and even if you stumble upon one, you'd end up realizing that it isn't available or has already been taken. Trust me, this can be frustrating.
Today, we are going to unravel some of the best, cool, edgy and aesthetic Roblox username worth using.
black5iber
siren_horna
truce4eva
bendingravity
real_playeress
merciless_messi
proud_pwn
legionbrond
vendettee
robloxian_wannabe
niki_kina
metallic_blaster
rollypill
girly_yogi
swagg3mer
roddy_goody
alex_viperz
gamaress
queentic_gam3r
knot_cracker
There are millions of words out there that you can formulate to come up with the best and perhaps badass Roblox username. All you have to do is to think deep and wise, I'm sure you'll come up with something meaningful and unique.