Roblox is a massively multiplayer online game creation platform where players can easily make or play games created by other users. It is hugely popular amongst kids and its in-game currency officially known as Robux is hands down a sort after commodity. With it, you can gain access to a wide range of paid games on the platform and equally buy the best clothes and other accessories to adorn your character with.
Whilst Roblox is free, Robux isn't and due to this, a slew of hackers lurking round the web have "unleashed" dozens of tools claiming to offer free Robux to users. They're basically known as Robux generators and if you aren't informed, you may think they are legit. But the truth is, they're fake and you should read more about them here.
Also Checkout: RBXOffers Codes for Free Robux
The only way to get Robux is to buy it from the official Roblox site. But if you're "broke" or probably do not want to part ways with the little money you have, then RoCash can help. Formerly known as Rbxcash, Rocash is one of the legitimate rewards program online. It works by letting you earn Robux by doing regular tasks such as taking surveys, watching videos and downloading apps.
One of the site's most essential features or perhaps places to patronize is the "Giveaway" section. There, you'd see a slew of users who have completed at least one offer looking to win a stipulated amount of Robux which they can use to buy upgrades and special abilities for their avatar.
Rocash Codes
Getting started with Rocash is pretty simple and straightforward as all you have to do is to sign in with your Google account. Now if you're like me, then chances are you do not fancy the idea of completing surveys, filling out quizzes that aren't beneficial and so on. This is where Rocash codes comes in to play.
They are basically words or phrases that you can enter on your Account page to get free Robux. Most of Rocash promo codes are often distributed on the site's official Twitter handle and Discord channel and they're only limited to a certain amount of users.
So it's recommended to follow them on the aforementioned platforms whilst ensuring notifications is turned on. Once done, simply stay active to claim and redeem the codes as soon as they drop. Now if you are looking to get free Robux, then here is a list of all the currently active Rocash codes to redeem right now.
june20 – Gives you 2 Robux
summerscoming – Gives you 2 Robux
weekend – Gives you 2 Robux
rbx – Gives you 2 Robux
stars – Gives you 2 Robux
bucks – Gives you 2 Robux
mothersday2 – Gives you 2 Robux
cincodemayo – Gives you 2 Robux
hotdog – Gives you 2 Robux
earthday – Gives you 2 Robux
mondayfunday – Gives you 2 Robux
rabbit – Gives you 2 Robux
eastermonday – Gives you 2 Robux
spider – Gives you 2 Robux
valorant – Gives you 2 Robux
kangaroo – Gives you 2 Robux
april1st – Gives you 2 Robux
apps – Gives you 2 Robux
stayinside – Gives you 2 Robux
2day – Gives you 2 Robux
100kt – Gives you 2 Robux
airplane – Gives you 2 Robux
cats – Gives you 2 Robux
itsmarch – Gives you 2 Robux
squid – Gives you 2 Robux
valentines – Gives you 2 Robux
offer – Gives you 2 Robux
super – Gives you 2 Robux
seal – Gives you 2 Robux
So these are all the list of all the Rocash codes released so far. Do claim them as fast as you can before they expire. Also we'll be updating this post with new codes once they drop, so go ahead and bookmark it.
How to Redeem Codes in Rocash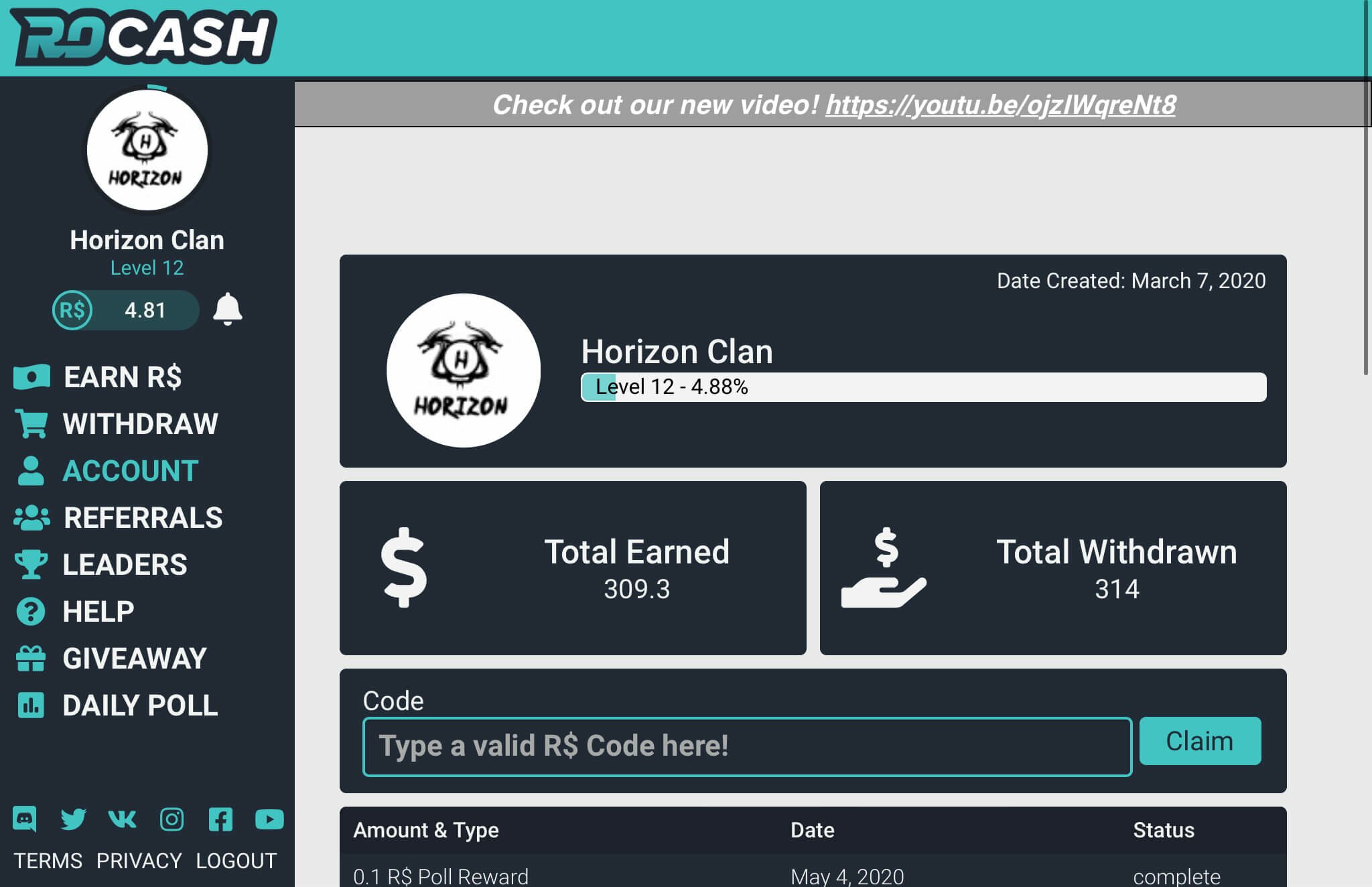 From here, we are guessing you have already signed into Rocash using your Google account. So go ahead and click on the "Account" option visible on the site's menu. On the next page, simply type in any of the above listed codes and click the "Claim" button to get your Robux.