Yohoho.io hacks galore. So if you're looking to get free gold coins, XP and more, then here's how to hack Yohoho.io easily.
You know, there are games that once you start to play "lures" you in the more and of all the battle royale .io games we have played so far, Yohoho.io seems to be the best and this is probably because it brings an incredible or should I say interesting storyline.
At it core, Yohoho.io gameplay begins after you have had a shipwreck. Now stranded on a desolate island with other pirates, your mission will be to eliminate them and plunder all the booty whilst trying to be the last man standing.
Also Checkout: Evowars.io Hack for Unlimited Speed Boost and XP Level Up
Survival is the main goal here, but will it be easy? Can you mow down those fierce pirates without entering the poisonous red zone that appears once the map starts to shrink? As you might have guessed, opponents drop gold coins once defeated and the more you collect, the bigger and stronger you grow.
Yohoho.io is one hell of a multiplayer battle royale .io game. It is fun to play and offers outstanding graphics. The controls aren't bad too and it brings a plethora of items to unlock. Now if you're looking to get free gold coins and experience point, then here's the best yohoho.io hack to utilize right now.
Yohoho.io Hacks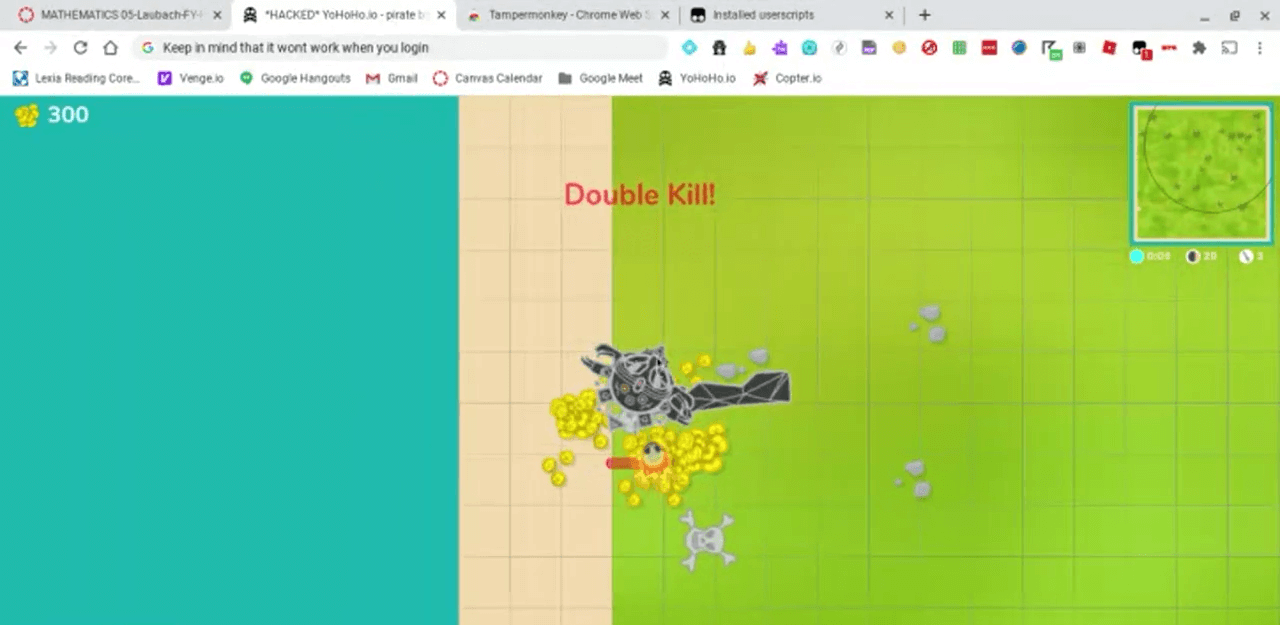 When it comes to goodies, Yohoho.io is extremely generous. It offers a plethora of contents that can help you gain the upper hand and even look unique. Now if you are looking to change the color of the island and also to get free XP and unlimited gold coins that can be used to purchase weapons, skins and more, then here's how to hack Yohoho.io
Install Tampermonkey
Hacking Yohoho.io isn't as difficult as you may think. The whole process can be carried out if and only if you have a working userscript. But prior to recommending one, you'd need to install the script execution software Tampermonkey.
So to get this one going, simply head over to the Tampermonkey page on Chrome Web Store. From here, click the button that says Add to Chrome followed by Add Extension from the pop-up that will appear.
Once this is done, you will see a message saying that tampermonkey has been successfully added to chrome and you should see the add-on icon visible beside the search bar.
Install a User Script
Now it's time for the real thing. So to get to it, simply right-click on the tampermonkey icon beside the search bar on Chrome. From here, select the option that says Create a new script.
Tampermonkey should be opened by now. So go ahead and copy then paste the userscript found here into the box provided (ensure you delete other scripts before pasting the new one).
Once that's done, simply click on File followed by Save and you'll be good to go.
Alternatively;
You can head over to this page on Greasy Fork and click on the green button that says Install this Script.
Once that's done, you can now go ahead and fire up Yohoho.io and you will be good to go.
Enjoying Yohoho.io Hack
With everything set, simply fire up Yohoho.io and you'll see that the sideloaded script are already in action. To use it, simply follow the below guide;
Press O to change your coins
Press P to change your character
Press I to change your island
Press X to set XP
That is it. You can now go ahead and collect doubloons to get bigger while sending your opponents to kingdom come. With all characters unlocked, simply pick one, then adorn them with awesome skins plus weapons and go rack those booty.