1v1.LOL hacks galore. So if you are looking to get things such as aimbot, God Mode and more, then here's how to hack 1v1.LOL.
While the likes of Fortnite, PUBG and Free Fire may seem interesting, you'd probably get bored of their repetitiveness. This is where games like 1v1.LOL comes in to play and albeit a clone, it offers a completely different game system that makes it appealing.
For the uninformed, 1v1.LOL is an incredibly third person shooter that task players (in the form of robots) to engage in fast battles where the last man standing wins. Its allurement probably lies in the fact that you can raise transparent constructions that can serve as shelter or a means to get rid of enemies, lay traps or probably escape from them.

Also Checkout: Call Of Duty Mobile Hacks
Aside from the fact that it let's players configure their own battlefield, 1v1.LOL brings a plethora of different game modes and weapons. Its 1v1 / Box 2v2 confrontation mode is also as strong as it gets.
Now if you're looking to play god or perhaps to cheat in the game, then here's the best 1v1.LOL hacks for Aimbot, Speed, God Mode and more.
1v1.LOL Hacks
It is hard to come by a 1v1.LOL hack that works. While you can easily install a modified version of the same game on mobile and then toggle any hacks you want via the mod menu, cheating in the game on Windows PC can be pretty difficult.
Fortunately, we have in our custody something that works and that to for free. From God Mode to Infinite Ammo, Fly Up, Rapid Fire and more, the 1v1.LOL hack we're about to share below comes feature-rich.
So if you're already itching to gain the upper hand in any match round, then here's how to hack 1v1.LOL without sweating alot.
How to Hack 1v1.LOL
To being with, head over to this page on Github and download the file "1v1.YEET_v2.CETRAINER".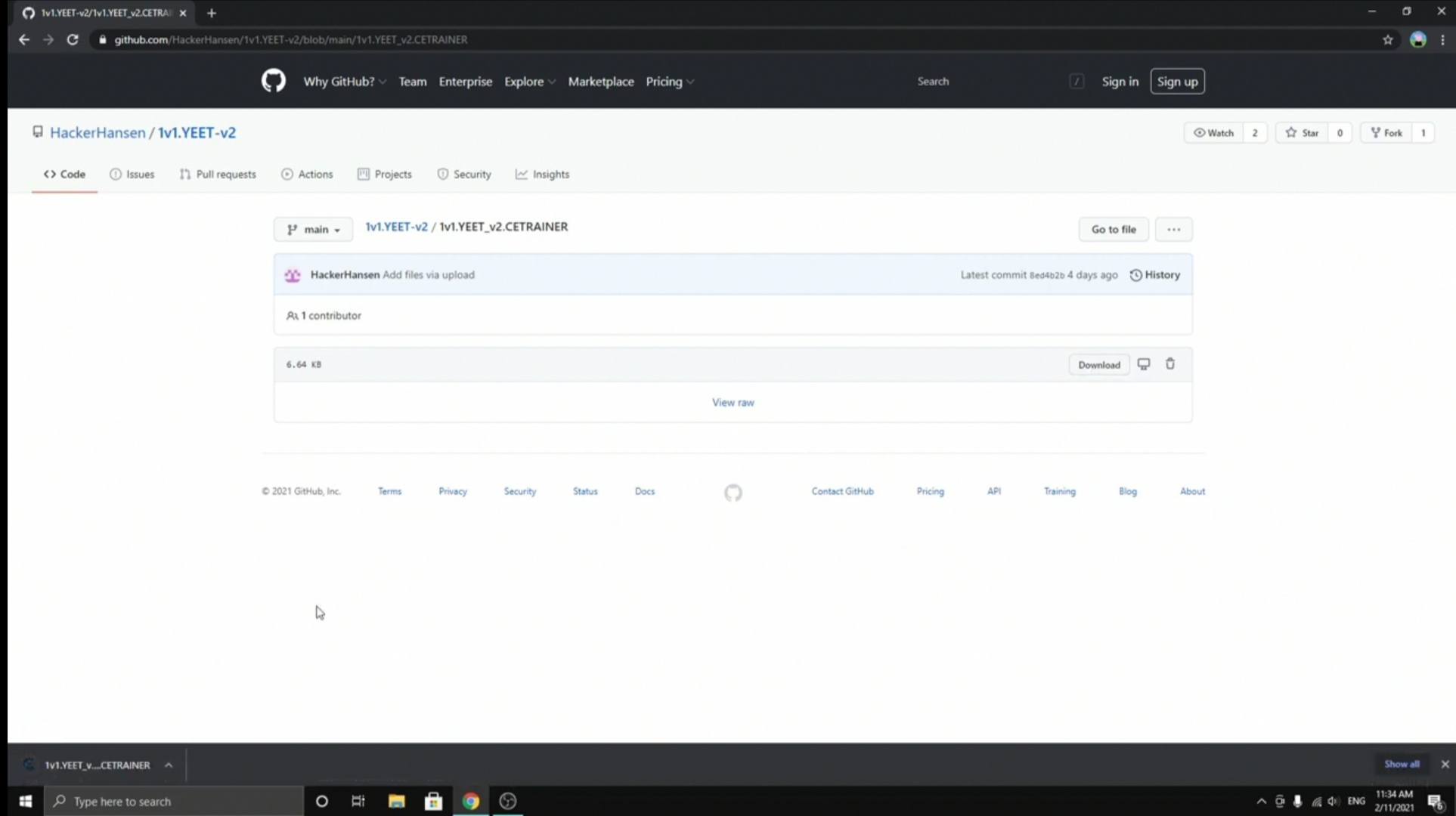 Next up, navigate your way to the following URL and download the latest version of "Cheat Engine" for Windows.

https://www.cheatengine.org/downloads.php
Once that's done, simply download the latest version of "Firefox" or "Chrome" browser.
With the files/programs now in your custody, go ahead and fire up the "1v1.YEET_v2.CETRAINER" file you downloaded in step one.
Do note that if the file refuses to open after double-clicking on it, then simply fire up Cheat Engine and click on the "open folder" icon at the top of the screen. From here, locate the "1v1.Yeet_v2″ file, select it and it should open automatically.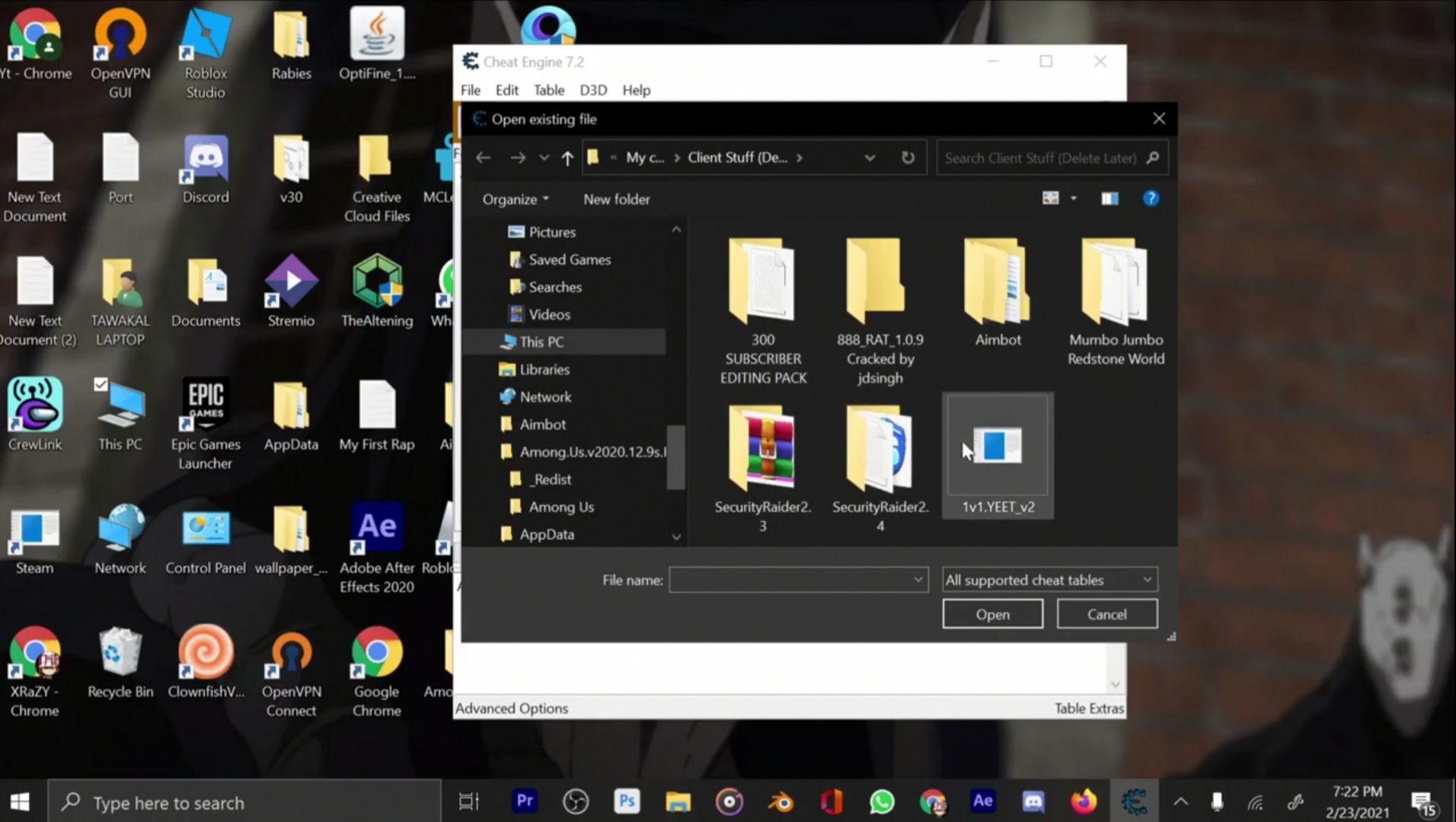 Now if you are using Firefox browser, simply ensure only one tab is opened, then use it to access 1v1.LOL.
Once the game loads, bring up the "1v1.YEET_v2″ program and from here, ensure that the "Auto" option which is under "Attachment Mode" is enabled.

Now click the "Attach Process" button to attach the hack to the game.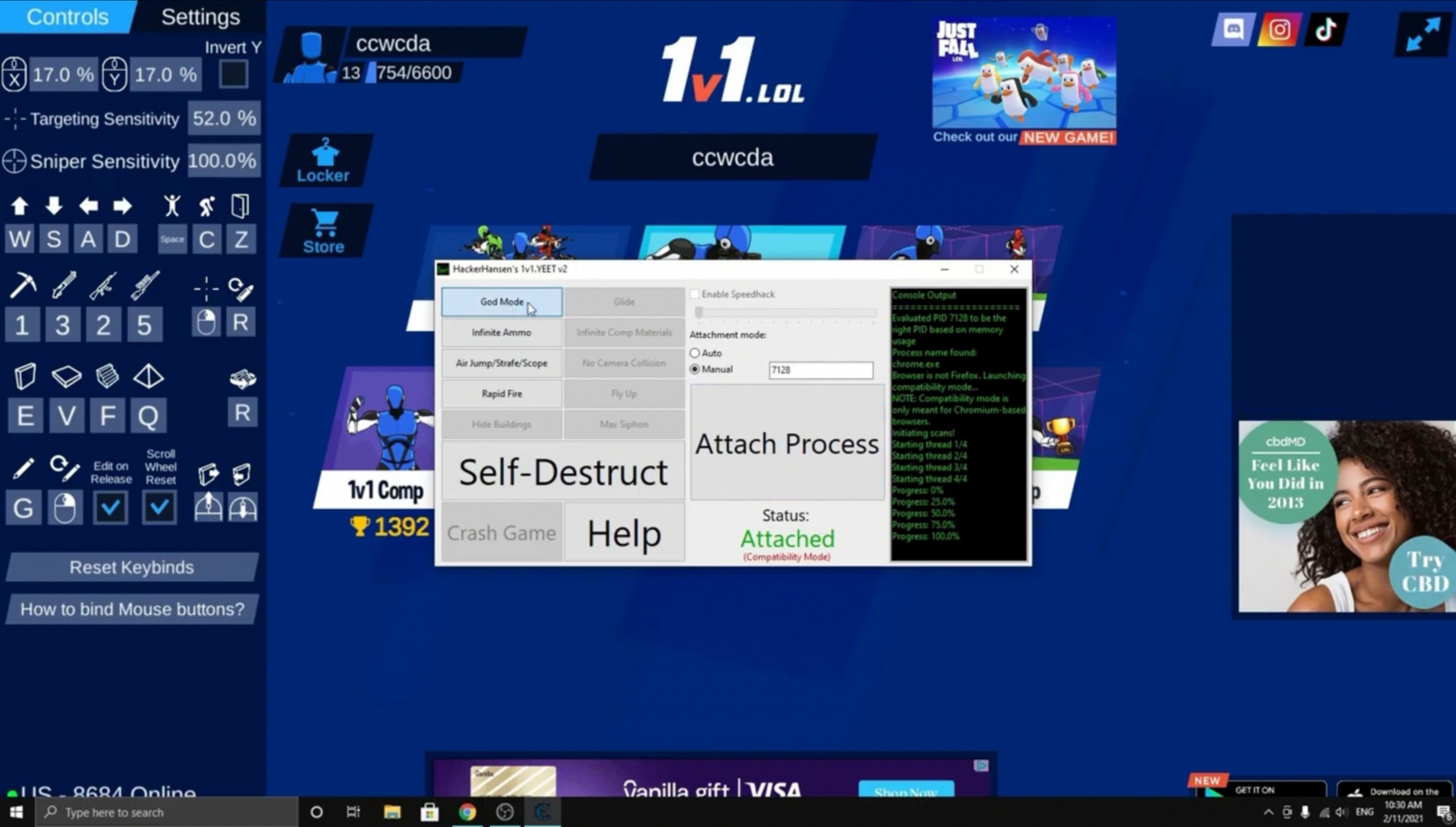 For Chrome users, we recommend using the manual mode. To do this, ensure that the game 1v1.LOL is opened in a single tab with the "1v1.YEET_v2″ program floating on it.

Now right click on the task bar on your Windows desktop and select "Task Manager" from the context menu.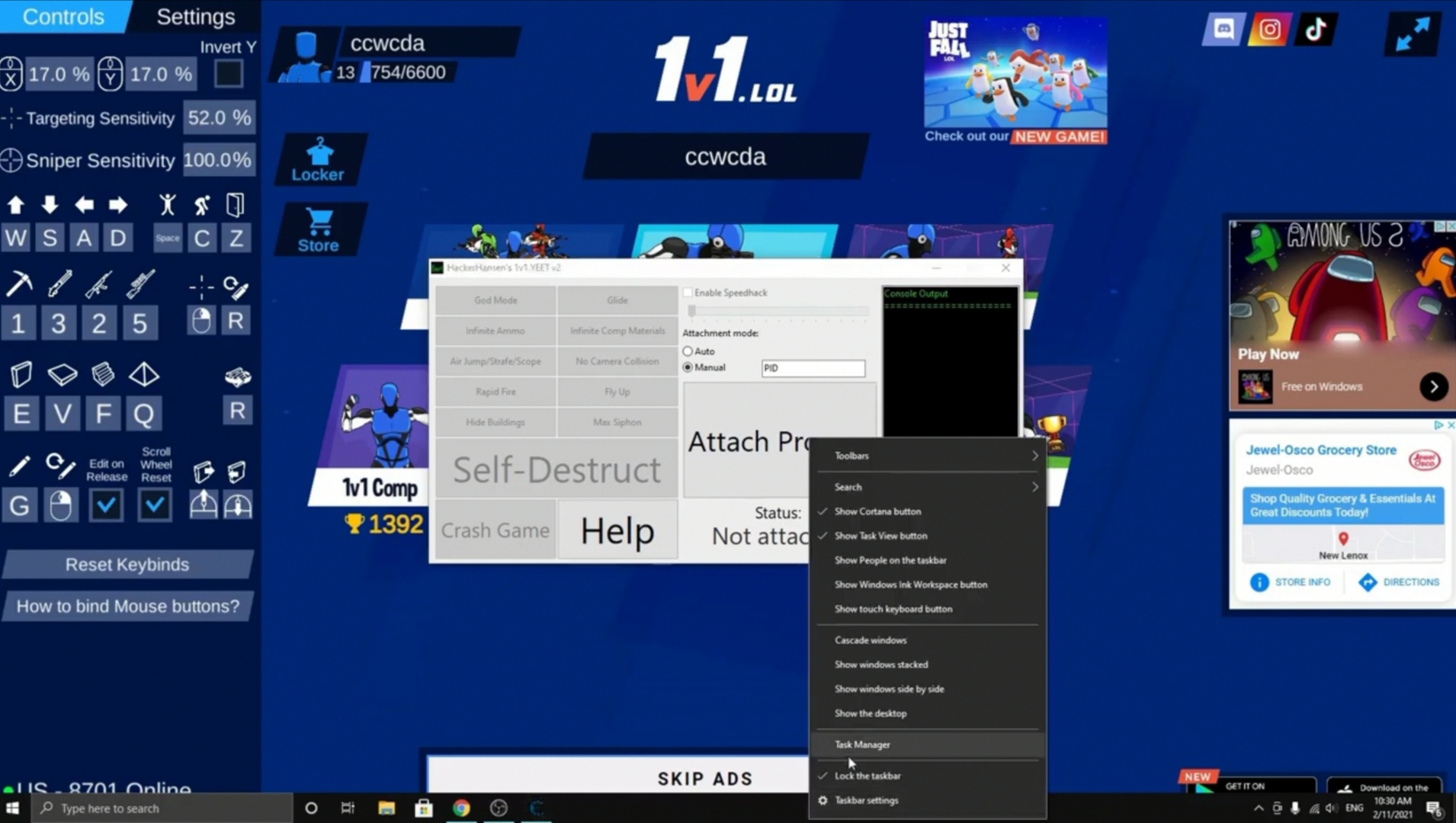 In there, click on the "Details" tab and scroll down to the "Chrome.exe" processes. From here, look for the process with the most RAM being used.

Now at the left, you should see the "PID". Simply copy or note the number.



Then on the "1v1.Yeet_v2″ program, set the attachment mode to "Manual" and on the PID box, enter the number you copied earlier.

Once that's done, hit "Attach Process" and you'll be good to go.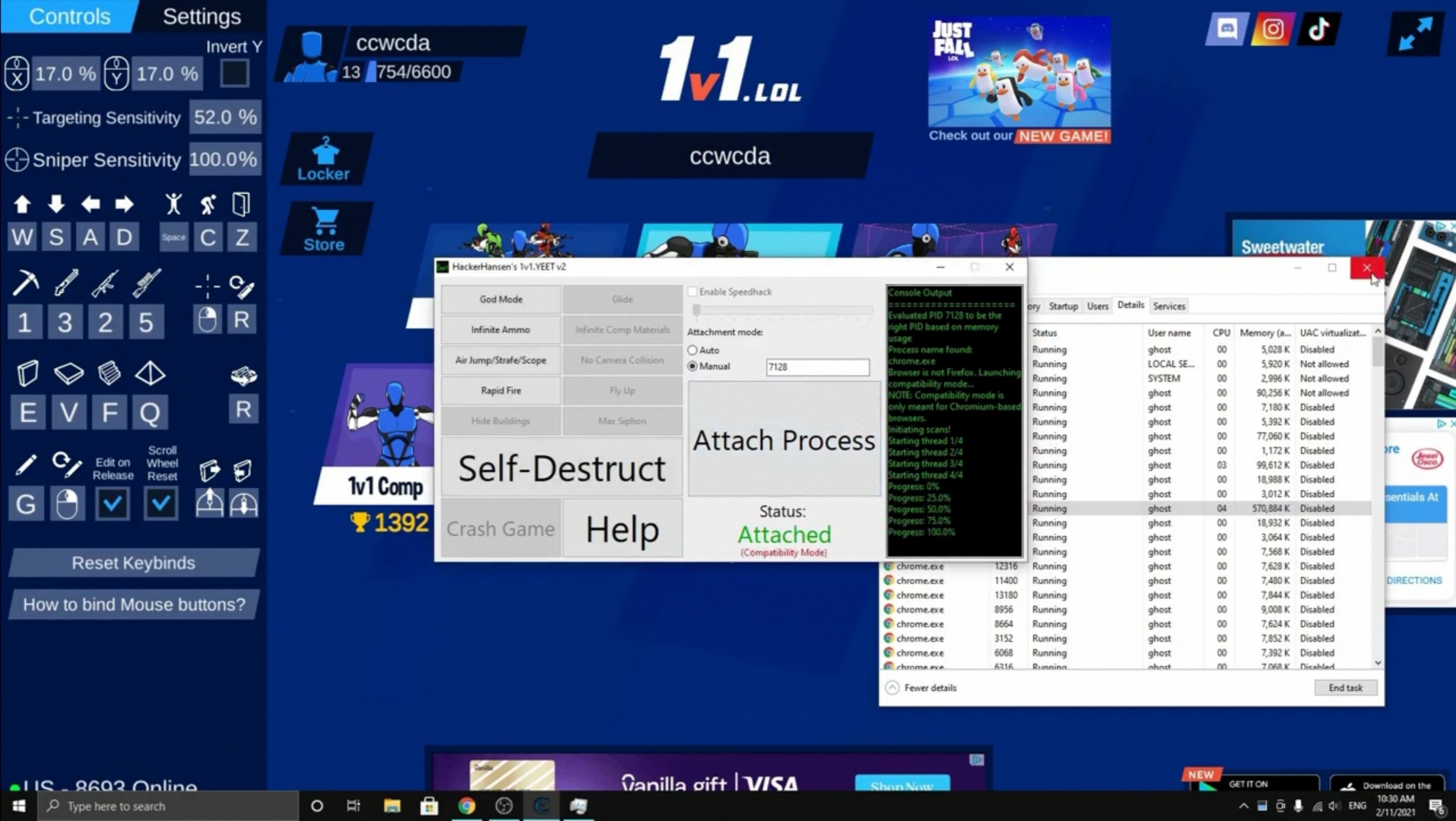 Now go ahead and enable the hacks you would like to use and jump in-game to start destroying your opponents.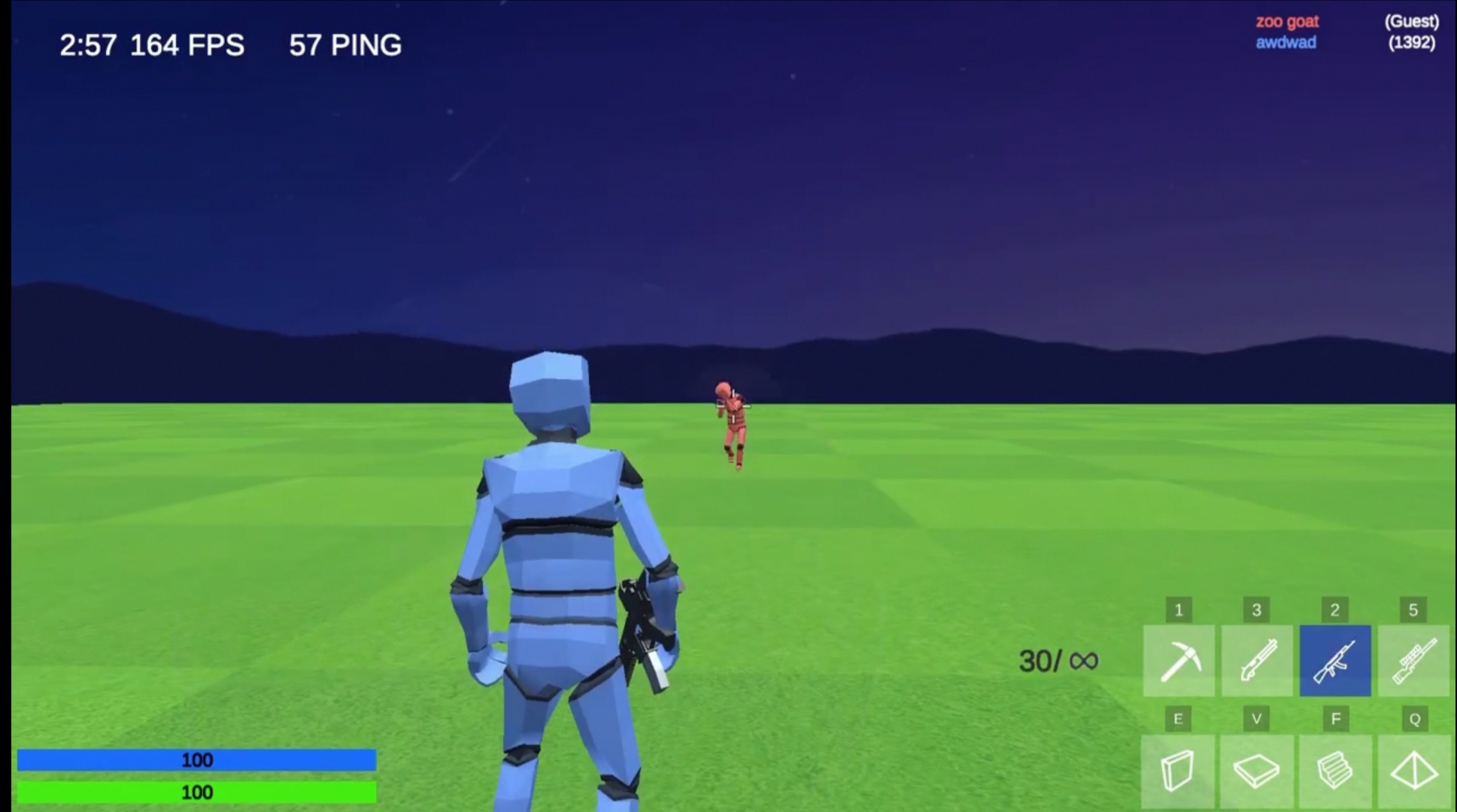 Wrapping Up
So this is arguably the best 1v1.LOL hack worth using. From Aimbot to God Mode, it brings a plethora of features that can helo you win the game everything. So go ahead and utilize it right now.