Looking for the best heroes to help you progress faster in one of the most-played idler, then this AFK Arena Tier List is for you.
AFK Arena tells a tale of you stopping an evil trying to "take over" the world and whilst the game mechanics says otherwise, it is still one of the best idler to play right now. Featuring approximately 7 factions and a slew of heroes that "possess" their own unique strength, art styles, abilities and most importantly well-detailed backstory, AFK Arena's intuitive UI is personally second to none.
What's more "baffling" is how the game plays itself even when you're offline. Players begin with 5 heroes arranged "strategically" in a formation of two units in the front and three in the rear. Each fight pits your "team of heroes" against the enemy squad – with both side attacking each other automatically.
Also Checkout: AFK Arena Codes for Free Diamonds, Scrolls and More
And as the player, your task will only be to hit your character's ultimate bar and/or meter once it gets filled to unleash a devastating skills that can turn the tide of the battle. Without doubt, AFK Arena is a beautiful RPG. Its gacha elements is quite top-notch and brings a slew of chapters to unlock.
But we aren't here to guide you on how to complete each levels in the game, neither are we going to list some of the tricks, tips and cheats necessary to progress in the game. Instead, we are here to help you find the best heroes you can use during early game, mid and end game. So this is where afk arena tier list comes in to play.
AFK Arena Tier List
The sole aim of every tier list is to list how good the characters in fighting games are. They are mostly sorted into "tiers" like SS, S, A, B, C, D, E, F etc and this is all in a bit to demarcate which hero is worth using to progress faster in each level.
Having come across a slew of tier list for AFK Arena, WhiteSushii "compiled list" seems to be the best so far. It's what we're currently using and the result is astonishing. From Talene to Shemira, Thoran and more, he typically unravelled the best heroes worth utilizing in early, mid and endgame.
Below is a full infograph showcasing WhiteSushii's personal AFK Arena Tier List.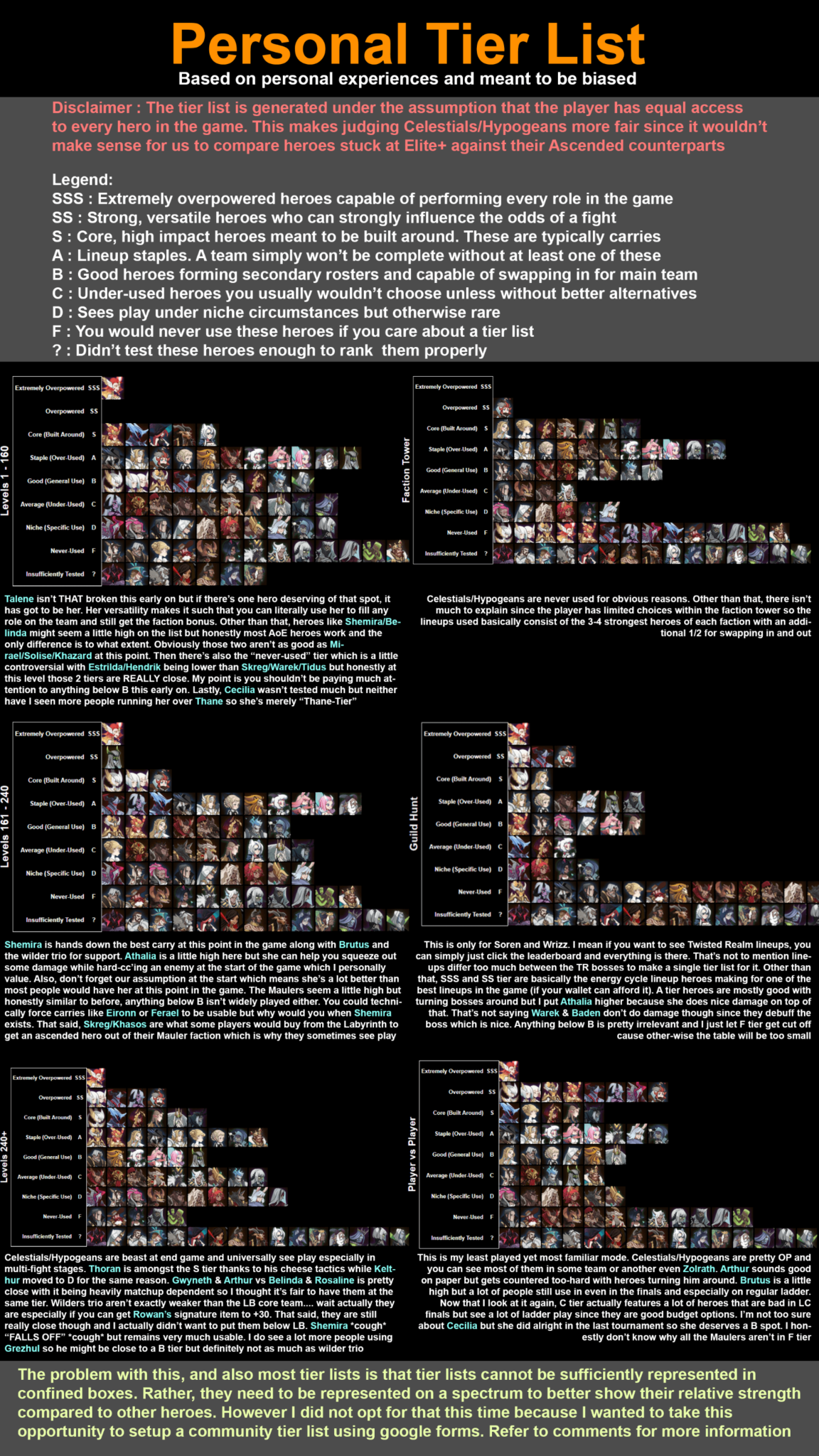 From the above image, you'd see that the early game tier list rank heroes according to how swift they're able to finish the early stage both effectively and efficiently. And one of the things I fancy is that WhiteSushii didn't rank the heroes entirely based on speed but how they're able to carry their team with the least amount of damage whilst maximizing the faction bonus.
The mid game of course is a big level up achievement and it's when the real battle begins. Going for Shemira is the best bet here and I personally applaud WhiteSushii for making that decision.
Knowing fully well that legendary heroes will begin to fall off in power once they reach the maximum level of 161, WhiteSushii practically ditched them for the Mythic Heroes and they are perfect for the endgame.
Wrapping Up
Overall, this is the "most detailed" AFK Arena Tier List we've seen till date. From Guild Hunt to PVP and Faction Tower, WhiteSushii typically nailed it.