Blox Fruits hacks galore. So if you are looking to get unlimited devil fruits or hacks such as auto farm, auto raid, fruit esp, auto attack and more, we have got below all the fully working Blox Fruits hacks to make use of right now.
With over 366,000 active players, 3 million likes, 7 million favorites and more than 14 billion visits, Blox Fruit is hands down one of the most played Roblox games. Created in 2019 by Gamer Robot Inc, Blox Fruits is basically an action-adventure game inspired by the famous manga and anime series One Piece.
Also Checkout: Roblox Blox Fruits Scripts
Its gameplay task players to explore different islands where they will be able to complete quests in order to gain experience and level up. In addition to fighting enemies using various weapons and techniques, Blox Fruits features a unique fruit system that allows players to obtain special powers and abilities by consuming Devil Fruits.
It is a pretty fun and engaging game, one that appeals to fans of the animated series it draws inspiration from. Now assuming you are looking to skip the hassles of grinding for resources in-game, or you're looking to defeat foes easily, we have got below, the perfect Blox Fruits hacks that can help simplify your gaming experience.
Blox Fruits Hacks
From Auto Farm to Auto Raid, Fruits ESP, Auto Attack, Instant Mastery and more, there are a plethora of Blox Fruits hacks out there on the internet. So without beating around the bush, below is a list of all the undetectable Blox Fruits hacks to make use of.
Hack 1
Hack 2
Hack 3
Hack 4
Hack 5
How to Execute Blox Fruits Hacks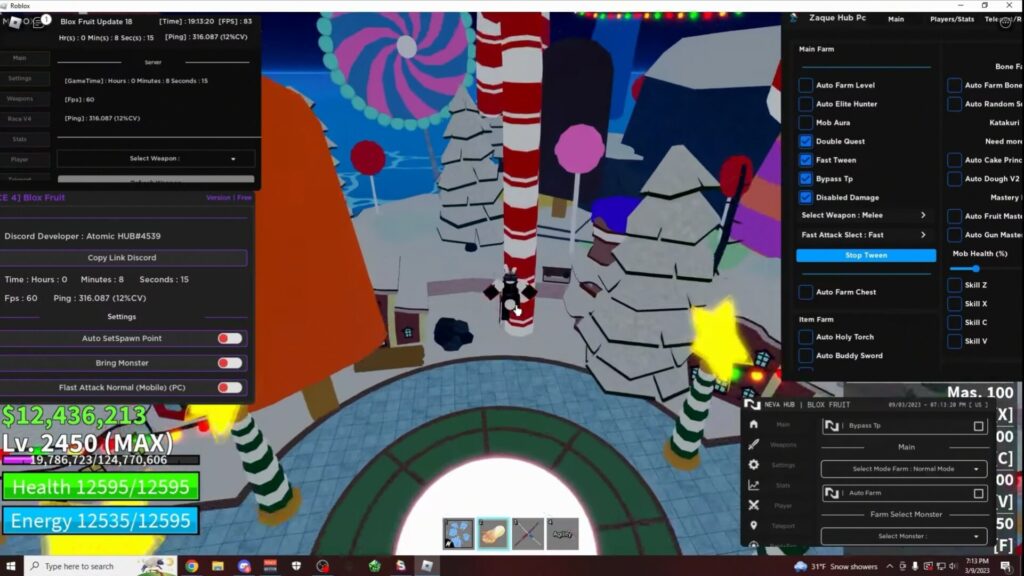 Prior to executing Blox Fruits hacks, one will need to employ the services of a reliable Roblox exploit. From Krnl, Fluxus, Synapse X and more, there are a plethora of them.
So assuming you do not have one downloaded yet, simply jump into our previous post detailing the best free Roblox exploit and find yourself something that works.
Once installed, go ahead and jump into Roblox, then look up and click to open Blox Fruits as well as the downloaded exploit. Next up, copy and paste any of the Blox Fruits hacks listed above into the box found within the executor.
Once done, click on Attach followed by the Execute button and the hack GUI will pop-up. Now go ahead and enable the hacks you prefer.