Borderlands 3 is unequivocally the greatest first person shooter looter on PC and Console and this is largely due to its insane amount of badassness, stylized cartoonish world, arsenal of weapons and most importantly, skill trees.
It's basically a sequel to Borderlands 2 but instead of Salvador, Gaige, Maya, Kreig and other familiar faces, players are meant to take charge of four new "playable" characters each with their own quirks, skills and attributes.
The plot is same as always, as players are tasked with stopping Tryreen and Troy from "harnessing" the power of the "Vaults" spread outside the planet Pandora.
Also Checkout: Borderlands 2 Shift Codes
Now assuming you are informed, you do probably be aware that Gearbox introduced a new idea the moment Borderlands 2 was released and that novelty was termed Shift Codes.
They are basically a pieces of texts mostly visible on Reddit, Twitter and other social gathering platforms that once entered within the game unlocks uncommon weapons and cosmetics.
Stuffs such as Golden Keys, Skins and Heads can be earned using Shift codes but aside from this, players can also acquire Guns, Shields, Relics, Class and Grenade mods. Now without further ado, here are a list of active Borderlands 3 Shift codes that unlocks skins or a large pile of keys and other items in quantum.
Borderlands 3 Shift Codes That Don't Expire
Before we begin, it is "safe" to know that Borderlands 3 Shift codes expire. Some are only active for a few hours before expiring while others remain valid for years. Below, we're going to list every single Borderlands 3 Shift Codes that don't expire.
ZFKJ3-TT3BB-JTBJT-T3JJT-JWX9H (Gives you 3 Golden Key)
HXKBT-XJ6FR-WBRKJ-J3TTB-RSBHR (Gives you 1 Golden Key)
ZFKJ3-TT6FF-KTFKT-T3JJT-JWX36 (Gives you 1 Golden Key)
9XCBT-WBXFR-5TRWJ-JJJ33-TX53Z (Gives you 1 Golden Key)
ZRWBJ-ST6XR-CBFKT-JT3J3-FRXJ5 (Gives you 1 Golden Key)
Z65B3-JCXX6-5JXW3-3B33J-9SWT6 (Gives you 1 Golden Key)
Limited Time Borderlands 3 Shift Codes
As we said earlier, there are a slew of Borderlands 3 Shift codes around the web but most of them are expired and no longer working. However, these ones are still active, so redeem them as fast as you can.
So that's the limited time code. Do ensure to redeem it right now before it expires. We will be sure to add new codes once they drop – till then, game on.
How to Redeem Borderlands 3 Shift Codes
With the Borderlands 3 ShiFT codes now in your custody, it is time to learn how to redeem them. So to get this one going, simply head over here to sign up or create a ShiFT account.
Once this is done, navigate to Gearbox ShiFT account rewards page. From there, select your platform, then copy and paste the codes listed above to redeem them.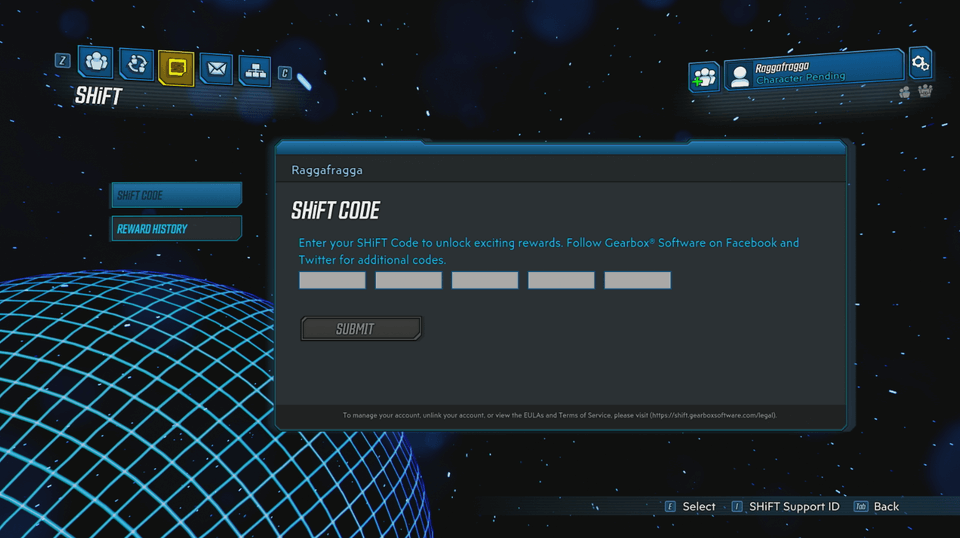 Alternatively, you can also redeem Borderlands 3 shift codes directly within the game by going to Menu -> Social -> ShiFT.
How to Redeem the Golden Keys
Redeeming a ShiFT code in Borderlands 3 will not automatically add a Golden Key to your inventory. However do not panic as we're going to guide you on how to redeem Golden keys in Borderlands 3.
To begin with, dive into the game and open up the menu. From there, simply click on Social. Now you will see an envelope icon at the top. Go ahead and click that to reveal the Mail menu.
Now collect every Golden Keys you have obtained so far and game on.