Craftnite.io hacks abound. So if you are looking to get hacks such as Fly, Aimbot, ESP and more, here's how to hack Craftnite.io with ease.
Released in 2019, Craftnite.io is basically a browser-based first-person shooter featuring Minecraft's blocky visuals and Fortnite's Battle Royale elements.
The game is set in a Minecraft-like world where players are tasked with exploring the vast map and shooting down enemies in order to reach the top of the leaderboard.
Also Checkout: Venge.io Hacks
From dynamites to shotguns, sniper rifles, and more, Craftnite.io offers an assortment of weapons to equip, and you can switch between this and your crafting gear in order to construct shelter and mine caves for treasures.
Albeit fun, Craftnite.io is a very fast-paced, competitive game. Outliving your opponents demands high-level precision and strategy. Hence, if you are looking to simplify your gameplay, here are the best Craftnite.io hacks to utilise right now.
Craftnite.io Hacks
For one thing, there are a plethora of Craftnite.io hacks available online, and the best amongst them allows users to spawn anywhere, go under bedrock, swim fast, fly, and more.
Now, assuming you are looking to make your gaming experience easier by enabling hacks such as triggerbot, rapidfire, speedhacks, and more, here are all the Craftnite.io hacks to utilise right now.
How to hack Craftnite.io
Before we delve into how to hack Craftnite.io, it is important to install a reliable userscript manager such as Tampermonkey as well as a feature-rich Craftnite.io hack script. So let's quickly get things started.
Install Tampermonkey
To begin with, open Google Chrome and navigate to the Tampermonkey page on the Chrome Web Store. From here, click the "Add to Chrome" button followed by "Add Extention," and the Tampermonkey icon will automatically get pinned beside your browser search bar.
Download Craftnite.io hack script
Next up, you will need a Craftnite.io hack script. Of course, there are a plethora of them, but having gone through the internet, we recommend the following:
Craftnite.io Utility script: Let's you spawn on Island instead of Water; fixes block placement lag; adds a server switcher to the main menu; and gives you text telling you which server you are on when in-game.
Install Craftnite.io hack script
For this part, we are assuming you have already decided which Craftnite.io hack script you'd like to use from the list of options above.
If yes, click on it, and on the next page, click on the button that says "Install this Script," followed by "Install," to automatically sideload the script to Tampermonkey.
Now on the Tampermonkey Dashboard, ensure the installed script is toggled on, and you'll be good to go.
Enjoy the Craftnite.io Hack.
Once you have successfully installed any of the Craftnite.io hack scripts on Tampermonkey, simply launch the game via your web browser, and the hacks will be injected automatically.
Craftnite.io Fly Hack
Assuming you do not want to go through the hassles of installing Tampermonkey and the userscripts above, you can easily implement the fly hack in Craftnite.io using the inspect element. Here's how to do it:
To begin with, open up Craftnite.io and go to the top of the castle.
From here, press CTRL+SHIFT+C on your keyboard to bring up Chrome's inspect element window.
Now click on the "Console" tab at the top and then type in the following code: G.CONFIG.a143=100 at the bottom of the screen.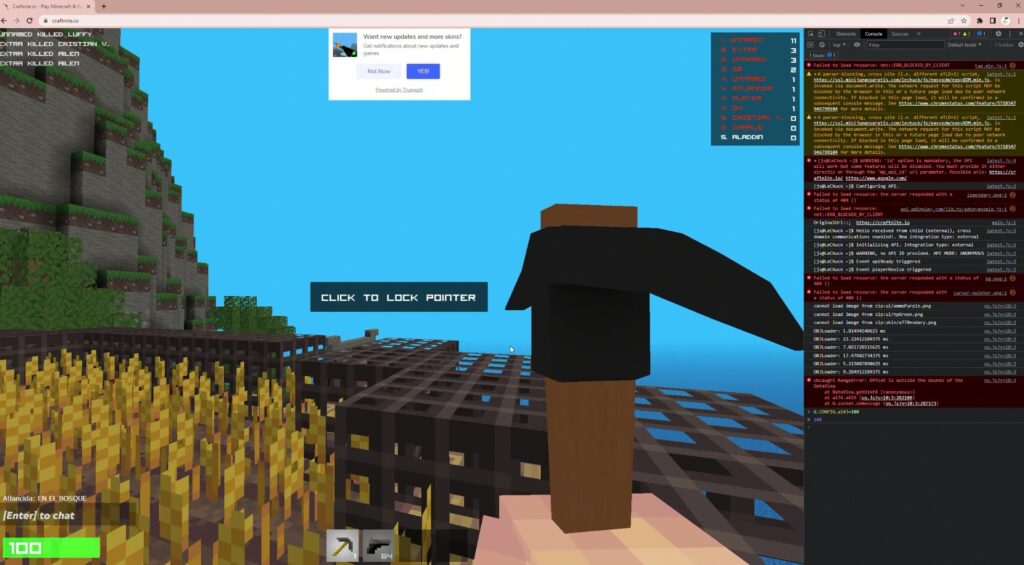 Once done, press Enter on your keyboard and exit the Inspector Element window.
That's it. Once you head back to Craftnite.io, you'll see your character flying with ease.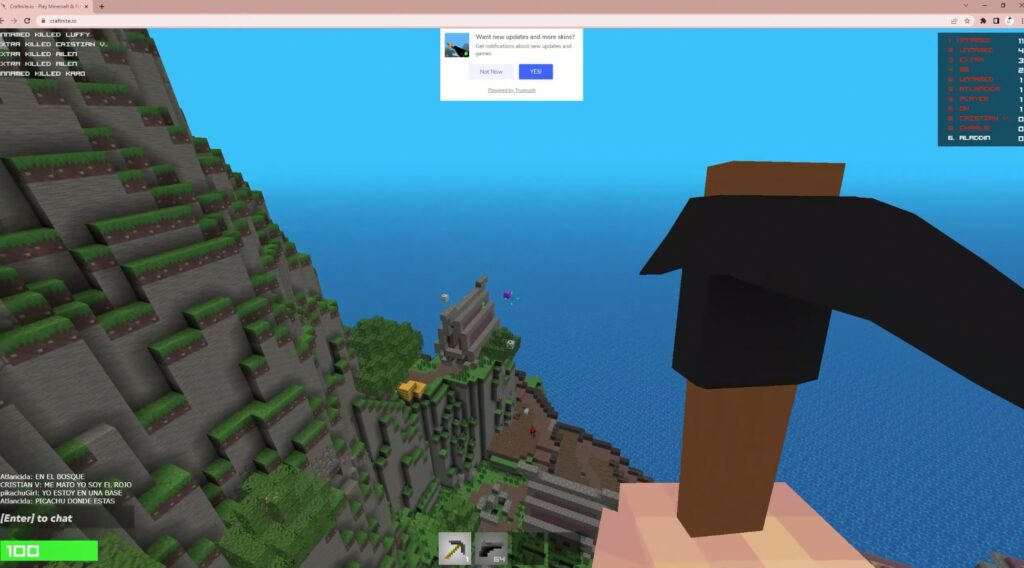 Wrapping Up
So this is arguably the best Craftnite.io hack to make use of. If you have a Craftnite.io hack script that is more advanced compared to the ones we shared above, simply use the comment box below to share it.