Wondering what is a challenge in Destiny 2? Then we are here to clear the air
Destiny 2 is obviously Bungie Studio last attempt to revitalise their latest game series from the grave. Despite being built behind a paywall, it's still the game to play especially if you are looking to gun down aliens for loots. The game's story revolves around the Light, a power which was taken from the Guardians by a covetous warlord named Ghaul. As the player, your task will be to journey through the mythic fictional world defeating Ghaul's Red Legion army all in a bit to get back the Light.
Also Checkout: Destiny 2 Chamber of Starlight Location
Plot details and microtransaction talks aside, we assume that you have come across a notification or a message within the Director that asks you to complete a challenge in exchange for a reward known as the powerful gear. Well if you have no idea what this quests are, then here's everything you need to know about Destiny 2 challenges.
What is a Challenge in Destiny 2
Previously known as Milestones, Destiny 2 Challenges are activities that offer Powerful Gear as reward for completing a task and they can be found within the Director.
The Daily Challenges have a gold icon with a plus (+) like symbol attached to them while the Weekly Challenges are marked on the map as gold and they feature star like icon.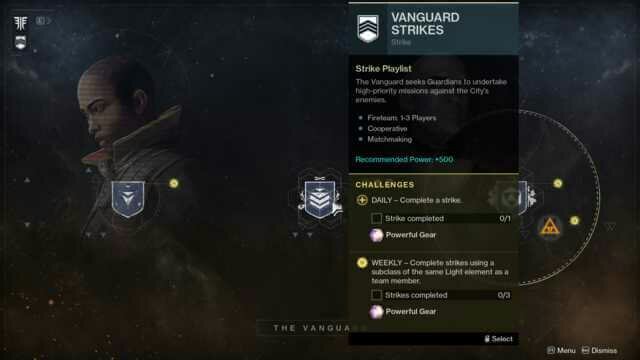 One of the things worth being aware of is that these challenges reset daily and/or weekly. Now pretty much every guardian is aware that Destiny 2 weekly challenges reset every Tuesday at the following times;
West Coast US: 9am (PST)
UK: 5pm (GMT)
East Coast US: 12pm (EST)
Europe: 6pm (CEST)
While the daily challenge reset every four days at the following times;
West Coast US: 10am (PT)
UK: 6pm (BST)
East Coast US: 1pm (ET)
Europe: 7pm (CEST)
And once they'd, you'll be able to perform various quests within the director and they include Strikes, Gambit, Crucible, Flashpoint, Raid and more.
Wrapping Up
Weekly/daily Challenges are one of the main reasons why you should be logging in once you have reached destiny 2 end-game. They reward you with loot that increases your power level drastically.