Dinkum cheats abound. So if you are looking to get unlimited money or to spawn items, here's all the Dinkum cheats and commands to utilise right now.
Dinkum, at a glance, may feel like a cheap copy or rip-off of Animal Crossing, but it still has the flair found in a typical adventure life simulation game.
In Dinkum, you assume the role of the main character, who is fed up with life in South City. One day, he gets an offer from a friend to work on a remote island.
Also Checkout: Dave the Diver Cheats
There, he begins life anew, hunting, farming, fishing, and mining resources using purchasable and craftable equipment, all while aiming to upgrade his tent into a house and setup a crop field to harvest crops.
Despite featuring bigger island as well as better villagers that you can interact with, gathering points to buy character improvements is no easy task and it is only but a matter of time before you run into debt.
This is where Dinkum cheats comes in to play. So assuming you're looking to spawn items, or to get an excessive amount of money that you can use to buy things and get by, then here's all the Dinkum cheats to utilize right now.
Dinkum Cheats
Unlike Animal Crossing, Dinkum features a commands and cheats option built-in and once they are triggered, they can painlessly help players skip the repetitive grinding elements of the game, thereby simplifying their gaming experience. So without further delay, here's how to enable or turn on Dinkum cheat menu and a list of all the Dinkum commands there is.
How to Turn on Dinkum Cheat Menu and devCommand
Before we delve into the how-to thing, we recommend a backup of your current progress. This way, you won't be at risk and can easily restore your save incase the game breaks after implementing cheats. Now here's how to enable Dinkum Cheat Menu and devCommand.
To begin with, open up Dinkum and whilst in-game, press Enter on your keyboard to bring up the chat window. Now type in devCommandsOn into the provided box and press Enter to activate.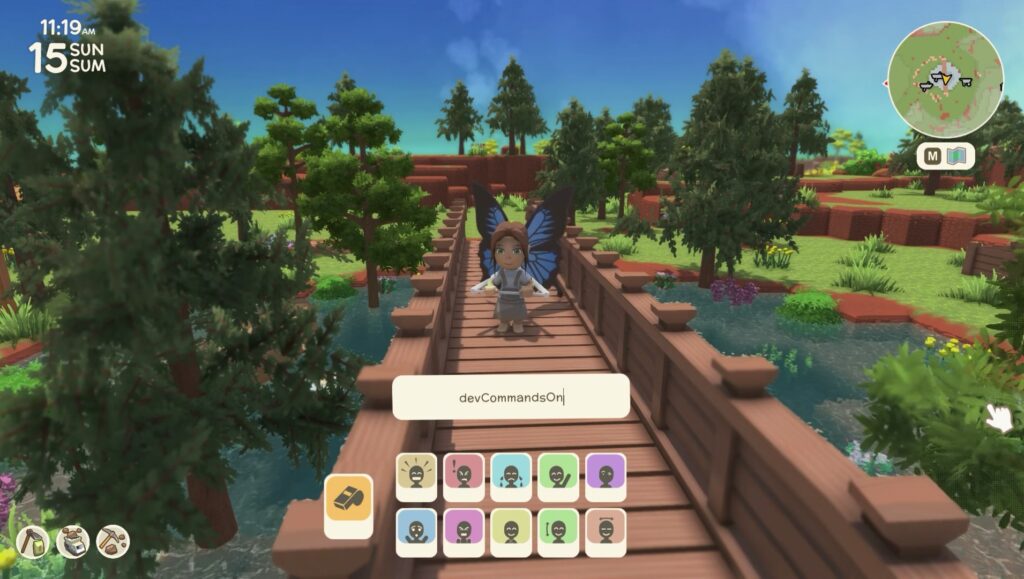 With that done, hit Enter once again on your keyboard to access the text chat window and this time, type in cheatsOn and press Enter to enable the cheat menu.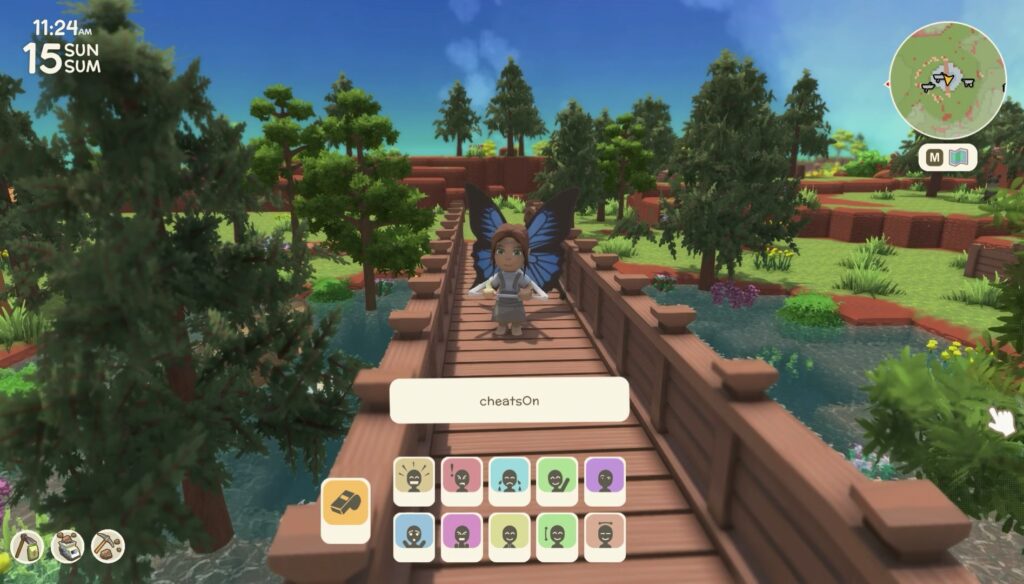 Note: You can turn off or disable the devCommand by typing in devCommandsOff into the chat window. For the Cheat menu, there's no way to turn it off once triggered unless you seek the services of the toggle cheats mod.
Opening Dinkum Spawn Item Cheat Menu
With both the devCommand and Cheat Menu enabled, simply press the equal sign (=) on your keyboard and you should see a menu used for spawning items.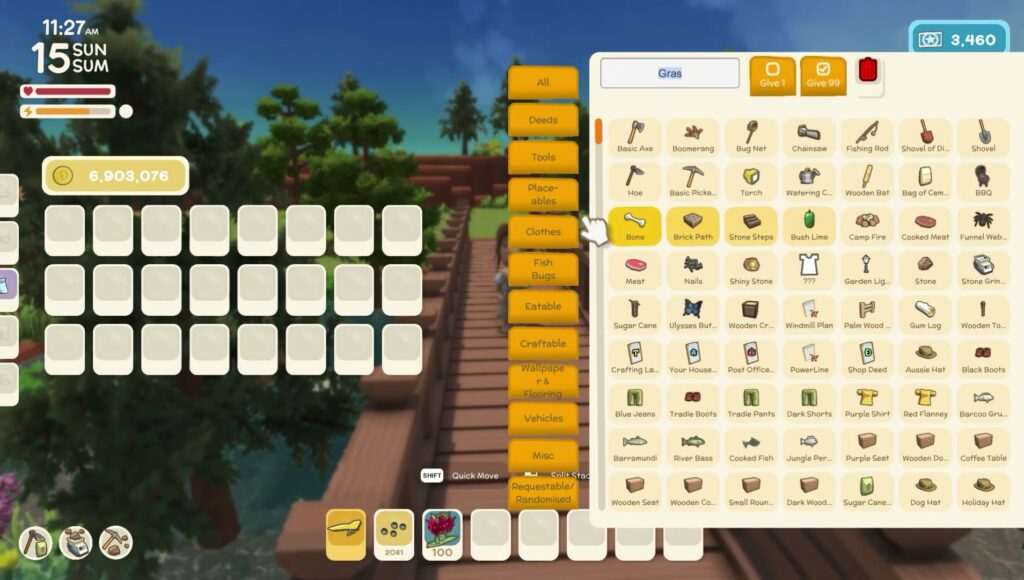 Simply go through the items on-screen or lookup the ones you want using the search bar and then choose whether you want to give yourself 1 of each item or 99 of them by clicking on the appropriate button at the top.
With that done, click to select the item you want to spawn and it should automatically appear in your inventory. To remove the selected item, simply drag and drop it to the red trash can or bin icon at the top right of the spawn item menu.
Dinkum Commands
In addition to spawning items, Dinkum features a ton of commands that can be use to get a specified amount of money and other valuable items in-game. So without wasting much time, here's a list of all the Dinkum commands to make use of.
giveMoney – Gives specified amount of Dinks. Example: giveMoney 999
giveMilestone – Randomly progresses Milestones
giveGift – Spawns a gift of 1k dinks, used for testing purposes
spawnBoat – Spawns Jimmy's Boat
dropAllFurniture – Drops 1 of each item in the game that is tagged as "isFurniture"
nextDayChange – Performs day change progess without changing the day.
renameIsland – Changes the island name. Example: renameIsland Staralia
resetHouse: Reset the house interior
resetHouseExteriors – Reset the house exterior
refreshInside – Reset the house interior
cropsGrowAllSeasons – Allows all crops to grow in all Seasons
compassLock – Locks the compass north
npcPhoto – Shows a specified NPC photo. Example: npcPhoto 1
setTired – Sets stamina to -40
givePoints – Gives specified amount of Permit Points. Example: givePoints 800
/e – Performs specified emote. Example: /e 1
skipSong – Skips the currently playing music
setAnimalRel – Sets the value for all animal relationships. Example: setAnimalRel 50
fullPedia – Auto-completes all pedia entries
placeItem – Places a tile at the position the player is looking, use -1 to remove existing placed tiles. Example: placeItem 4
nextDay – Ends the current day, like sleeping would
spawnCarry – Spawns a carriable with specified ID from Carriable List at player's position. Example: To spawn Bee hive, simply type spawnCarry 7
Carrible List
Animal Trap – 0
Simple Animal Trap – 1
Animal Box (Baby Chook) – 2
Cassowary Egg – 3
Amber – 4
Fossil – 5
Ruby –6
Bee Hive –7
Thunder Egg – 8
Satelite – 9
Other Dinkum Commands
chunkDistance
freeCam
spawnAnimal
debug
teleport
changeSpeed
setTime
spawnNpc
completeQuests
unlockRecipes
changeRain
setTimeDay
setTimeNight
setTimeReal
placeItemFix
setDate
scanMap
hairStyle
strikeLightning
hairColour
setStatus
skinTone
hideGuide
noClip
noClipNoFollow
saveFreeCam
loadFreeCam
clearFreeCam
hideHud
moveInNPC
makeWindy
completeNPC
maxRelation
spawnFarmAnimal
moveAllCarry
save
crocDay
randomClothing
randomiseCharacter
stopRandom
Note: The Dinkum commands above are case-sensitive. So make sure to type them as written in the text chat window that will pop-up once Enter is pressed.