Looking to play Nintendo DS and/or NDS games on your iOS device? Then here's how to download NDS4iOS on iOS 15.
My love for handheld gadgets didn't end with Game Boy Color. It extended to other portable gaming device and I have owned quite a few of them in the past few years. Some of my collections included the Sega GameGear, Game Boy Advance and Game Boy Color. But there was one left, and that is the Nintendo DS. I wasn't lucky enough to own nor play the games meant for this system and those bittersweet yearning have hunted me for long.
Fortunately, NDS4iOS arrived and it stood out among the crowd to become one of the best and most reliable iOS emulator that can be used to play Nintendo DS (NDS) games on iPhone and iPad and that too without jailbreak.
Also Checkout: GBA4iOS Download Guide
Nintendo DS was actually among the best handheld gaming system that introduced a lot of people to gaming. Its sleek folding design, wireless mode and lower sensitive touch screen "revolutionized" the way we play and control games. Apparently, one of the features that helped made Nintendo DS unique was its backward compatibility as it was able to play Game Boy Advance games in single player mode.
Now if gaming is your thing, and you have purchased an iOS device solely to play games like Pokémon, Super Mario and Zelda, then here's how to download NDS4iOS easily.
Download & Install NDS4iOS
To get this one going, make sure that your device is running iOS 5.1 or later. Then go to iEmulators.com and switch to the Apps tab. From here, scroll down until you find NDS4iOS. Click to select the emulator and tap Install from the pop-up that'll appear.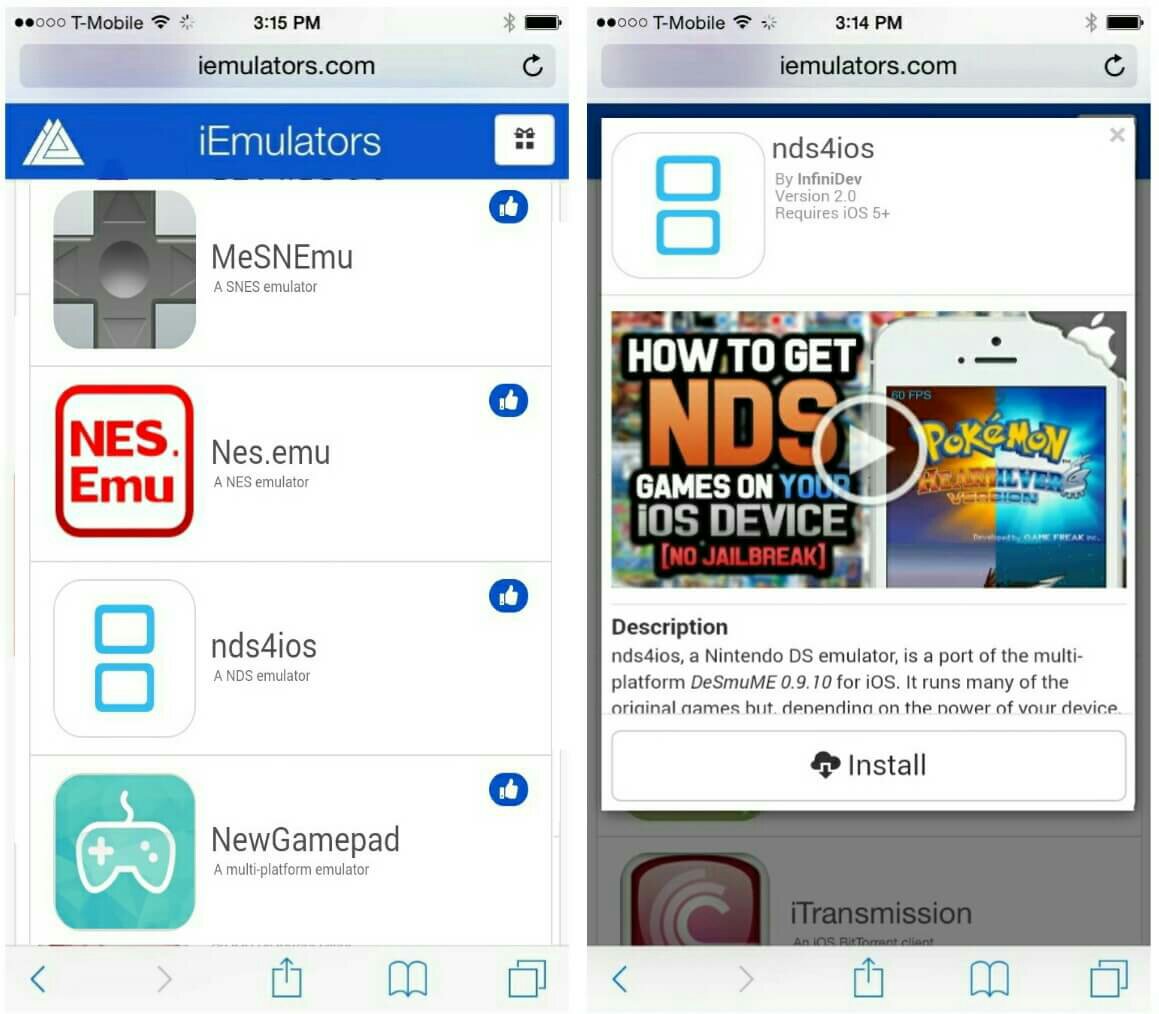 Once that's done, quickly navigate to your iPhone or iPad Settings and go to General. From here, tap on Date & Time and toggle off the "Set Automatically" option.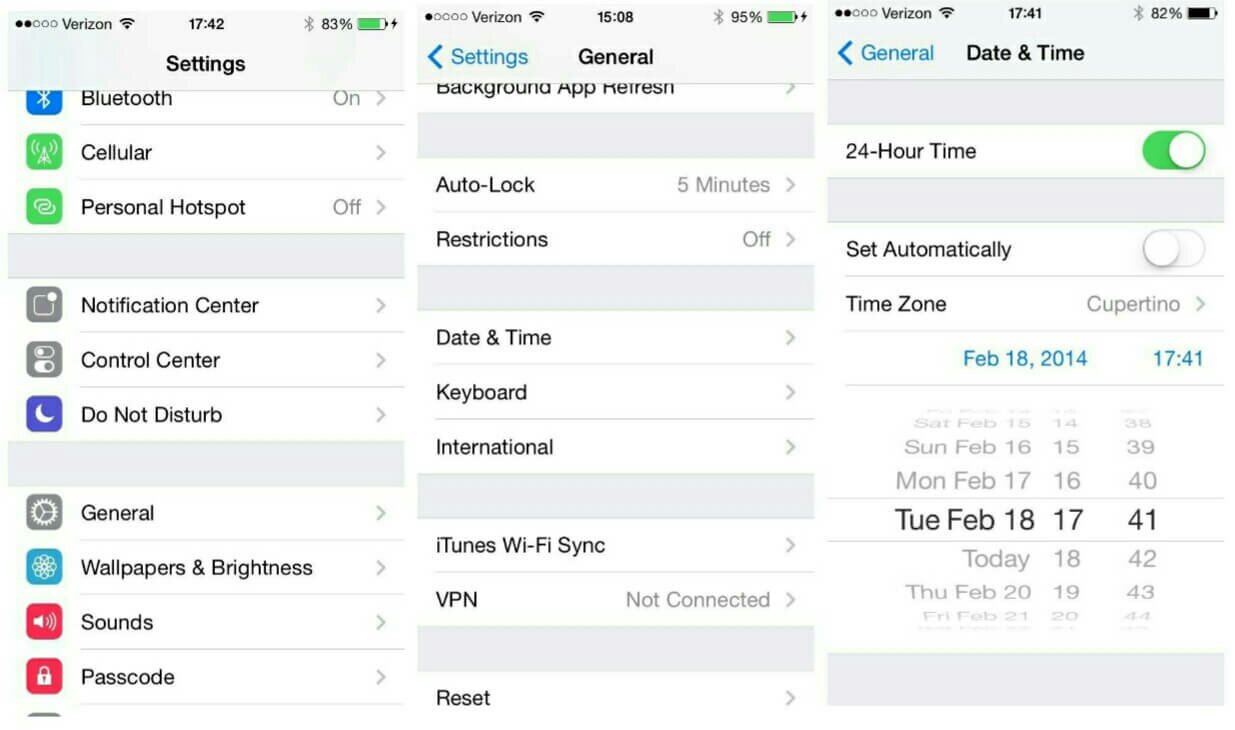 Next up, select the date & time listed and manually adjust it to February 8th, 2014. Now the "download" should complete and you will be set to run those old classic NDS games on your iOS.
Note: If you think NDS4iOS is difficult to setup, you can go with iNDS "since" it brings an easier way to add ROMs. Do note that both emulators work equally fine.
Add Some NDS4iOS ROM
NDS4iOS went through some updates and the developers got rid of the once popular plus (+) sign that was specifically used to find ROMs. So here's how to manually add some NDS4iOS ROMs.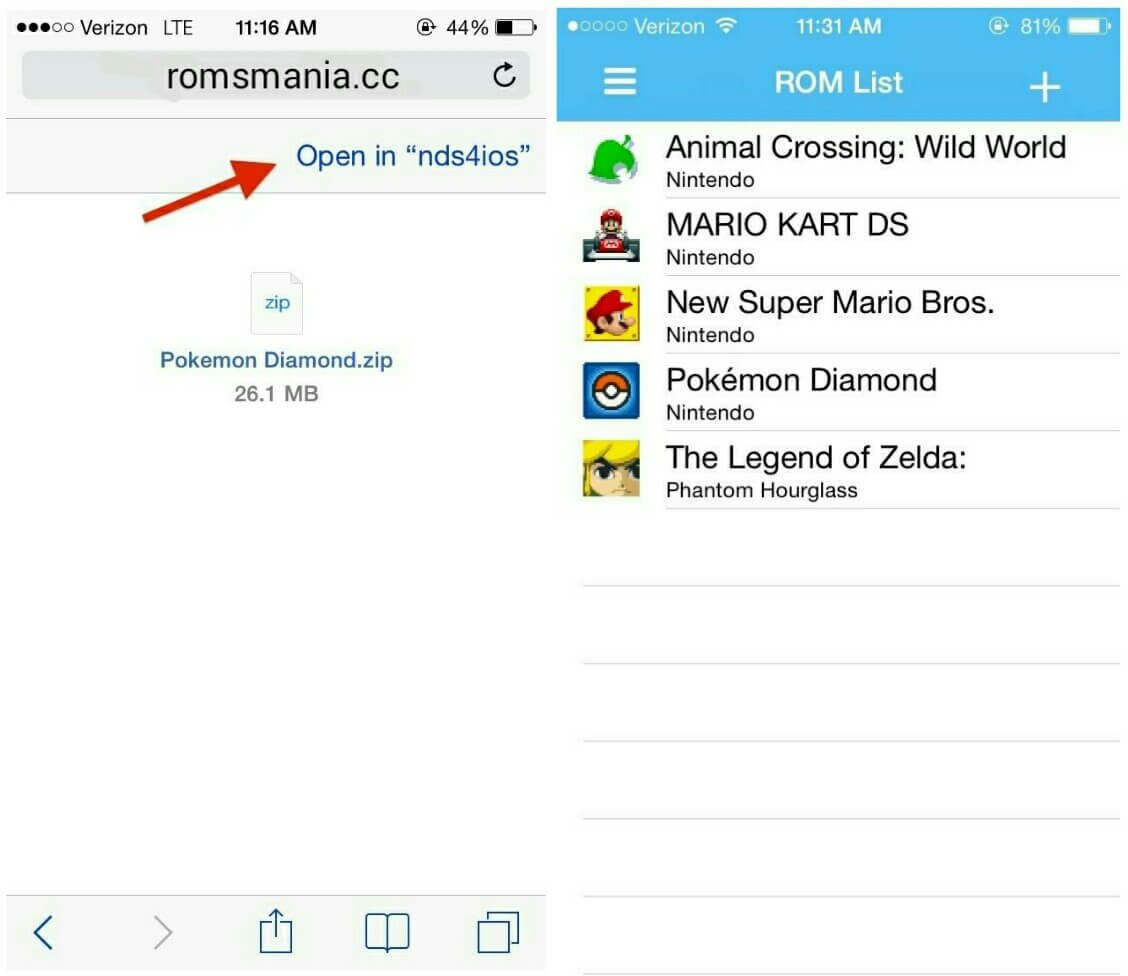 To begin with, head over to romsmania.cc using your Safari browser, then find the Nintendo DS ROM that you want and download it. Once that is done, you'll have an option of opening the ROM within NDS4iOS. Select it and you'll be good to go.
Fiddle With The Settings
Just like GBA4iOS, NDS4iOS brings quite a slew of features that are worth fiddling with. So if you are ready to adjust some of its options, simply head over to "Settings" by tapping the "three horizontal lines" at the top left. From here, you'll get to find an option that lets you tinker the control pad style and position.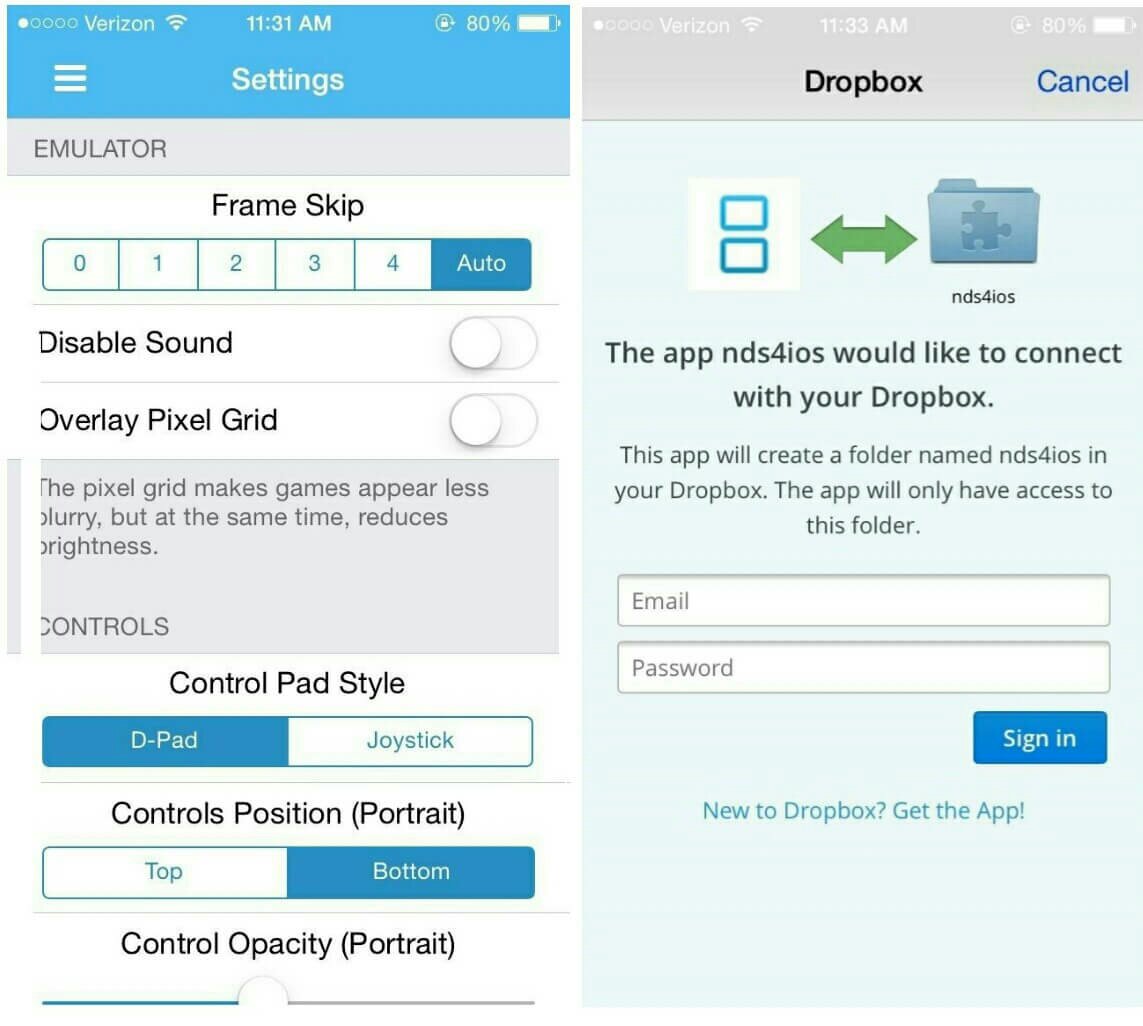 Personally, I recommend choosing Bottom, as this will automatically relocate the controls to the bottom (Instead of Top) for an easier access during gameplay. Also NDS4iOS brings support for iOS 7 controller alongside a Dropbox integration that lets you store game saves and load ROMs via the cloud storage.
Play That Game
And we're finally here, the moment we've all being waiting for. So if you have had those NDS ROMs loaded, it's high time to access and play them. During gameplay, you will notice how fast NDS4iOS handles simpler games such as Pokémon Diamond, New Super Mario Bros and The Legend of Zelda. For extremely large 3D games like Assassin Creed that renders sophisticated graphics, lags are bound to be expected but what matters is that they are playable.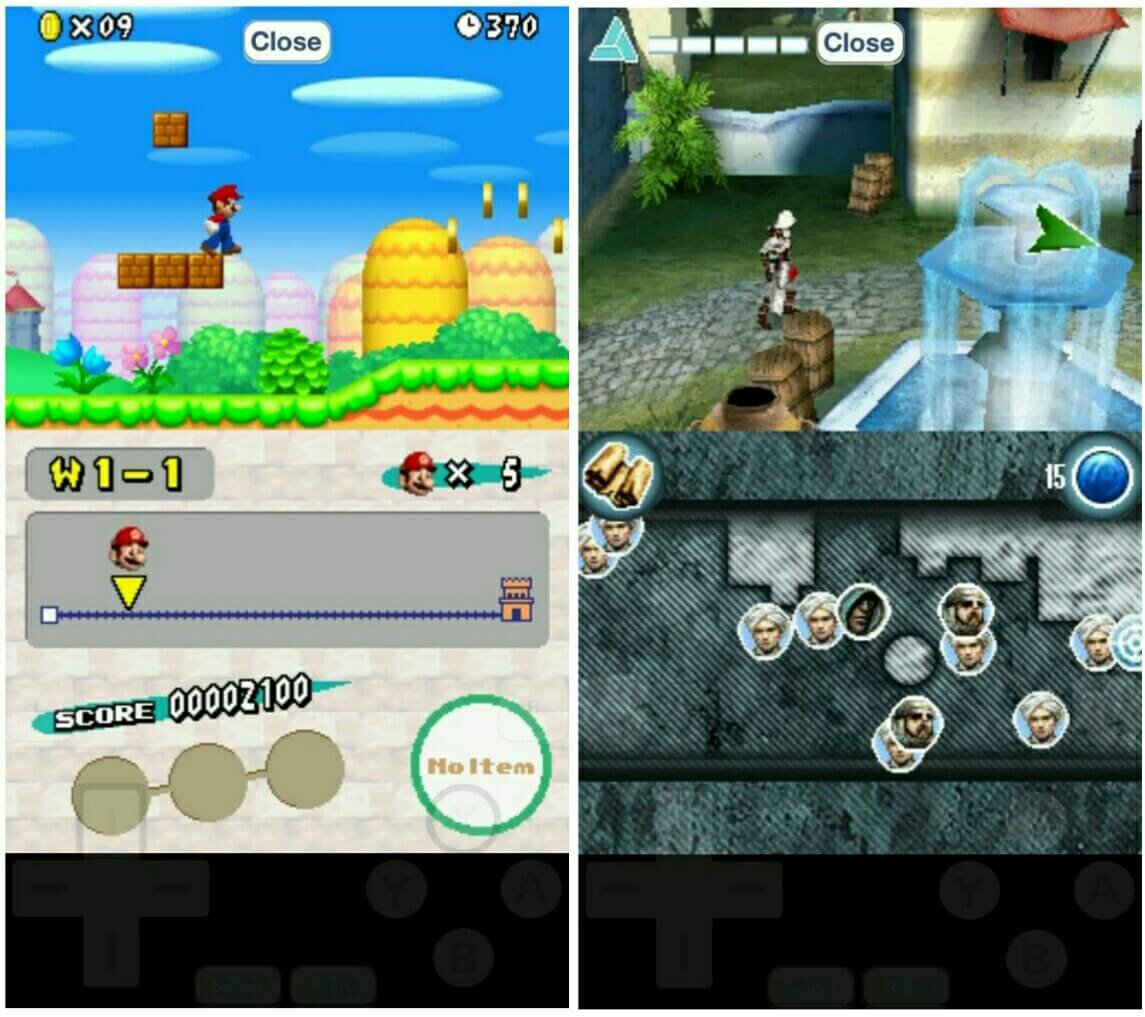 The Nintendo DS features two screen that works in tandem and luckily, NDS4iOS brings support for this. In addition to the regular controls it provides, you'll also get to find a small portion of the screen (just at the bottom) that lets you perform touchscreen actions as you would on an actual Nintendo DS.
Wrapping Up
If you're a Nintendo lover and video game addict, chances are you "may" want to re-visit those old-school days and play some of your 'favourite' Nintendo classics. Well with NDS4iOS, you won't be needing that time travel machine. So just go ahead and say goodbye to social life and use NDS4iOS to play Nintendo DS games on your iPhone and iPad.