Evon Executor is a feature-rich, free and safe Roblox exploit developed to help users run scripts in any Roblox games. In this article, we'll walk you through on how to download install it.
Roblox is a kids playground, hence it is completely normal to find the 3D experiences on the platform to be rather easy. However, if you have played Decaying Winter: The Last Stranded, Minus Elevation, Tower of Hell, or any of the acclaimed Roblox hardest games out there, you will agree with me that the only way to progress faster and possibly eliminate the excessive grinding present in each game is by utilizing scripts.
Also Checkout: Zeus X Roblox Executor Download
Considering Roblox isn't actually a game, players looking to cheat in any of their favourite games using scripts are certain to employ the services of an executor, but finding something that is versatile, reliable, feature-rich and most importantly free can be pretty difficult. This is where Evon Executor come in to play.
What is Evon Executor?
For one thing, there are a plethora of Roblox script executors out there on the internet, but while most of the reliable ones are paid, Evon executor albeit free runs as smooth as butter and is arguably safe to use.
At its core, Evon Executor is a popular level 8 Roblox exploit used specifically to execute or run scripts in any Roblox games. The software features multiple execution APIs including its own custom Evon DLL.
In addition to offering a super clean and slick user interface that is simple to use and navigate, Evon Executor features a scripthub where you can find different scripts for Roblox most visited games.
It is a reliable exploit per se, one as powerful as Ice Bear's Krnl and the famous Synapse X, but unlike the aforementioned, it requires no key, and is free to download, install and use.
Evon Executor Features
Most Roblox exploits ships with basic features which includes the ability to run multiple scripts at once, the ability to easily inject scripts into games, and the ability to use pre-made scripts or create custom scripts.
While these perks are considered essential, Evon Executor goes extra length to offer advanced features capable of convincing users to make it their primary executor. Below is some of the features it brings to the table.
Keyless custom DLL
Monaco Textbox for Optimized Scripting
Smooth Injection
Auto-Execute
Multi API
Cool Animations
Constantly Updated Scripthub
Script Minimap
FPS Unlocker
268 Fixer
Kill Roblox
Themes and more.
Downloading Evon Executor
Sideloading Evon Executor onto your PC is as easy as pie. However, if you are new to Windows applications installation process, read on as we explain how to effortlessly download and install Evon Executor.
To begin with, ensure you're connected to the Internet, then fire up the browser software on your computer and head over to the following URL to download Evon Executor.
Once the downloading process is complete, extract the Zip file using Winrar, 7-zjp or any of the notable windows file extraction programs available on the Internet.
With that done, go ahead and access the extracted zip folder and right-click or most preferably double-click to launch the executable file evon.exe.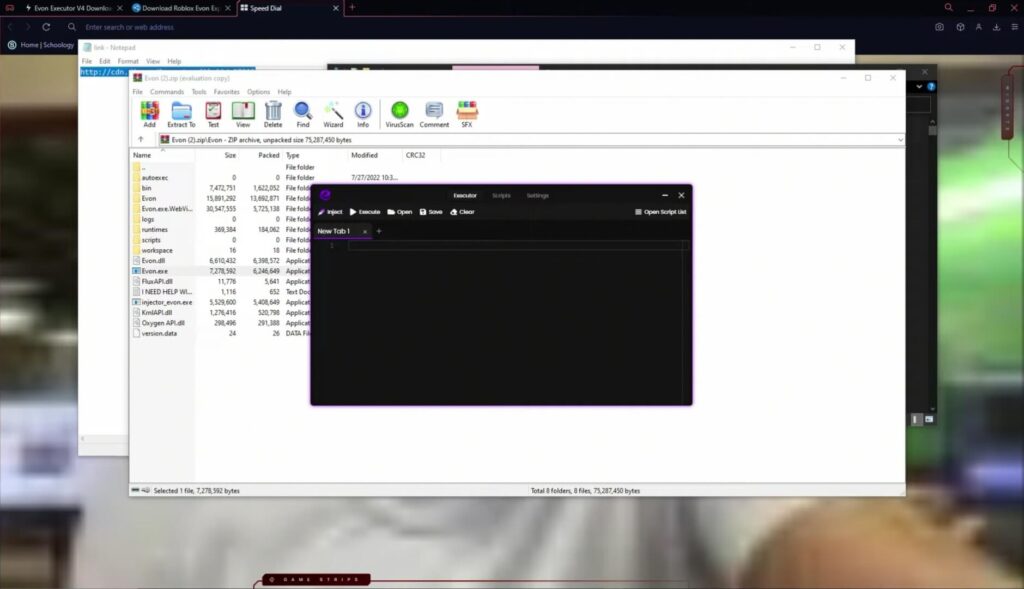 That is that. You can now wait for the exploit to auto install whilst accepting the prompts along the way.
With everything done and the tool fully opened, simply jump into the settings menu and modify the color schemes and what not.
That is it. You can now access Roblox, open your favorite game and paste the script you're looking to execute into Evon or choose from a list of pre-made scripts available in the scripthub section.
Click Inject followed by Execute and the script GUI will pop-up. That's all. Go on and toggle on/enable the cheat or hack you want and you'll be good to go.
Wrapping Up
Evon Executor is constantly in development, so we recommend bookmarking this page and keeping tab once in a while to see if there is a new update available.